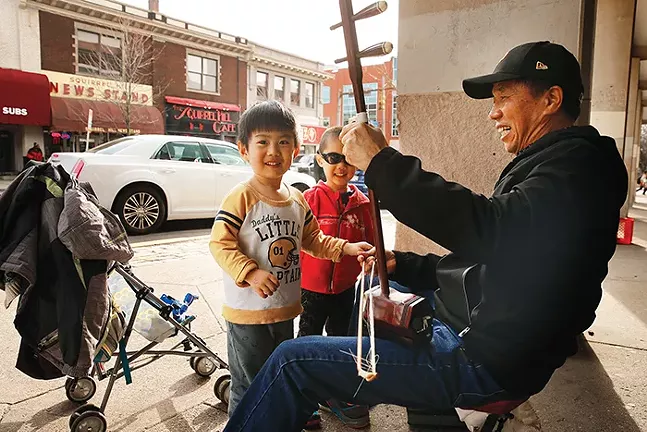 Squirrel Hill is one of the city's largest neighborhoods and is widely known as the cultural center of Pittsburgh's Jewish population. Besides the kosher grocery stores and delis, you'll find the
Jewish Community Center
(
jccpgh.org
), which offers everything from gym and dance classes, to a small gallery and an exhibit space. There's even more to learn across the street at the
Carnegie Library
Squirrel Hill branch, which functions both as a book repository and gathering spot. You'll find most of the shops, restaurants, and bars along Forbes and Murray avenues. Here, you can join in on one of Pittsburgh's greatest debates: Who has the better pizza,
Aiello's
(
aiellospizza.com
) or
Mineo's
(
mineospizza.com
)? Then there's the magnificent
Frick Park
(
pittsburghparks.org
), which borders the eastern edge of Squirrel Hill. In its 644 acres, you'll find bike trails, hiking paths, playgrounds, a dog park, and an astonishing amount of wilderness for a mid-city escape.
---
Bookmark these sites:
shuc.org
,
squirrelhillhistory.org
---
Arts + Culture

The
Manor Theatre
(
manorpgh.com
) is a small local cinema that shows blockbusters and independent movies. They serve beer and cocktails, too.
---
Food+Drink
Chengdu Gourmet
(
chengdugourmetpittsburgh.com
) is the hot spot — literally — for spicy Sichuan cuisine. Its extensive menu includes many Chinese dishes less common in the U.S.
Grab some hand-pulled-and-slapped noodles from
Everyday Noodles
(
everydaynoodles.net
), where you can watch the action through glass windows.
Stock up on colorful macarons from
Gaby Y Jules
(
gabyetjules.com
) — so light and airy — and classic desserts, croissants, and breads.
For those with food sensitivities,
Gluuteny
(
gluuteny.com
) is a bakery that specializes in gluten-free and dairy-free cupcakes and cookies.
Green Pepper
(
greenpepperpgh.com
) is your family-run spot for spicy kimchi pancakes, bibimbop, bulgogi, and other Korean specialties.
Hidden Harbor
(
hiddenharborpgh.com
) offers a relaxed tiki vibe and fruit-infused cocktails to match. Next door is
Independent Brewing Company
(
independentpgh.com
) where regional beer is paramount. The casual, open-air design encourages hanging out with friends.
Nu
(
nujewishbistro.com
) is like the love child of a buffet and full-service diner. It offers sit-down, plated meals with bonus bites of Jewish cuisine.
Waffallonia
(
waffallonia.com
) offers deliciously light Belgian waffles topped with fruit, chocolate, and ice cream.
---
Shopping

Attention string-pluckers: Head to
Acoustic Music Works
(
acousticmusicworks.com
) for that guitar, mandolin, banjo, or ukulele you need.
Smart — and fashionable — shoppers know to check
Avalon Exchange
(
avalonexchange.com
) first. It specializes in quality used clothing, most of it recent, but there are some kicky vintage pieces too.
There is still a market for playing games while interacting with your friends, not your phone. Head to
Games Unlimited
(
gamesunl.com
) for board and card games or a jigsaw puzzle.
The impressive collection of affordable vinyl at
Jerry's Records
(
jerrysrecords.com
) draws music enthusiasts from around the world.
Littles Shoes
(
littlesshoes.com
) has been around for decades and helped generations of Pittsburghers — men, women, and children — find the right fit.
Sara's Pets and Plants
(
saraspetsandplants.com
) is a small, independent shop offering both plants and pet products. You can also adopt a new tiny friend — the shop has a partnership with local animal shelter Humane Animal Rescue. Get exotic reptiles, amphibians, and small mammals.
---
Where the Locals Go

Don't call it the Squirrel Hill Café. The neighborhood's most nostalgic bar is known as
The Squirrel Cage
to locals. The small joint on Forbes Avenue is smoky, serves cheap beer and greasy bar fare, and there's a jukebox always cranking out tunes. Enjoy a conversation in the narrow booths.