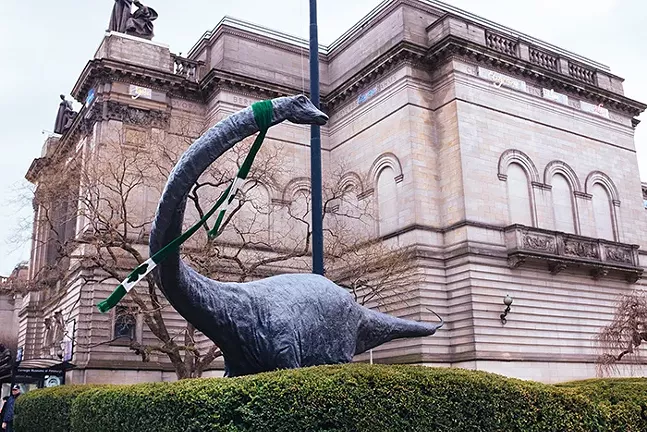 Go Pitt! But also, go Carnegie Mellon! Additionally, go Carlow! Oakland is home to three urban college campuses and has the cultural amenities to show for it. There are museums, libraries, and concert venues — plus bars and restaurants with late-night specials to fit student budgets. It's also widely known for its medical centers, including Magee-Women's and UPMC Presbyterian hospitals. It's largely a walkable neighborhood. There's a diversity of restaurants and bars to be found on Forbes Avenue. Oakland also has stellar outdoor spots.
Schenley Plaza
(
pittsburghparks.org/schenley-plaza
) is an acre of green space with a large covered area, café tables, and for the kids — a carousel!
Schenley Park
in the heart of Oakland offers incredible views of Downtown and lots of outdoor activities including movies in the park during the summer and ice skating in the winter.
---
Bookmark these sites:
onlyinoakland.com
,
opdc.org
,
pittnews.com
---
Arts + Culture
Visit the
Carnegie Library of Pittsburgh
Main Branch (
carnegielibrary.org
) not only for the colossal book collection and beautiful architecture, but also for the games, crafts, and language classes.
Enjoy the permanent collections and exhibits of contemporary works and natural-history wonders at the
Carnegie Museums of Art and Natural History
(
carnegiemuseums.org
) or catch a concert or lecture at Carnegie Music Hall, a grand 1895 theater connected to the museums. Say hi to Dippy the Dinosaur while you're there — the life-size statue sits on the lawn outside and is a popular attraction for selfies.
Glitter Box Theater
(
theglitterboxtheater.com
) is a one-stop shop for plays, comedy, show-tunes karaoke, concerts, aerial arts, and more. It's often geared towards the off-beat and includes many LGBTQ performances. Plus, it's kid- and pup-friendly!
Stop and smell the flowers at
Phipps Conservatory and Botanical Gardens
(
phipps.conservatory.org
) where you can walk through a tropical African landscape, experience a butterfly forest, and learn about native plants.
---
Food+Drink
Old-school ice-cream shop
Dave & Andy's Homemade Ice Cream
(
facebook.com/davenandys
) is a must-see during any visit to this neighborhood. Breathe in that waffle-cone smell and enjoy one of the many ice cream flavors.
Gene's Place
(
genesplacepgh.com
) is a neighborhood bar with cheap beer, a dartboard, and a jukebox. What else do you need?
The menu changes daily at
Legume
(
legumebistro.com
), offering decadent and unique pates, like jerked goat shoulder with yellow-corn grits, that will keep you coming back to try what's new each day.
Butterjoint
(
butterjoint.com
) is Legume's full-service bar with a great cocktail selection.
Get your bubble-tea fix at
Lulu's Noodles
(
lulusnoodlespittsburgh.com
) with a variety of Asian-inspired noodle dishes.
Mad Mex
(
madmex.com
) is an all-around fun place to drink beer or specialty margaritas, and enjoy Mexican-American food, from wings to giant burritos. Around Thanksgiving, give its Gobblerito a try; it's a full turkey-day meal with all the fix-ins wrapped in a tortilla and served with cranberry sauce.
Expect farm-to-table dishes at
The Porch
(
dineatheporch.com
) with fresh herbs and homemade condiments. Dine in the rustic interior or enjoy its namesake porch.
---
Shopping
The fun of perusing a used bookstore is discovering an item you didn't even know you wanted. There are lots to choose from at
Caliban Book Shop
(
calibanbooks.com
), including rare finds.
With a trove of comics in one store, and all the multiplayer-game goodies you need at another location across the street,
Phantom of the Attic
(
pota-oakland.com
) offers two storefronts with options for both gamers and comic collectors.
The
University Store on Fifth
(
pittuniversitystore.com
) isn't just a college-textbook shop. Pitt's store carries titles by faculty authors, books of local interest, and works published by the University of Pittsburgh Press.
---
Where the Locals Go

If you hear locals talk about "The O," they're referring to
The Original Hot Dog Shop
(
theoriginalhotdogshop.com
), a fried-food slinging Oakland institution since 1960. Originally built next to Forbes Field, former home of the Pittsburgh Pirates, it has long outlasted the stadium with its great dogs and fries. You can grab a slice of pizza and beer here, too. A must late-night stop to any evening out in Oakland.