If you are new to Pittsburgh, it's likely you've spent time in Lawrenceville. The former industrial neighborhood has become the "it" place for people to stroll, drink, shop, and eat. During the weekends, Butler Street is hopping with visitors and locals enjoying the cavalcade of hip restaurants, trendy boutiques, and popular bars.
Industry Public House
(
industrypgh.com
) is packed at all hours, and more laid-back spots like
Allegheny Wine Mixer
(
alleghenywinemixer.com
) sling drinks to happy locals late into the night. The popularity has led to a building boom; to fill those spaces, many of the city's younger newcomers have moved in. Only three other neighborhoods in the United States have seen more millennials move in than Lawrenceville. And this growth isn't showing any signs of slowing.
---
Bookmark these websites:
lvpgh.com
,
lunited.org
---
Food + Drink

Banh Mi & Ti
(
search Facebook for "Banh Mi and Ti"
) is not just a clever name: Vietnamese banh mi sandwiches and bubble tea are the main attractions at this comfy bistro with outdoor seating.
Cal-Mex has come to Lawrenceville with the new location of
Condado Tacos
(
condadotacos.com
). Tacos, margaritas, and fresh-made queso are available in a lively and colorful atmosphere.
Espresso a Mano
(
espressoamano.com
) is a popular spot good for an afternoon away from the office, a Sunday-stroll destination, or a quick coffee and croissant to go. 

The staples at traditional French bakery
La Gourmandine
(
lagourmandinebakery.com
) are baguettes, cold sandwiches, pastries, and assorted sweets.

IPAs loom large at
Hop Farm Brewing
(
hopfarmbrewingco.com
), but the menu is stocked with a variety of styles, plus a recently expanded food menu and intimate performances from local bands. 

Justin Severino's Spanish-inspired menu at
Morcilla
(
morcillapittsburgh.com
) is more than deserving of its accolades. Start with the oxtail and a glass of traditional Spanish cider, poured from a custom tap shaped like an arm. 

Rolled ice cream is the name of the game at
NatuRoll Creamery
(
naturollcreamerypgh.com
), with liquid batter frozen in sheets at -15 degrees, then rolled up like a frozen crepe. 

Highlights at
Round Corner Cantina
(
roundcornercantina.com
) include the house margarita — a splash of orange juice makes all the difference — generously filled burritos and one damn fine dining patio in the back. 

True to its name,
Smoke Barbeque Taqueria
(
smokepgh.com
) specializes in smoked meats, tacos, and traditional BBQ trays with a modern twist.
At
Umami
(
umamipgh.com
), you'll find traditional Japanese street food, plus sushi, sashimi, and other items dedicated to the titular flavor profile. 

The owners' New Zealand roots feature heavily at
Roundabout Brewery
(
roundaboutbeer.com
) in a menu featuring Wai-iti hops, lamb pies, and curry sausage rolls. Food trucks are outside a few days a week, if lamb pies ain't your thing.
Tucked away on a side street is
Eleventh Hour Brewing
(
11thhourbrews.com
), a popular brewery that offers several delicious brews, including a fantastic pilsner. Check out the online calendar for a full preview of their near-daily food trucks.
With live DJs spinning most nights,
The Goldmark
(
thegoldmark.com
) is a great place for dancing. Get toasty with a wide array of boilermakers at this small bar; after all, Pittsburgh is still a shot-and-a-beer town.
---
Shopping
Need that special hazy IPA to impress your friends? Well,
Bierport
(
bierport.com
) has you covered with that and just about every other beer style you can imagine.
City Grows
(
citygrowspgh.com
) is just the spot for city-dwelling greenthumbs to purchase gardening supplies and take classes.
New to the neighborhood and need to decorate your home? The
Pittsburgh Furniture Company
(
pittsburghfurniturecompany.com
) has hidden gems scattered throughout its one-room display floor of used furniture, art, and tchotchkes.
Whatever the occasion, you'll find the right gift at
Wildcard
(
wildcardpgh.myshopify.com
), which carries a wide array of mostly Pittsburgh-themed cards, jewelry, clothing, and knick-knacks of all kinds.
---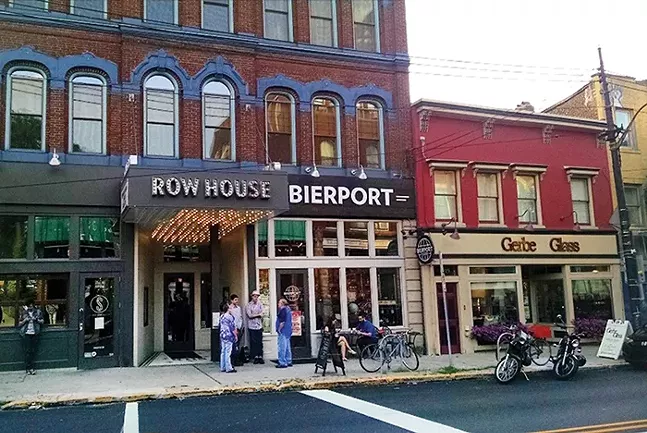 Arts + Culture
LGBTQ bar
Blue Moon
(
search Facebook for "Blue Moon Bar on Butler"
) features drag shows, queer parties, and karaoke. The drinks are cheap and the vibe is inclusive.
Take a walk through
Allegheny Cemetery
(
alleghenycemetery.com
), where some famous Pittsburghers are buried, including Negro League star Josh Gibson and famed songwriter Stephen Foster.
Celebrate the life of the great Pirates player Roberto Clemente at
The Clemente Museum
(
clementemuseum.com
), housed in this beautifully renovated former firehouse.
Enjoy second-run films at
Row House Cinema
(
rowhousecinema.com
). The seats are comfy, the theater is intimate, plus you can drink craft beer and eat fancy popcorn during the movie.
---
Music
If you're in the neighborhood for a punk show, '80s dance party, or roller skating, chances are you're stationed at
Belvedere's Ultra-Dive
(
belvederesultradive.com
).
Cattivo
(
cattivopgh.com
) is a two-floor venue with pool tables, bar food and plenty of cold beer.
Shows at
Hambones
(
hambonespgh.com
) include comedy, intimate acoustic sets, and live jazz. Stop over at the attached bar for a cheap drink.
Spirit
(
spiritpgh.com
) converted a10,000-square-foot former Moose Lodge into a venue dedicated to live music, community events, and very good pizza.
---
Where the Locals Go

Housed in a former funeral home,
The Abbey on Butler Street
(
theabbeyonbutler.com
) has become one of the most welcoming and popular establishments in Lawrenceville. Part coffee shop, part bar and part restaurant, the space near the entrance to the Allegheny Cemetery is large and includes a covered and uncovered patio. The funeral home has come alive!