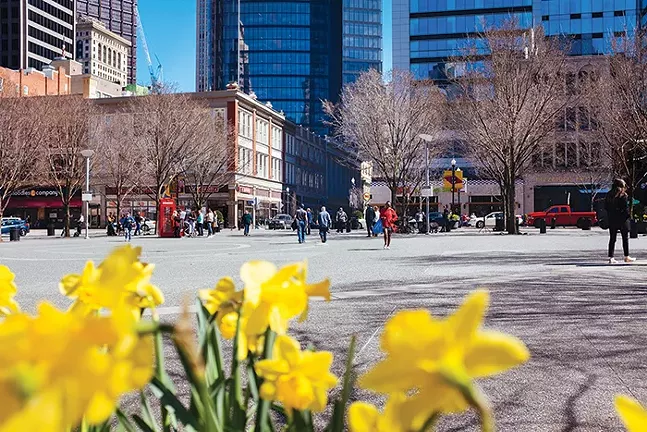 Forget what you've heard about Pittsburgh being a steel town. Sure, we root for the Steelers and you can still find some steel mills on the outskirts of town, but the dark, smoke-filled streets of Downtown Pittsburgh's past have been replaced with a thriving Cultural District, a project of Pittsburgh Cultural Trust. Head to a show at one of the many theaters including the beautiful
Heinz Hall
(
pittsburghsymphony.org
),
O'Reilly Theater
(home to Pittsburgh Public Theater,
ppt.org
), or
Benedum Center
(
trustarts.org
). Checking out a free
Downtown Gallery Crawl
(
trustarts.org/Crawl
) is a must for art fans, as is the
Dollar Bank
Three Rivers Arts Festival
(
trustarts.org/TRAF
), when artists and musicians fill Downtown for two straight weeks every June. Visit
Market Square
in the center of Downtown for a mix of old and new restaurants, a great seasonal farmers market, ice skating in the winter, and a night market with live entertainment on summer evenings. Once you're ready to chill, head to the very tip of the city at
Point State Park
, where the three rivers meet, and soak in the relaxing view in a green space with a killer skyline as a backdrop.
---
Bookmark these sites:
downtownpittsburgh.com
,
trustarts.org
---
Arts + Culture
Tickle your funny bone at
Arcade Comedy Theater
(
arcadecomedytheater.com
) and check out standup, improv, sketch comedy, and variety acts.
Named for the famed local playwright,
August Wilson Center for African American Culture
(
aacc-awc.org
) is an art gallery and performance space that hosts activities ranging from music and dance to film festivals and community events.
Theater fans: Check out
Bricolage Production Company
(
bricolagepgh.org
), specializing in outside-the-box immersive and creative performances.
Pittsburgh Playwrights Theatre Company
(
pghplaywrights.org
) is a top destination for dramatic works written by local playwrights past and present.
As Downtown's only movie theater,
Harris Theater
(
cinema.pfpca.org
) shows mostly indie, foreign language, and art-house films.
The
Pittsburgh CLO
(
pittsburghclo.org
) is a nonprofit theater company specializing in musical theater classics, with food-and-drinks table service before each show.
With its floor-to-ceiling glass windows,
SPACE
(
trustarts.org/SPACE
) showcases rotating exhibits in various mediums for patrons and passersby.
Wood Street Galleries
(
trustarts.org/WSG
) is an edgy contemporary art museum with a special emphasis on work that incorporates light, sound, and digital technology.
---
Food+Drink
Bae Bae's Kitchen
(
baebaes.kitchen
) is a delicious, Korean-inspired spot offering fresh food and vegan options.
Like tacos? Grab some at
Bea Taco Town
(
beataqueria.com
), build your own at
Condado Tacos
(
condadotacos.com
), or splurge for some unique Asian-influenced Mexican street food at
täkō
(
takopgh.com
).
Located in the swanky Hotel Monaco,
The Commoner
(
thecommonerpgh.com
) features unique takes on traditional comfort food.
NOLA on the Square
(
nolaonthesquare.com
) specializes in Creole-inspired dishes and has a lively atmosphere straight out of New Orleans.
Meat-lovers, try
Meat and Potatoes
(
meatandpotatoespgh.com
), a gastropub designed around dinner staples like pot roast and spring chicken;
Pork and Beans
(
porkandbeanspgh.com
) features Texas-style barbecue dishes (including its namesake) and country sides like pig ears.
Sharp Edge Bistro
(
sharpedgebeer.com
) is a bar and restaurant with one of the largest domestic and imported beer lists in the city, weighted heavily in the Belgium column.
---
Shopping
Amazing Books
(
amazingbooksandrecords.com
) has a wide selection of used records and books, including some hard-to-find gems.
Love, Pittsburgh
(
lovepittsburghshop.com
) specializes in gifts made by local artists, featuring artwork, soaps, clothing, and jewelry.
Stop in at
S.W. Randall Toyes & Giftes
(
swrandalltoys.com
) for the latest kids toys or pop-culture novelty items.
Steel City
(
shopsteelcity.com
) offers a more elevated take on Pittsburgh pride and black-and-gold merchandise.
---
Where the Locals Go
Original Oyster House
(
originaloysterhousepittsburgh.com
) is a Pittsburgh institution believed to be the city's oldest restaurant. Opened in 1871, it's best known for its fried-fish sandwich, but locals also love their oysters, beer, and the down-to-earth atmosphere. Bring cash — it's so old school, they still don't take cards.