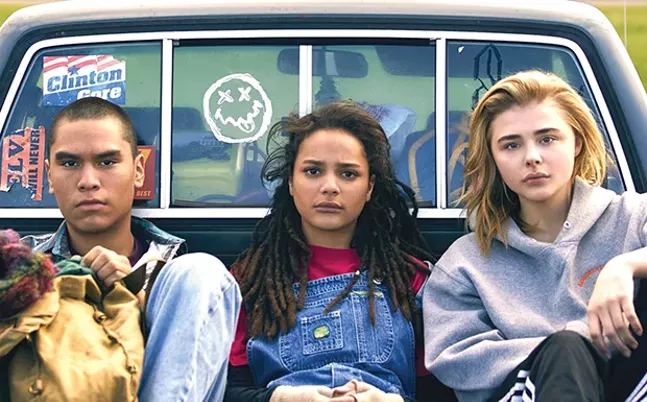 The traditional teen movie has been in a multi-decade drought. No movie has quite been able to gain the popularity and iconography of early '90s teen movies. While it's not an instant classic, The Miseducation of Cameron Post is a funny, sad, and empathetic movie that pays tribute to a classic genre, with some updates.
Directed by Desiree Akhavan and based on a novel of the same name by Emily Danforth, Miseducation centers around Cameron (Chloë Grace Moretz), a high-school girl sent to a gay conversion camp when caught with a girl in the backseat of a car on prom night. She quickly makes friends with fellow campers Jane Fonda (Sasha Lane), who stores homegrown weed in her prosthetic leg, and Adam Red Eagle (Forrest Goodluck), a Native American boy sent by his politician father. The three take solace in each other as they navigate the Christian dystopia, led by Reverend Rick (John Gallagher Jr.) who claims to have been cured of his homosexuality and his sister, Dr. Lydia Marsh (Jennifer Ehle), the therapist who did the curing.
Akhavan mostly manages to strike a balance between tragedy and humor by showcasing the absurdity of the institution, where students workout to "blessercize" aerobics videos and fill out iceberg worksheets explaining the roots of their sins.
Parts of the movie feel underdeveloped or glossed over. Cameron gets shipped off in the first five minutes, but the strictness of her home life hasn't been established enough to justify this action. And the tone shifts too unevenly. The movie falls somewhere between John Hughes and Girl, Interrupted.
Despite their emotional abuse and repression, these are still teenagers, and they'll always find a way to bend the rules and listen to the music they want. In a particularly great scene, Cameron and crew break into singing 4 Non Blondes' "What's Up" while peeling potatoes.
Moretz plays the role a little too understated, with blank stares and short lines that are reminiscent of early Kristen Stewart, but the supporting cast pulls enough weight to make up for it.
Ultimately, the movie is deeply empathetic, acknowledging all the characters are in great pain. Some kids are convinced they can be cured, preaching to the non believers, while others have no intention of changing. But they all bond over their societal rejection. Even the reverend, who would be easy to make into a two-dimensional villain, is clearly struggling in the same way these kids are.
Despite the circumstances, the movie feels hopeful. Not for the state of conversion camps, which are still legal in 41 states, but for the ways oppressed communities always find ways to take care of each other when no one else will.