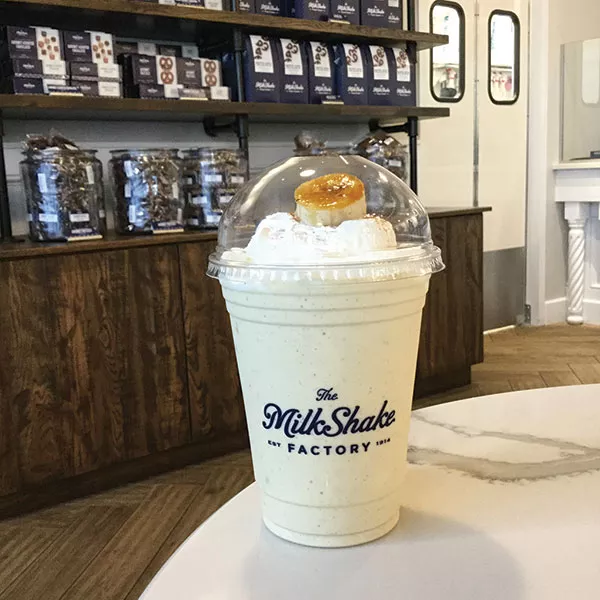 Stroll the Fifth-Forbes corridor and cry all you want for the late, lamented Candyrama and its many inexpensive treats like penny candy. The area has been rehabbed, and with the shiny new buildings come fancier and pricier ways to indulge one's sweet tooth.
Like a $7 milkshake.
And judging by the steady stream of customers at The Milk Shake Factory's new Downtown outpost in the equally new Tower at PNC Plaza, that's not a problem.
The milkshakes here are made to take back to your cubicle, or to enjoy on site. The sit-down space is a vintage-inspired mix of subway tile, reclaimed ceiling panels and soda-fountain chic. Warning: You'll be eye level with the Factory's selection of loose and boxed chocolates, which is another temptation.
There are 10 classic shakes (vanilla, chocolate malted) offered at $5, and another 10 "signature" and slightly fancier flavors, such as salted caramel and mocha java for $6. (Free marketing idea that's impossible to enact: milkshake flights; choose six.)
But the eye-catchers are the $7 gourmet shakes, which offer exotic flavors (like Chocolate-Covered Bacon) and add-ins ranging from fresh fruit to liege waffles. The Bananas Foster milkshake, inspired by the famous New Orleans dessert, is topped with a crispy caramelized slice of banana.
Not to be outdone by the season, the Factory is currently offering a Pumpkin Fudge shake (pumpkin ice cream, hot fudge, cinnamon, whipped cream). Also on the menu: fancy sundaes — the Chocolatier has five kinds of chocolate treats in it— ice-cream sodas and even New York-style egg creams.
By its very nature, a milkshake has to be made fresh, just for you, every time. It's an indulgence worth paying for.
314 Fifth Ave., Downtown, and 1705 E. Carson St., South Side. www.themilkshakefactory.com