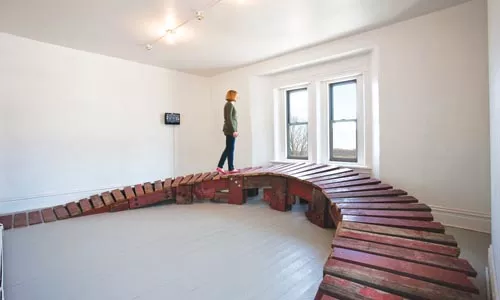 Nothing Is Impossible, the title of the Mattress Factory's exhibition of site-specific works by five London- or Dublin-based artists, stems from an assertion by the museum's Barbara Luderowski and Michael Olijnyk in the late 1990s. Their quote was lauded by Tate Modern curator Sheena Wagstaff, then lit on by Dubliners Mark Garry and Georgina Jackson, Mattress Factory's current curators-in-residence.
The essence of this declaration, according to the exhibition press release, can be traced to Slovenian philosopher Slavoj Žižek, who condemns the notion that only practical, gainful ideas are worthwhile. Instead, Žižek asserts, it is the stretches toward impossibility (and the many resulting failures) that let humans expand beyond the known and accepted.
This is an absorbing, even uplifting, idea. But occasionally, its connection to actual works in the show seems tenuous.
Through scale and implication alone, Brian Griffiths' "The Body and Ground (or Your Lovely Smile)" best reflects the curators' guiding principle. A giant, canvas-made teddy-bear head, which dwarfs visitors as they enter the exhibit, is secured by graying ropes that suggest it might well float away, if not for the tethers. The weathered, orange-tinted canvas, flecked with stains and mildew, indicate its survival of some epic misadventure, an idea supported by the international patches intermittently stitched (like vintage suitcase stickers) to the back of the teddy's head.
Rhona Byrne also broaches the theme of impossibility as she tackles conditioned museum behavior in works that build on a concept previously explored at Dublin's Kerlin Gallery. Using scrap wood, Byrne's "Stop the World I Want to Get Off" recreates a gently arcing rollercoaster track. An associated video, titled "Coaster Choir," can be heard faintly through headphones positioned on a wall behind the track. Even as we hear the DVD's audio piping contemptuously at us through the ear pieces, learned behavior tells us that touching the art to get to these headphones is impossible. Yet, when we see that passage to the next space requires stepping on the track anyway, transgressing accepted boundaries becomes necessary.
With other works, the connection to boundary-transcendence and possibility becomes less apparent.
For example, children's dictatorial caprice seems the focus of Dublin artist Dennis McNulty's multimedia work. In a dark room, a video of a "tweenaged" child -- wearing mirrored headgear that mimics the PPG building's gleaming angularity -- makes abracadabra gestures that seemingly start and stop a separate video of a looped highway journey. Doubled by a mirror, the windshield shot becomes two paths leading away from each other and ending nowhere. Here, the concept of failure (in this case, failure to reach a destination) seems to touch Žižek's concept, but the magical realism suggested by the child takes the work in another, more obscure direction.
Meanwhile, Karl Burke's installation "3.5.8." professes to build on Fibonacci numbers, a sequence in which each number is the sum of the two directly preceding it. But Burke simply replicates these numbers in three dimensions, making a plywood frame that is 3 feet deep, 5 feet wide and 8 feet long. Given that Fibonacci numbers are already employed to create algorithms and analyze financial trends, doesn't this merely embody a previous impossibility made possible, rather than pushing a new boundary?
Dubliner Bea McMahon's video "InDivisible" also approaches the subject of repeated patterns, but not in a way that overtly considers impossibility. Recurring in the movie is a mantra that involves the repetitive counting of legs and wings, as they relate to the visual melding of a hawk and a lion, a horse and a man. Even McMahon's three-dimensional projection technique seems firmly rooted in the possible -- even the conventional -- considering the resurgence of 3-D cinematography in popular culture.
Art often explores the limits of possibility, sometimes visualizing the unattainable before science can realize it. And while some works in Nothing Is Impossible move beyond traditional expectations and accepted aesthetics, the exciting title sets up viewers for a punch the art never truly delivers.
Nothing Is Impossible continues through Aug. 8. Mattress Factory annex, 1414 Monterey St., North Side. 412-231-3169 or www.mattress.org