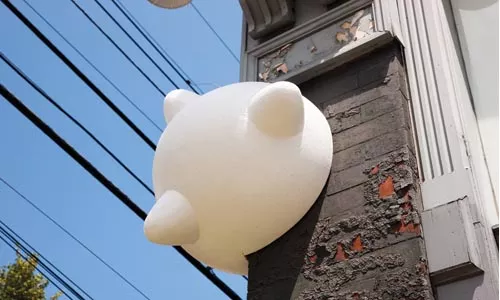 Despite its broad theme -- "the significance of identity and place" -- the mood of the Mattress Factory's latest Gestures group show is set almost immediately by John Riegert's "Sublet."
A mixed-media installation, "Sublet" is sited just within the entrance of the museum's satellite space on Monterey Street. A small area is marked off with purple tape. The space Riegert has envisioned as a "sublet" from the Mattress Factory is repurposed as a "micro gallery," or "incubator for new ideas, participation and connecting art to real life." A table, two chairs, a lamp, and other miscellany are arranged there, and photos and text are hung on the wall.
Text explains how viewers may set up appointments to meet the artist in the gallery, or leave comments in a book placed on the table. Yet all of this seems extraneous to the most notable aspect: photos on the wall documenting Riegert in a hospital bed, looking damaged and attached to tubes, following a suicide attempt. Wall text explains that everything after May 5, the day he tried to take his life, shouldn't be happening.
Perhaps this struck a personal chord, as a good friend and mentor of mine recently died in this way. The tenuousness of existence seemed to color my perception of the remainder of this very strong exhibition, curated by Katherine Talcott.
In an adjoining room is Nayda Collazo-Llorens' "Unfolding the Truth," a wall installation in which a stretched and distended schematic of the Bermuda Triangle is rendered in reflective tape. Accounts of mysterious happenings in Pittsburgh, the Bermuda Triangle and the artist's native Puerto Rico are typed onto cards, and affixed within this "chart" in more-or-less-geographical groupings.
Noted, for example, are a fireball sighting and a UFO above Pittsburgh. Hung alongside the text cards are lovely abstracted drawings, some with cryptic numbers handwritten below. Numbers on cards and drawings correspond loosely to dates and coordinates. The poetic "map" seems an allusion to mystery, the unexplained, and the role that randomness plays in both life and death.
On the gallery's second floor, Victoria Hruska and Latoya Ruby Frazier create a collaborative mixed-medium installation that is a highlight of the exhibit. The 88-year-old Hruska displays her collection of found-object collages and Victorian beadwork (including religious icons glued to old compact discs, and decorated) alongside Frazier's installation, which includes her recently deceased grandmother's collection of dolls and tchotchkes. A video of Frazier and her grandmother in random discussion is played on a TV, which is placed on a bed within the gallery space. In the discussions, Frazier candidly faces the camera, while her grandmother is shown in profile -- a "memento mori" aspect that is obvious and touching.
Drew Pavelchak's kinetic sculpture "Staple Approach" is composed of a stapler, attached to a motor, sitting on a white table. Powered by the motor, the stapler opens and closes on the corner of a stack of white paper. The stapler never actually fastens the pages, which flutter in the intermittent breeze of two small desk fans. Its cleverness aside, this piece is poetic and suggestive: The "work" continues despite a conspicuously absent human presence.
Patricia Villalobos Echeverría's "Parasite (40°27'25"N 80°00'48"W)" -- named for the approximate coordinates of the gallery -- consists of seamlessly crafted white foam "parasites," installed to look as though they have infested one room's walls. One parasite has made it outside, where it can be seen on the corner of the building, a reminder of danger lurking in unexpected places.
Rounding out the exhibition are wonderful works by Lindsay O'Leary; Stephanie Armbruster; Jeremy Boyle; Jonny Farringdon with Allison Whitney Meredith; Gary Huck; Andrew Ellis Johnson; Amanda Long; Renee Piechocki; Dror Yaron; and "The Urban Gardener," the duo of Joan Kimmel and Lynn Weber.
Gestures continues through Jan. 10. The Mattress Factory Annex, 1414 Monterey St., North Side. 412-231-3169 or www.mattress.org