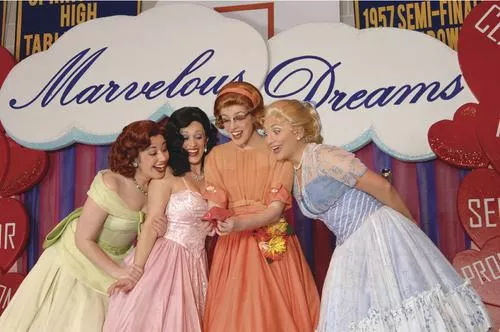 I got punked by the CLO.
There I was at the Pittsburgh CLO Cabaret, watching The Marvelous Wonderettes. The set-up is a 1958 senior prom, with entertainment by four young ladies working through a buffet of '50s hits like "Mr. Sandman," and "Sugartime," and "Lollipop."
Writer/director Roger Bean may have written the four women as mere types: slutty, dizzy, bossy and glum. But the four actresses -- Courtney Bassett, Marlana Dunn, Tara Geisler and Stephanie Maloney -- sing and dance them with enough perkiness to electrify a small city.
But a little of this saccharine music goes a long way. Despite the work of the performers, the first act feels repetitious and features a teeth-curling sugary view of women in the '50s. Bean and choreographer Janet Miller have pitched that "bobby soxer" style into overdrive, and I couldn't understand why this wisp of a show was being played with such relentless chirpiness.
Right before intermission, I thought I knew the answer. As I looked closer at Michael Carnahan's quite amusing set, I could see it was designed to transform. I glanced at the list of upcoming songs -- "Son of a Preacher Man," "It's in His Kiss" and "Rescue Me" -- and it all made sense. The second act would take place in the gym several years later. The emergence of the women's movement would be the theme, and the "Wonderettes" would be wiser, maybe a little sadder, but not the man-obsessed, bubble-headed fluffs of Act I.
Or so I hoped. The set did transform into a 1968 school reunion, and we do meet the women 10 years later ... but they are as cotton-headed as before. The only thing they can talk, sing and think about is men. It's annoying with girls in the 1950s; coming from women in the 1960s, it's downright creepy.
THE MARVELOUS WONDRETTES continues through Oct. 2. The Cabaret at Theater Square, 655 Penn Ave., Downtown. 412-456-6666 or www.clocabaret.com