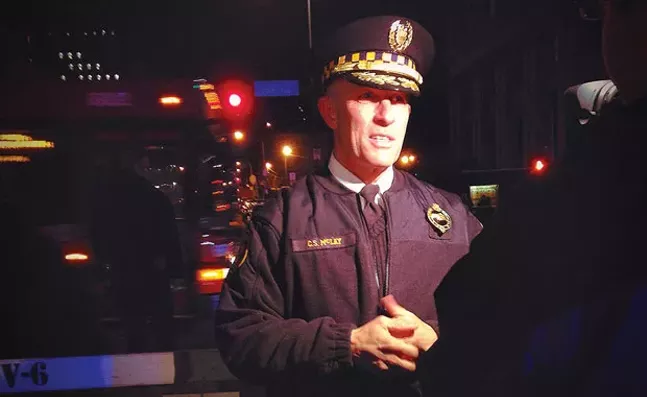 If you're a Pittsburgh Police officer, I'm imagining that May 22 was a pretty good day for you. After three years of appeals, the Pennsylvania Supreme Court ruled that officers don't have to live within city limits.

A labor arbitration panel made the same ruling in 2014. The City of Pittsburgh appealed, and eventually that decision was overturned. The police officers' union appealed to the high court and won the right to live anywhere within 25 air-miles of the city. That means officers can move to places like Cranberry Township or Washington County if they choose.
FOP union leadership, as you can imagine, was ecstatic over the victory.
"It's a great victory for the police officers of the city of Pittsburgh," Robert Swartzwelder, president of Fraternal Order of Police Fort Pitt Lodge 1, told the Pittsburgh Tribune-Review's Bob Bauder. Swartzwelder also made no bones about what officers are going to do from here: "You're going to get a steady exodus."
Pittsburgh Mayor Bill Peduto had a different take on the ruling, one I'm sure most city residents agree with. How am I sure? I'll let the mayor's statement answer that question.
"The people of Pittsburgh expressed overwhelming support for the residency requirement and we want our police officers to continue to live in the neighborhoods and communities that they serve. We defended the will of the residents of Pittsburgh, all the way to the Supreme Court, believing that the law that allowed Pittsburgh to become a Home Rule Charter city should have taken precedence."
And although politicians are known to overstate the facts when it suits them, I think Peduto is actually under-selling the support of the 2013 residency referendum. In 2013, more than 80 percent of city voters approved a measure making residency for police and fire personnel mandatory. That's how strongly residents believe that their officers should be part of the community that they police.
In a lot of ways, this feels to me like it's about a lot more than just where an officer lays down his gun at night. It feels like another step away from the days of former Police Chief Cameron McLay. Peduto hired McLay to run the department after the mayor took office four years ago. His plan was to install someone in that job who would repair the already-strained relationship between the police department and the community. That plan worked.
Community groups, especially those in the African-American community, trusted McLay. He wasn't afraid to speak his mind or make decisions that the department's rank-and-file didn't particularly like. In fact, in September 2017, union members issued a vote of "no confidence" against the chief. But the community's confidence was brimming. Under McLay, complaints against officers decreased by 42 percent. Not bad for a department with its share of issues in recent years, including the beating of Jordan Miles and the shooting of Leon Ford by officers. In fact, when McLay left, one of the department's biggest critics — the Alliance of Police Accountability — hosted a public farewell for the chief.
Now, in a lot of ways, the Supreme Court's ruling feels like a bit of a backslide, as I bet it does for a lot of people. The request that the individuals charged with policing and protecting our neighborhoods be members of those neighborhoods doesn't really seem to me like a big ask. Being part of a community takes you a long way toward understanding the people and issues at play there. A lot of officers policing high-crime areas already feel like outsiders to the people who live on those streets. Knowing that officers don't think highly enough about the city to even want to live there can be problematic.
It can erode all of the good will that Peduto and McLay worked so hard to build between the department and the community. In a lot of ways, I hope I'm overstating and being overly dramatic in how much of a difference this decision will make.
A lot has been done in the past four years to improve community-police relations. Let's hope we don't lose that over something as simple as a ZIP code.