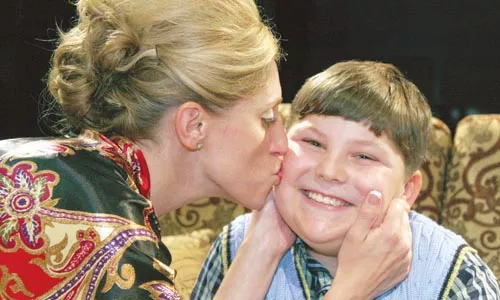 Considering the sheer number of plays Donald Margulies has written, odds are there'd be at least one good one. Sight Unseen, Collected Stories, Brooklyn Boy, What's Wrong With This Picture? and even his Pulitzer-winning Dinner With Friends -- personally, I could take or leave any of them. (OK, mostly leave.) It's by-the-numbers storytelling about by-the-book characters.
So what happened with The Loman Family Picnic is anybody's guess. A clearly autobiographical play, Loman is the story of a dysfunctional family living life (and hating it) in Brooklyn. True, it's not the most original story. But, perhaps because it's from early in his career (1989), Margulies avoids his usual mundane mannerisms and goes to town filling the stage with whacked-out characters and radical shifts in style, and stuffs the whole thing full of decidedly black humor.
Interestingly, Loman is, in fact, a mess -- inconsistent in tone while hiding the "truth" of the story behind flashy gags and gimmicks. And there's the title. It's "Loman" as in "Willy Loman," from Death of a Salesman. Someone in Loman Family Picnic says that because his family is made up of two brothers and a father who sells things, and since Death of Salesman is about two brothers and a father who sells things, his life is like the lives in Salesman.
If Margulies really believes that, he's grossly underestimated the scope of Arthur Miller's classic, and greatly inflated his own rather standard-issue dysfunctional family. But even with all of the above, Margulies has managed to write an absurdly entertaining play, and I have honestly not laughed this much at a show in a far too long time.
A big reason why is because Margulies has created an outrageously funny character, the family's mother, and made her the center of the play. This script is really almost a two-act monologue for the mom, and thanks to her scalding humor and skewered viewpoint, she carries the play.
And in the Little Lake production she has the great good fortune to be played by Leah Hillgrove, who gives a full-out, roof-raising, side-splitting turn, guided by the deft direction of Art DeConciliis. Justin L. Cook, Brett DiCello, Rob Rak and Laura Paterra are more than up to the challenges of their own characters. But Loman Family Picnic belongs to the mother, and that character now belongs to Leah Hillgrove.
The Loman Family Picnic continues through June 13. Little Lake Theatre, 500 Lakeside Drive South (off Route 19), Canonsburg. 724-745-6300 or www.littlelaketheatre.org