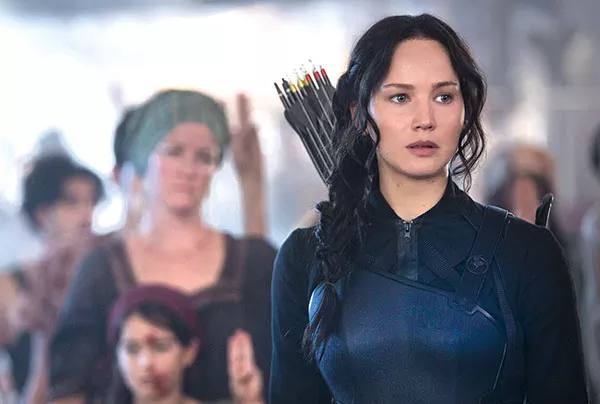 The Hunger Games: Mockingjay, Part 1 is mostly a preamble for the events of Part 2, which viewers will have to wait an entire year to see. But fans of the franchise should check in — newbies have no hope of following the story — especially if you prefer your teen dystopias gloomy. The two earlier Hunger Games had darkness at the core, but they were wrapped up in spectacle, heroic action, humor and faaaabulous costumes.
Now, our heroine Katniss (Jennifer Lawrence, again breathing life into a comic-book role) has little agency or fun left. She's suffering PTSD, living in an underground bunker (District 13, home of the rebels) and not happy about her new role as inspirational leader in the sure-to-be epic battle against the ruling class.
Director Francis Lawrence does a fair job stretching out the first half of Suzanne Collins' book. It's admittedly slack in spots, but then it's always fun to see actors like Donald Sutherland, Julianne Moore, Philip Seymour Hoffman, Woody Harrelson and Jeffrey Wright liven up the drab. (Less compelling: the who-cares love triangle between Katniss and her two suitors.)
And Mockingjay delivers a lot of issues du jour lite: class inequity; terrorism/freedom-fighting and the effective PR strategies required; torture; and the perennial tension between the rights of the individual vs. the whole. Intriguing, but alas, no action or resolution until 2015.