That pair of jeans you're wearing? It took about 1,800 gallons of water to produce. And that t-shirt? Around 400 gallons to produce the cotton.
"Fashion is one of the most polluting industries in the world," says Tereneh Idia, a Pittsburgh native, designer, and
City Paper
contributor. "But we in the fashion industry don't talk about it. It is like a dirty little secret."
On Thu., May 2, Idia opens up the dialogue with a discussion at the Carnegie Library of Pittsburgh in East Liberty to talk about practical ways that people can green-up their wardrobe, and take one more step toward a more sustainable lifestyle for themselves and their families.
Here are some more fast-fashion facts:
20 percent of global industrial water pollution can be tied to garment manufacturing.
85 percent of water in textiles creation is used to dye the fabrics. Many times this leads to run off, polluting nearby water sources.
1,900 individual fibers can be rinsed off a single synthetic garment, ending up in our oceans.
"People often think that you need to buy new to be sustainable," says Idia.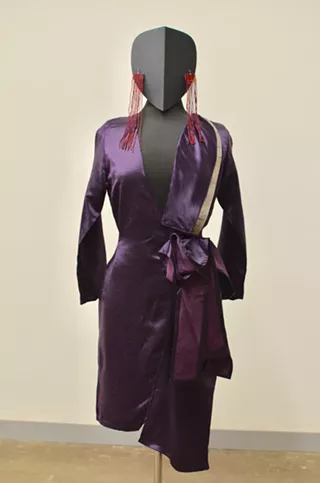 "But changing behavior is even more important. One reason why fashion as an industry is so detrimental to the environment is the many ways our clothes can hurt the environment. For example, washing your clothes can release toxicity into the water - even wearing them may do this as well. But we have choices and there are ways to limit the harm done. It is not about scaring people but offering real solutions."
Idia's clothing line, Idia'Dega, is a global eco-design collaboration. Through design, Idia'Dega develops a global community linked by heritage, and cultural, environmental, and economic self-empowerment of women. Additionally, her line uses materials like hemp silk, recycled vintage silk, upcycled t-shirts, and more eco-friendly substances. As well as talking about ways people can be more thoughtful about the choices of what they wear, Idia will discuss her global eco-design approach in partnership with women artisans from the Oneida Indian Nation and the Maasai of Olorgesailie, Kenya and how consumers can help reduce the hazards of fashion pollution. Several outfits from the Idia'Dega collection will also be featured and available to try on during the presentation.
"Tereneh does an excellent job of conveying how easy it can be to help reduce fashion pollution," says Gabrielle Bucci, Adult Services Librarian for the East Liberty branch. "You don't need to have a lot of time or money to make an impact. This aspect makes her message accessible to everyone in our city."
The presentation is free to the public it takes place at the East Liberty branch of the Carnegie Library of Pittsburgh from 6:30-8 p.m.