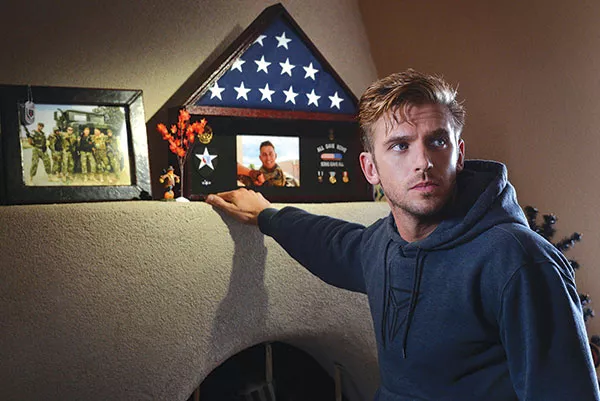 In a small New Mexico town, a handsome stranger (Dan Stevens) comes knocking on the Petersons' door. He says he's David, that he served with their dead son in Afghanistan, and that he's dropping by as requested. The family is touched, and invites David to stay. Why not? He's polite, clean-cut and helpful, as adept at commiserating with dad about work stress as he is at helping teenage Luke combat bullies at school. But alone in the bedroom, David's eyes go dead, and it's increasingly clear his intentions are other than stated. Oh, and people start getting hurt and dying ...
Director Adam Wingard (You're Next) has some fun with The Guest, an entertaining piece of pulp that effortlessly shifts between normally hackneyed genres — family melodrama, secret military plot, slasher horror, even high school comedy — making them feel fresh. Stevens (Downton Abbey's late "Matthew") seamlessly transitions between the likable and the disturbing Davids, and Maika Monroe makes a game foil as the one cynical family member not entirely charmed by the new houseguest.
The Guest starts and builds slowly, but take heart that the final reel satisfies many of one's grindhouse needs. Also, props to Wingard for setting this story in October, where virtually every scene has death's-head grace notes, in the form of perfectly acceptable Halloween décor such as carved pumpkins and skeletons. Boo!