Facing a cavernous arena from his drum throne, Jeremy Papay makes a final adjustment to his kit: draping a Terrible Towel over one of drums' black metal supports. As he tries out a couple of fills, warming up his double-bass chops, the crowd lets out a mighty roar. Heavy metal thunder blasts out of the PA speakers slung high over his head. "Have I found my destination?" wails a voice. "The dream is true!"
But instead of cheap beer and hormone-addled metalheads, the Tullio Arena in Erie, Pa., is saturated with the smells of popcorn, damp hay and elephant dung. It's the early afternoon soundcheck for the first of five shows Papay, a Pittsburgh native will perform over four days with the Ringling Bros. and Barnum & Bailey Circus. As is the custom, the soundman is blasting an Iron Maiden live album to check the PA system while the band sets up.
The Boom-A-Ring Band, as it's known, consists of Papay on electronic V-drums; another Pittsburgher, Steve Palko, on bass; two keyboard players; and a trumpet player. The band's conductor also plays saxophone and wind synth. From their position flanking the stage's glitzy marquee entrance, these musicians provide live music for the two-hour show -- a musical score they'll perform hundreds of times over the coming months with little variation. If all goes well, of course.
Right now, they're fiddling with bits of equipment, ribbing each other and the crew with in-jokes. One keyboard player, who has been with the circus since the 1970s, is trying to figure out if he has time to get a massage before the 4 p.m. company meeting. Others, including Papay, are chatting about the company costume party that will take place after tonight's show: A keg will be wheeled out into center of the ring, as circus folk play the video game Rock Band through the soundsystem.
Eventually, the band runs through a couple of segments from the score, including a dreamy, synth-heavy number that accompanies the "Ariel Cloud Swing" act. It's reminiscent of Tears for Fears, and Papay's favorite part of the score.
As the band plays, a lone man with a shaved head stretches in the circus' ring, then climbs atop a shiny red bicycle. Dressed in athletic warm-up gear, he seems calm as he turns circles around the ring, growing more meditative as he performs each new stunt: First, he rides no-hands style; then no-hands backwards; a sustained wheelie; a wheelie backwards; standing on the seat; standing fully upright on the handlebars, arms outstretched. At one point, he rides a wheelie while disassembling the front wheel, which rolls away. He catches up to it and reassembles the front wheel -- never breaking momentum.
A circus is a collection of individuals with such freakishly specialized abilities, drawn together from around the world. And Papay, it seems, is one of them: As he drives the rhythm section with a rock-solid groove and intricate embellishments, it's hard to miss that this is what he's best at, and what he's trained hard for.
It's not exactly a rock 'n' roll fantasy. (Although traces of the dream remain: In the arena's backstage production office, the walls are covered with signed photos from acts that have played there -- "Always good to be in Erie!" declares one signed by Def Leppard.) Instead, Papay has been drawn into an ancestor of the rock 'n' roll dream: running away to join the circus. What's funny is that, as a professional musician, it just might be one of the most responsible choices he could make.

Papay's home is large white RV parked alongside others just like it, near the arena. The inside is surprisingly spacious: When parked, two extendable wall sections slide outward to form a kitchen space, dining area and living room. The trailer also sports a bathroom and sizeable bedroom, appointed in the vague powder blues and pinks seemingly favored by seniors.
The trailer has been Papay's home since July; before that, he says, "I'd never even been camping before."
Palko plays for Ringling's "Gold Unit," the smallest of the three Ringling Bros. touring shows, and the only one that travels by RV. The Blue and Red units travel by train, playing larger venues like Pittsburgh's Mellon Arena; the more agile Gold Unit hits smaller cities ... and some real backwaters. In the last month or so, he's visited Binghamton, N.Y. ("dead in the daytime and a drunken madhouse at night") as well as Portland, Maine; Johnstown, Pa., for a one-off; Syracuse; Huntington, W.V.; Bethlehem, Pa.; Springfield, Mass.; and Glens Falls, N.Y.
Traveling in a circus fosters a kind of band-camp bonhomie, along with an atmosphere that, like a carnival sideshow, is both family-friendly and seedy. At the band's recent "punch party," for example, each musician prepared a special alcoholic punch, combined with elaborate presentation, in-jokes and costumes. Video from the event -- which Papay plays for me inside the trailer -- shows young children frolicking just a few yards from the drunken mayhem.
"I guess it's easy to get homesick, but not necessarily lonely," he reflects. "Everyone tends to look out for each other here."
Papay got the call from Ringling in late June: They needed a drummer, and bassist Steve Palko, already on the tour, had recommended Papay for the gig. The circus flew him to Tupelo, Miss., to watch the show for a week and talk with the outgoing drummer, who'd recorded a video of his performance. Returning to Pittsburgh with the score, Papay had two weeks to learn the music, plunk down about $50,000 for his trailer and a truck to pull it, and meet up with the show in Prescott, Ariz. There, with no rehearsals, he was thrust onstage.
"The key is just never stop playing," Papay says. And really, he never has.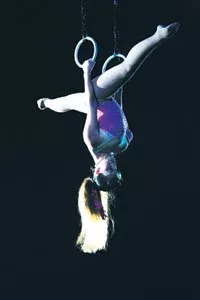 After graduating from Gateway High School in 1998, where he played in the marching band, Papay attended Duquesne's Mary Pappert School of Music. There he majored in musical technology with a performance emphasis, later returning for a master's in multimedia technology. Along the way, he played in a jam-influenced band called Captain Melba, and took money-making gigs wherever he could -- including a somewhat depressing stint as a drummer for a Gateway Clipper band.
When I met Papay in late 2004, we were musicians supporting ourselves mainly by temping at local nonprofits. He was playing drums alongside Palko in the progressive hard-rock band The Dirty Sunshine; eventually he joined the art-rock group I played in, Chalk Outline Party, which disbanded in early 2007.
Meanwhile, in addition to the temp gigs, Papay gave drum lessons, and played as many gigs as he could, often subbing for other musicians and playing high school musicals. He also sat in with a number of other original local bands, including Project Portis and Thee Adora, but nothing seemed to really click. Without a full-time job, band or girlfriend, and a with window to get out of his lease, when the circus came calling with a steady job and a chance to see the country, Papay was ready for a change.
Fortunately, he has a friend to show him the ropes.

Papay has been in only one trailer besides his own: that of Steve Palko. On the road, circus employees mostly congregate outdoors, if the weather's nice, or at a restaurant, rather than in their trailers. "It's important to have your personal space," says Palko.
A year or so older than Papay, he's more reserved and also more experienced: He's wrapping up his third year as a Ringling bassist. "I think we've done this show three or four hundred times already this year," Palko says. "As long as you're a good musician, you don't have too much of a struggle with that.
"Probably the hardest thing about the job is being able to deal with the travel aspect of it," he says. While he enjoys driving and the adventure of travel -- and technology like his GPS navigation system and wireless Internet make it easier than ever -- "the toughest thing is dealing with some day-to-day aspects."
"Sometimes you're in Iowa and you just want to go to Sears or something like that, and it's a hundred miles away, literally," says Palko. "There's nothing there -- there's a Wal-Mart and a Bob Evans, and that's it."
Originally from Latrobe, Pa., Palko also attended Duquesne's music school, earning a performance degree for bass. After graduation, he did anything and everything he could to earn a living at it -- preferably playing the theater gigs he loves -- and set his sights on New York City.
"I really felt like I could do it, I felt like I had the skills" to make it in New York, he says. But "I just couldn't go -- there was no way for me to come up with the funds to exist in New York while looking for work."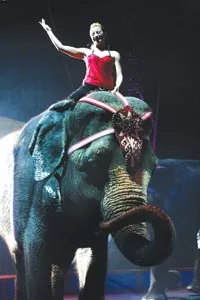 So for the next five years, Palko freelanced and networked furiously in Pittsburgh, and "adopted a policy of taking pretty much anything," he says. He taught bass lessons, and sat in with cover bands, jazz projects, jam bands, even a weekly church gig -- anything that brought in a buck and helped him earn a reputation. He played alongside Papay in The Dirty Sunshine, making it perhaps the only band in history to lose two members to the circus.
In the end, says Palko, it comes down to building a reputation for reliability: "You show up for the gig on time, you can sight-read the charts if you have to, you can hear your way through the tune if there's no chart," he says.
That reputation -- and his willingness to sub for musicians on short notice -- landed Palko the job with Ringling. "The conductor of the circus band, he was looking for bass players," says Palko. "He knew that some people had come from Pittsburgh in the past," and so he called the city's Musicians Union, an Uptown labor group that represents professional musicians. Although Palko wasn't a union member at the time, he was subbing for a bass player who was approached for the job, but wasn't able to make the commitment.
"It's actually not as easy to find people for this job as one might think, simply because of the responsibility of the travel," says Palko. "In some ways it's more important to find someone who's responsible enough to travel from town to town, show up on time, and be able to take care of themselves."
While he seems wistful about his days as a journeyman musician, Palko admits "there were probably a lot of limits to where I would have been able to take that. Being in your 20s, it works out well -- you're playing bass all the time." But if you're looking for a steady, full-time job -- say, with the Pittsburgh Symphony or CLO, "there's not as much work as there used to be, and the people that have the work, it's not like they're getting ready to retire."
With a little time to go until the 6:45 curtain call, Palko takes a quick shower in his trailer; with their small water heaters, showers "don't last very long, unfortunately." Backstage in the arena, meanwhile, an elephant lolls on the concrete near two others, clearly enjoying a hosing-down and scrub from a trainer.

Even with 800 current members of the Pittsburgh Musicians Union to keep track of -- and 100 gigs a year of his own to play -- George Clewer easily recalls Palko, and his decision to join the circus. As president of this local chapter of the American Federation of Musicians, a stone's throw from Duquesne's campus, he says Palko and Papay have landed an enviable opportunity.
"If you're a younger guy, doing that gig is great," he says. For one thing, Ringling contributes generously to its musicians' pension funds, he says. "They'll definitely appreciate that a few years down the road."
Papay can't disclose how well the gig pays, and a Gold Unit press liaison was not able to provide salary ranges for the musicians. Clearly, it must be at least on par with the office jobs he held in Pittsburgh, and likely better. Added to that are reimbursement for fuel and some other travel expenses, health insurance, the pension plan, stock options -- not to mention living rent-free and having no utility bills to speak of. Not too shabby.
In the past, Clewer says, a musician didn't have to leave town to earn a decent living. In the 1940s through the 1960s, he says, they could find work in Pittsburgh's own clubs, which employed house bands. But "that's a bygone era," Clewer explains. "Those types of places, those types of venues just aren't out there anymore." Now, there are fewer lucrative opportunities in Pittsburgh, and what's here -- the Pittsburgh Symphony, the Opera, the CLO and others -- can be "very difficult to crack into" for younger musicians. The starting salary for a Symphony musician is over $100,000, and not a lot of older professionals are anxious to give that up.
In fact, Clewer says, "If you look at this union, I consider everyone other than the Pittsburgh Symphony players to be freelance musicians." Still, he says, when music students from Duquesne and Carnegie Mellon visit the Union offices, he encourages them to go for it. "If you're good enough, you're going to play somewhere," he says. "But [it] may not be in Pittsburgh."
Elaine Stolick, a career consultant for music students and others in CMU's College of Fine Art, agrees that music students have few local options for work, besides freelance gigs. "The music students are really expecting to not be staying," she says. "About half of our students go on to graduate school, and of those students, I'd say many are looking for opportunities to join symphony orchestras." Vocalists will often go on to advanced programs in New York City, and composition students look west for work in the film industry. "A lot of the music students that are staying in Pittsburgh are staying for a master's degree here," she says.
In this context, Stolick says the circus sounds pretty good. "If a person likes to travel, it's a great opportunity."
In fact, the ability to keep moving is part of the appeal.
As Palko says, "It gives me the future potential of mobility, of being able to say, 'OK, after I'm done with this job, maybe I can move to something else'" -- either by moving up through the Ringling organization and its parent company, Feld Entertainment, or by finding a gig in, say, a Broadway show. On the road, he's able to scope out music scenes around the country. "I really think being a musician in a professional aspect, is not as common of a position as it once was. It's getting to the point where you can't say 'Oh, I'm going to live in this small town and make a living as a musician.' You have to go where there's work."
But following the work out on the road does come with considerable costs. For Papay, that RV and pickup truck were investments he'll be paying for awhile, and that rapidly depreciate in value. And then there's the creative cost. With the transient lifestyle the circus requires, and the constant repetition of the same music, where is a musician to find a creative outlet?

Back in early October, Papay and Palko are spending a couple of days in Pittsburgh before catching up with the circus at the next tour stop, and Papay is checking out his favorite band, The Slip, backing Sonya Kitchell on a weeknight at Club Café.
Papay looks around at the thin crowd and orders a fancy cocktail from the bar. He started following The Slip's career back in 1998, when he heard a bootleg recording of a show, then caught the band at a small campus gig at CMU. From there, he and his bandmates in Captain Melba would roadtrip to see the Slip whenever possible; for three consecutive years, Papay and his then-girlfriend celebrated New Year's Eve -- somewhere in the U.S. -- with The Slip.
He's watched the band evolve from an instrumental jazz trio through early attempts at vocals, leading up to its current more pop-oriented direction. "They did it the right way," he says. "It's good to see jazz musicians become rock musicians."
Even though Papay's enjoyed watching the band evolve and its audience grow, he's seen enough poorly attended shows to know that it's no picnic trying to make a living playing original music, even for pro-level musicians like this trio. He draws a parallel between its show tonight as a hired backing band and his own decision to put aside his original music and join the circus.
"I never wanted to play in a symphony for a career," he says, though he studied orchestral percussion at Duquesne. "All I ever wanted to do was play in a good original band, like [The Slip]." But, he says wryly, "It's time to get paid."
The circus does that, at least. But it's not a place where you go to redefine your approach to music.
The production's score is assembled by a music director working with a fleet of composers and arrangers. New shows are rolled out every two years, and sometimes the music merely rearranges elements from earlier tours.
"The composer will whip something up and it'll get chopped, revised and chopped up some more," says Papay. "In rehearsal, that same process will repeat itself, sections being dropped and added. It's not dissimilar to how a band will put together a tune. Only in this case ... it has to match up with tigers and acrobats and such."
When Palko first joined the circus, he enjoyed the work, but the lack of a creative outlet soon chafed, as did the static nature of the show. Unlike Papay, who joined in the middle of a tour, Palko learned all the music in rehearsals for a new show. "I remember right after that, we had two days off -- and I had absolutely nothing to do," Palko says. For the first time in years, he didn't have a rehearsal to attend, music to learn or gigs to hustle. "It was the most boring two days of my entire life," he says with a laugh. "I realized very quickly that I would have to find something to keep me occupied."
Playing bass alone in your trailer gets old, and "most of the musicians in the band are not big on getting together to play music -- they have their own things," Palko says.
"I'm able to keep a keyboard here in the trailer and practice and just play and learn some songs," he says. "I can do it at my own pace, there's no pressure; in many ways, it's so much more enjoyable" than playing other people's music professionally. "I pick songs that I like, I work on them, and work on my skills, and try to become a better musician in that way."
Papay hasn't found a separate musical outlet yet, but he's still relatively new to circus life. Just playing the shows and traveling around the country in an RV looking for new experiences and meeting new people is still a grand adventure. Papay has taken to chronicling his experiences in photos and reports from the road on his blog. (See sidebar, "Life on the Road; Ringling Style.")
"Some people try to use the gig as a mask and flaunt the 'All Access' badge" to pick up women, Papay says. "I don't think I could use the 'Hey baby, I work for the circus ... wanna wrestle?' line with a straight face. I take that back. It's really fun to use a line like that with a straight face when you aren't actually taking it seriously at all." In fact, "if saying something like that does work ... you know to run the other way."
As a single guy, Papay's a minority in his company. Many of those in the Gold Unit are married, often to each other. (Palko has a girlfriend in Pittsburgh he visits when possible.) But Papay sees being single on the road as "good practice" and a nice break from being in one place. "In a town like Pittsburgh, if you try to pick someone up, fail miserably but succeed in making a total ass of yourself, it tends to linger a bit. Everyone's got a story about everyone else and everyone knows everyone. Not that the same isn't true within the show -- it's worse, probably -- but out here, it's just easier to approach girls and start up a conversation."
That said, it can be "much harder if not pointless in some towns attempting to find someone on a similar wavelength you can talk to without wanting to stick pointy things in your eyes."

Back in Erie, it's nearly showtime. And whether you've played the show 300 or 400 times, there's an arena full of children of all ages seeing it for the first time -- and they're expecting the greatest show on earth, after all.
If your circus memories consist of watching the big three-ring production from the nosebleeds in Mellon Arena, catching the smaller Gold Unit in a 5,000 seat venue is an eye-opener. Unlike pro wrestling, the circus looks better -- and more exciting -- the closer you get to the action. While I hope to never again be that close to the posterior of an elephant up on its hind legs, this smaller company had me on the edge of my seat, mouth agape, for the better part of two hours. Even simple juggling and tumbling acts are astonishing up close. And of course, there's a great live band, decked out in bright colors that complement the shimmering spandex and sequins of the performers -- human and animal -- in the ring.
The musical score is pretty wide-ranging, with a decidedly progressive-rock sound to many passages, reminiscent of latter-day Yes with crazy synth squiggles and elaborate drum patterns. Sometimes there's a New Wave sound; at other points, Papay and Palko lock into tight disco grooves with funky porno bass lines. Other elements hint at familiar melodies -- for example, playing the theme from 2001: A Space Odyssey over a groove similar to Aerosmith's "Sweet Emotion." There also seem to be nods to James Brown, The Police and Led Zeppelin. ("Before I joined," Papay later told me, "one of the stylistic directions in one of the drum charts said 'a la Blotzer,'" referring to the drummer for Ratt.)
But playing the set music is only part of the job. Papay is also using his electronic drum pads to trigger pre-programmed percussion loops, and "catching the tricks," as he calls it: adding drum rolls and cymbal crashes at dramatic moments. At one point, he's keeping a steady beat to "How Much Is That Doggie in the Window?" while also timing goofy sound effects to coincide with a half-dozen wiener dogs jumping over hurdles.
Earlier, at the company meeting, the band was briefed that one of the tightrope performers was "out" for their act with a minor injury, changing the act and requiring on-the-fly adjustments to the music. (Papay says he hasn't witnessed any serious injuries, nothing beyond a pulled muscle or twisted ankle.) The conductor communicates the changes with the band over a talkback mic only they can hear. "He'll just call out, 'OK fellas, on my cue go to X section,' or 'we're skipping part Y of this tune,'" says Papay.
But one of the most dramatic moments of the show comes towards the end of the first act -- the cloud swing routine. As the fog machines fill the ring with "clouds," Papay tickles the high-hats, and the band eases its way into his favorite number -- the part from soundcheck that sounds like Tears for Fears. As Papay leans into the rhythm, a leggy, muscular blond woman in pale blue spandex slowly ascends the thick rope in the center of the ring, where she'll spin in tight orbits, her outstretched body horizontal to the floor.
The spotlight catches her as she writhes and flexes in the suspended nest of coiled rope, projecting her silhouette onto the curtain backdrop just above Papay's head. As he plays the groove, Papay seems, like everyone else, fully absorbed in her fluid movements as she works her way toward the roof, systematically wrapping herself in the rope. As the music swells to a climax, she lets go. The rope unwinds, spinning her furiously, slowing her descent and breaking her freefall at the last second.
Watching Papay's expression at that moment of release, I have to think that, even if he and Palko don't have the greatest jobs on earth for professional musicians, it's got to feel pretty damn good.