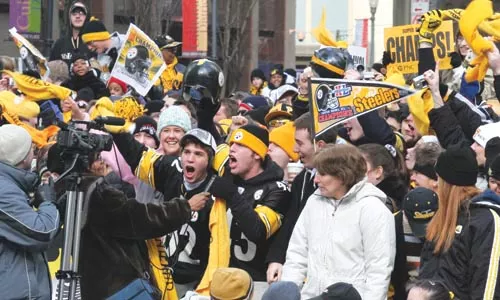 My nephew Lachlan is 11 years old. He began taking Pittsburgh sports seriously at the age of 6, just old enough to balance himself on a windowsill and hang foldouts of the sports section on his bedroom walls.
When Pittsburgh played Seattle in Super Bowl XL, Lachlan was not only familiar with the rules of football, but was able to toss around statistics like a weekend sports anchor. And like a Stillers fan 80 years his senior, he knew it was acceptable to cry regardless of the outcome.
In the first major sporting event Lachlan can remember, the Steelers were victorious, bringing home their fifth Vince Lombardi trophy.
Forget that the Steelers' trophy case hadn't been unlocked in 26 years; Lachlan assumed the Steelers won all the time. Imagine the sting he felt in the pit of his tiny stomach when they wouldn't win again until three years later. Oh, the agony.
In the meantime, our precocious Pittsburgh Penguins fought their way to the Stanley Cup Final in 2008. Instead of going through puberty or getting married and raising a family -- like some Pittsburghers had to do between trips to the Stanley Cup Final -- Lachlan had to wait only a year.
As Sidney Crosby gulped champagne from hockey's holy chalice, I came to an obvious realization: Lachlan was spoiled.
As my nephew's collection of championship T-shirts and knick-knacks grew by the year, I couldn't help but think of all the kids born a generation earlier. The '80s were a barren championship wasteland in the 'Burgh.
The Super Stillers got old; the Pirates slowly built a playoff contender that would never win the big game; and fans frustratingly wondered if the world's best hockey player would ever get a decent supporting cast.
In the '90s, Mario Lemieux finally got some help and the Penguins won back-to-back titles. I can't speak for everyone in Pittsburgh, but the championship drought between the Pens' second cup and the Steelers' victory in Super Bowl XL felt to me like waiting in a post-office line in purgatory.
During that span we witnessed: ex-Pirate Sid Bream beating a throw to home plate and scoring the winning run in Game 7 of the NLCS; the Steelers being unable to score a touchdown from three yards away to get into the Super Bowl; Neil O' Donnell finally getting there a year later, only to throw the MVP award into the waiting hands of Dallas Cowboy Larry Brown; the titanic collapse of a baseball franchise; Jaromir Jagr "dying alive" in his black-and-gold Penguins sweater; and our football team losing three more AFC Championship games.
This past Sunday, like a kid asking for seconds and thirds at Dairy Queen, Lachlan saw the Steelers advance to their third Super Bowl in six years. And if he has his way, the Steelers will return from Dallas in a couple weeks with their seventh NFL title. (He also learned that no matter how big the lead, the Steelers will always find a way to make a game close.)
Shouldn't my nephew experience some Pittsburgh sports pain, which inevitably makes a championship that much sweeter? Keep in mind, he still hasn't seen the Pirates finish a year with a winning record, though their streak of 18 losing seasons is a championship run in and of itself. It would almost be a tragedy if the Buccos logged a mediocre 81-81 record this year instead of adding another losing season to their historic streak.
Lachlan's biggest sports disappointment to date happened just a few weeks ago, when the Penguins lost to the Capitals in the Winter Classic -- which, for all the pomp and circumstance, was just a regular-season game.
On Sun., Feb. 6, Lachlan will expect Pittsburgh to defeat Green Bay in Super Bowl XLV. If and when they do, bedrooms and playrooms across Steelers Nation will be re-stocked with championship banners, bobble-heads, pennants and posters.
Who says being spoiled is a bad thing?
Jim Shearer is a Shaler native and host of VH1's Top 20 Video Countdown. He also hosts two YouTube-based sports shows, Yinz Luv 'Da Stillers and Yinz Luv 'Da Guins.