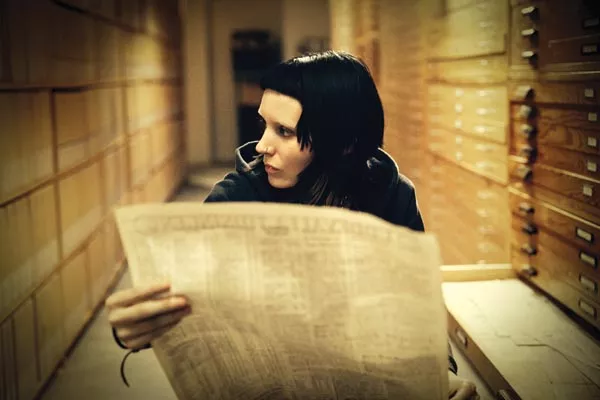 In most cases, the book is better than the movie, and the European film is better than the American remake. But
Girl With the Dragon Tattoo
seems to have escaped these pitfalls. Niels Arden Oplev's 2009 Swedish adaptation of Stieg Larsson's mega-selling novel was a solid thriller, with a moody vibe and a break-out star in Noomi Rapace, who played the anti-heroine hacker named Lisbeth. Now comes the English-language version from David Fincher, and it's likewise a faithful adaptation, with another actress, Rooney Mara, making a splash as Lisbeth.
In the story, a journalist named Mikael (Daniel Craig) joins forces with Lisbeth to solve a 40-year-old mystery: the disappearance of a teen-age girl from a family compound. The past disgorges some dreadful secrets, while both Mikael and Lisbeth combat various injustices in their own lives. Readers know that's the tip of the iceberg -- there are two more books in the trilogy -- but Fincher effectively manages what is a huge data dump, with a lot of verbal exposition. 
And any fears that fans might have had about Mara being cast as Lisbeth should be dispelled. Mara's Lisbeth seems softer, and more openly vulnerable that Rapace's characterization, and this version presents her relationship with Mikael as warmer and less awkward. But her performance is still riveting, without being a duplicate of Rapace's.
Girl is not as action-oriented as the much-hyped previews imply, nor is it as dark and edgy as some may have hoped from the man who made Seven and Fight Club. (One exception is the film's unsettling opening credits, which combines dripping fluids, twisting bodies and fetishistic imagery with a crunchy remake of Led Zeppelin's "Immigrant Song," by Trent Reznor and Karen O.) But having read all three books, and seen all three Swedish movies, Fincher's film never once bored me. It should prove pretty compelling for first-timers.