Lots of restaurants have themes. The most common have to do with national or regional cuisines. Some are based on type of food or approach to its preparation. But until now, we have not seen an entire restaurant concept organized around dimension.
The Flats on Carson is located at the corner of East Carson and 15th streets, which, in case you don't know, is in the South Side Flats (as opposed to the Slopes above). And the menu is a compilation of foods that are — wait for it — flat.
We saw this as an interesting, if imperfect, device for winnowing the standard catch-all menu of greasy, salty, crunchy pub-grub clichés. Despite a general rise in expectation and, therefore, quality in bar food, which has driven out a lot of sub-mediocre fare, too many places still offer everything from artichoke dip to zucchini strips. The Flats' stripped-down approach, while it will disappoint wings fans, allows its kitchen to focus on quality and choices that set the venue apart.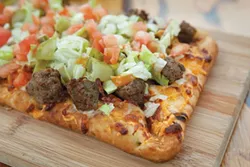 The space is anything but flat. It's tall and glorious, with a silver-painted tin ceiling above raw brick walls accented with recycled barn-wood panels. An open metal staircase leads up to a mezzanine floor. But the magnificent focal point of the interior is the back wall, papered in a map of the Flats neighborhood at its industrial peak. The street layout is familiar, but the myriad railroad tracks snaking through the streets and factory properties betray the era. Even this old map, though, feels modern rather than antique-y, with its graphically striking black-and-white imagery, blown up and almost pixelated.
The brief menu is divided into various forms of "flats": Starting flats, pressed flats (panini), folded flats (tacos) and "funky flatbreads." Salads, called "healthy flats," are also present, though we cannot imagine how they might be served pancake-style.
We compensated for the fact that wings aren't flat with an order of Buffalo chicken dip. The consistency was thick, more like a stiff spread than a dip, but it had both chicken and spice in generous amounts. And we noted the thoughtful choice of hearty, whole-grain tortilla chips. Anything less would have been too weak to support the dense dip and too mild to register on the palate. The choice of chips was a detail, but the kind that reveals care.
It works both ways. Our main complaint with the tacos was the careless use of fridge-cold flour tortillas: Just a few seconds on a griddle would have done so much to increase satisfaction. Of the four fillings available, we sampled three: lime-marinated chicken, BBQ chicken and spicy pork (a portobello version is the veggie option). In both chicken tacos, the meat wasn't shredded or pulled, but sliced grilled breasts, topped with avocado and tequila-infused pico de gallo in one version and a sweet but not cloying barbecue sauce in the other. That sauce was balanced by punchy, crunchy, spicy slaw for an excellent barbecue taco. Angelique was less impressed by the non-barbecue chicken taco, finding it somewhat bland, and by the pork, which seemed mushy to her, although Jason thought it was fine.
Panini at The Flats were served on ciabatta-like rolls that were toasted in a press. They were pretty good, albeit perhaps a touch small for the price. On the other hand, the Chinese barbecue pork was subtly flavored with sweet, smoky hoisin; the spicy slaw worked well, and the toasted-sesame mayo was a great condiment, pulling everything together without stealing the show.
Flatbread selections were more gastropub than corner bar, including the Over Easy, with sausage, provolone, jalapeño and a dippy egg, and the Portobello, with red-onion jam, fresh spinach and goat cheese. You can also build your own from an a la carte list of ingredients, and that is what we did. The form of the flatbread — square for a small or oblong for a large — worked well on The Flats' smallish bar tables. The crust was unusual, thicker than New York style but light and crispy, with the airiness that a good Sicilian can have. And the house brisket — in tender, beefy shreds — was superlative as a topping, backed by competent red sauce and a mozzarella-provolone mix.
The Flats' concept may be contrived, but it delivered more successful dishes than a lot of bar menus twice the length, all at a good price. That's an idea that will never fall flat.