After more than half a century, The Fantasticks is still a cozy, warm blanket to snuggle up with and enjoy. The world's longest-running musical opened in 1960 in the tiny Sullivan Street Playhouse, with music by Harvey Schmidt and libretto by Tom Jones. It ran off-Broadway for some 42 years.
Opera Theater SummerFest's staging in a converted ballroom is larger than the original, but some of the intimacy survives. The secret is director/choreographer Peter Kope, best known as the producing artistic director and co-founder of exploratory dance company Attack Theatre. Though Fantasticks is not a "dance" show, the action flows as the players harmonize physically as well as vocally. (Un-amplified, too.)
Under the musical direction of Walter Morales, who also plays piano in the accompanying quartet, SummerFest serves up a more operatic Fantasticks, not just light pop. Rachel Eve Holmes, as The Girl, stands out not only for being the sole female character, but also for her rich soprano and timeless innocence.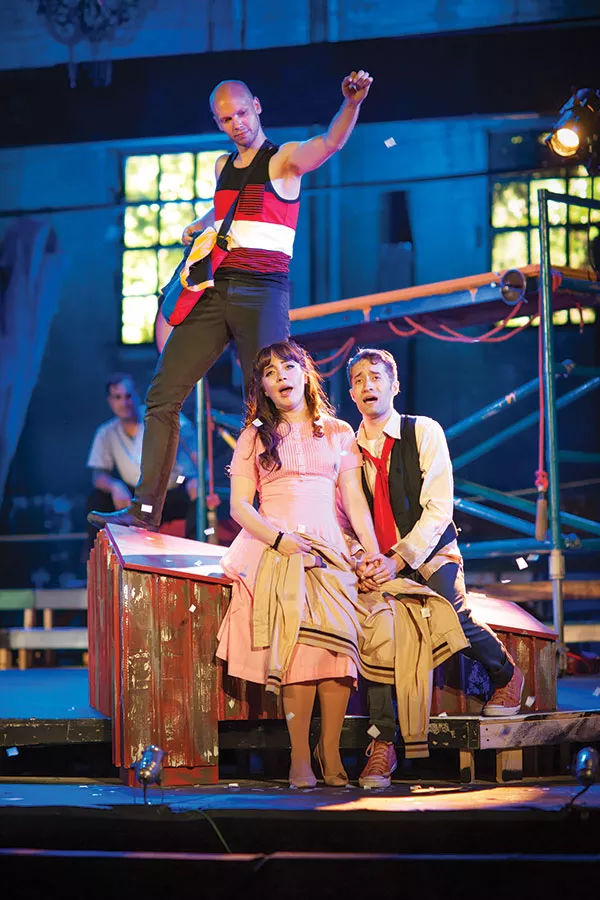 The men, professional singers and otherwise, are a pleasant bass-baritone mix. James Critchfield and Brian Hupp are charming as the scheming, "feuding" fathers. Adam Hill perfectly complements the naivete in the romance as The Boy. Sean Cooper's voice is hotter than his El Gallo, but he handles the narrative well. Local legend Martin Giles, (type?)cast as an old ham actor, hits a few choice notes. Daniel Arnaldos adds humor in various roles. And Attack's Dane Toney completes the cast, playing The Wall, as an onstage (but silent) presence throughout this wisp of a show.
Marie Yokoyama's clever, multi-useful set matches the allegorical nature of The Fantasticks. I just wish it were easier to see in the auditorium.
The story is simple: The path of true love is not. And, yes, I still have a soft spot in my heart (and head) for songs like "Try to Remember," "Soon It's Gonna Rain," and the always memorable "Never Say No." Beans in your ears, anyone?