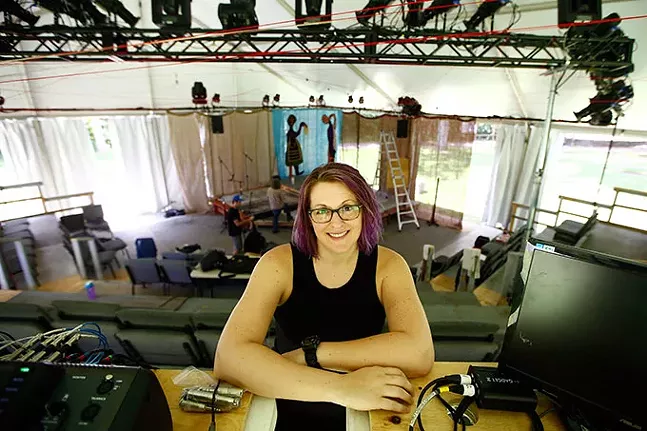 Name:
Michelle Engelman, Highland Park
Work:
Production and stage manager, Quantum Theatre
Quantum Theatre performs at unconventional locations all over the city. How is your job different with a site-specific theater than it would be with a traditional space?

It focuses on how to make the onsite aspect as much of a theater experience as possible. Security, how we'll store things, where the audience will come in, what the overall experience will be that already exists for a regular storefront theater. How everything is at the site and at the rehearsals, figuring out footprints for the location, what your backstage is, how that gets laid out as the design continues to be built and made. What Plan A is, then throwing it out and figuring out now that everything's solid, what the real plan is.
Plan B, C, or D …

Plan Triple C.
Is everything totally different from one show to the next?

There's a certain amount of things that carry over. There has to be a dressing room, there has to be some sort of under-the-booth storage for all of the equipment: power, tie-ins, sound equipment that can be secured to be there permanently for the run or to go to a different location and be locked up because of weather or accessibility. There's at least one show a season that's outside, then sometimes an indoor/outdoor space that's partially covered, or a warehouse that's not airtight so you could be outside in a tent with how much moisture and water there is.
How is everyone prepared?

You start rehearsal and there's a big wordy email: "Dress comfortably, bring layers, wear close-toed shoes, bring a coffee cup, and you're gonna want to have a lid because there might be insects and birds." It's definitely not your standard, "Hi, we're going to sit at a table and read," even though there's a meet and greet and read-through. There's, "We're going to take a field trip and see the site, but we can't work there yet." There's a lot of different scenarios that you don't have at a place with a rehearsal room and a green room and, you know, bathrooms.
A lot of your job is controlling an environment in environments over which you don't have control.

Right. Then it's about communicating to the team. Weather completely changes. Trains. A lot of warehouse locations and cool spots in town are by train tracks because they're such a part of our infrastructure. You get to know the schedules. Or we're right by this delivery, and it's happening at this time. That goes in your notes.
What if unexpected things happen during a show itself?

You go with the punches. Sometimes that's sending someone who's running a computer with you to help someone else, or having a longer intermission because we have to dig a saw out of storage to fix this thing that just broke. Or adjust timing to avoid highlighting the jogger who just ran through the show. (We laughed and cried and cursed about that jogger the entire run.)
Does the payoff equal how extra the process is for you?

My favorite thing is the unknown, the X factor. That's what drew me to the company in the beginning. They're doing work people generally haven't seen before in some section of town that you have been dying to see or a neighborhood that has been abandoned and left behind. Bringing art is fulfilling no matter how wild getting to the process is.
You turn the corner and you see this beautiful set. Someone throws open the door to Iron City Brewery, and we built a giant Australian mountain. You hear the gasps and people instantly talking, "Oh my gosh, I didn't know what to expect and how they were gonna do that and now here's this huge mountain in a warehouse."
You forget about it because we see the small changes all the time. The audience doesn't see the whole spectrum of it, just the magic moment.