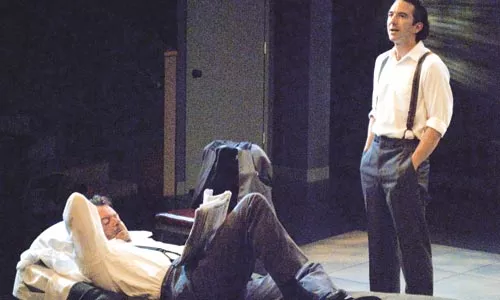 Well, we're almost out of the woods -- the dark, twisted, terror-filled woods, that is -- with this third installment (of four) in Pittsburgh Irish & Classical Theatre's Harold Pinter festival.
The latest program features two of Pinter's most famous works: 1959's The Dumb Waiter and Betrayal, from 1978. If you don't know Pinter, or want to turn someone else on to him, this would be the program to see. While Pinter never wrote an "easy" play, these two one-acts are about as audience-friendly as he ever got.
The Dumb Waiter is two hired assassins sitting in a dank basement somewhere awaiting instructions on that night's murder. It's all darkly funny, and the two men are sharply drawn. And then about halfway through, the play zooms off into Weirdsville, though never losing the humor or the terror underneath.
Betrayal is Pinter's most straightforward in terms of story -- it's about suburban infidelity -- but the manner in which it's told is the opposite of straightforward. We begin at the end of the adulterous affair between Emma and Jerry, and each subsequent scene moves backward in time, toward its start.
Martin Giles directs Michael Hanrahan and Jarrod DiGiorgi in The Dumb Waiter, and it's a rock-solid, highly entertaining production. The actors work together quite well, and Giles keeps the jokes and the dread in nice balance.
While it's true that both Dumb Waiter and Betrayal are played in a bigger style here than necessary, it matters much more in the case of the latter. Betrayal is a staggeringly brilliant work which achieves such power precisely because the whole thing is written as inference. We know how it "ends" (it's in the first scene), and Pinter floats that shadow in and out of the rest of the play.
Director Alan Stanford's reading, though never less than compelling, strives to create explicit dramatic fireworks from Pinter's implicit explosions; Pinter doesn't show us a heart breaking; he supplies us with the knowledge that it is, while forcing his characters to act as though it were not. There's a bit too much crossing the "t"s and dotting the "i"s from the PICT company; that's work Pinter meant us to do. Still, when this powerhouse cast -- Nike Doukas, David Whalen and Leo Marks -- pull back, the result is electric.
The Dumb Waiter and Betrayal continue through Aug. 21. Henry Heymann Theater, Stephen Foster Memorial, Forbes Avenue at Bigelow Boulevard, Oakland. 412-394-3353 or www.picttheatre.org