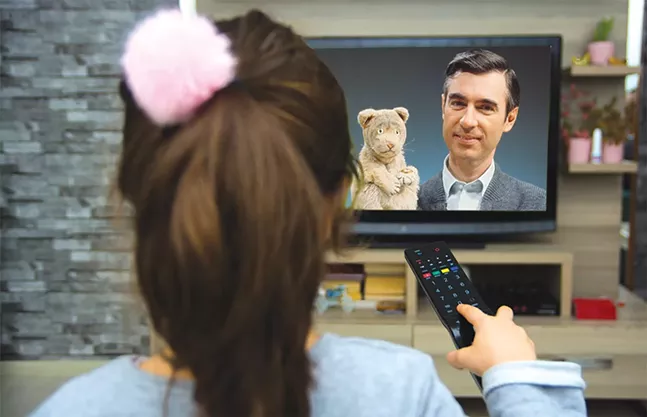 I have seen a lot of kids' TV shows. I don't know how many exactly, but a rough estimate is at least 34 different programs, having viewed each ten times or more. Why? Because television is the extra parent that every child likes more than their biological ones.
Before you judge me — Never mind, you already have, because you're either childless, a good parent, or a parent like me who lets their kids watch (too much?) TV. But with on-demand, streaming services, and cable networks aimed at young children, there are a lot of great, educational shows out there. There are a lot of awful ones, too.
So, to help you decide what programs are right for you and your children, I have ranked all 34 shows I've seen, using a sophisticated points system developed in under two minutes while also browsing Twitter.
34. PJ Masks - Finishing dead last is PJ Masks, a show created through a collaboration between Disney Jr. and Satan. This show is close-talking to you with coffee breath from the minute the opening credits start to roll. Loud, annoying theme song followed by screaming, crime-fighting children who fight the same villain every episode. I can't write anymore about this show without using curse words. It's total shit.
33. Paw Patrol - This is PJ Masks with dogs. It edges Masks out by having less noise and screaming and better characters with a relatively consistent teamwork theme, but just barely. The one redeeming factor of Patrol is the character Mayor Humdinger of rival city Foggy Bottom, who dresses like Prince, looks like Martin Mull, and is seen only as a minor disturbance despite committing offenses including grand theft auto and gold-doubloon thieving. His voice is also amazing.
32. Top Wing - Paw Patrol with birds who fly airplanes. Seeing a pattern here? And why do birds need airplanes?
31. Dinotrux – This show was built by an algorithm, which I have unraveled here: if most kids like dinosaurs and most kids like trucks, every kid will like Dinotrux. Return variable. It's made by DreamWorks and looks cool, but that's it.
30. Dora the Explorer – So much yelling. There's also a ton of anthropomorphic characters like someone named Map App – a talking map with a squealing voice who just keeps saying "map app, map app." Grab a compass and see yourself out, Map App.
29. Dinosaur King – I feel bad having this weird little beast this low. But it is noisy and pure action, leaving no room for any educational aspect. My kids love it, though. And it is definitely a fun, Japanese anime import. It just becomes a bit much after a while. It did, however, score a perfect 5 for theme song, which I have sung over and over and over.
28. Jake and the Neverland Pirates – We're turning a corner now from shows being ranked low mostly because the audio is like a rusty rake in your ears to shows that just aren't good. That's where Jake and the Neverland Pirates holds steady footing. There's nothing particularly wrong about this show, there's just not a whole lot right with it.
27. Bubble Guppies – Little kids that are guppies? Is that what's going on here? The best part of this show is that there's a character named Mr. Grouper who sings a real banger called "The Line Up Song."
26. Mickey and the Roadster Racers – Similar strategy to the one employed by Dinotrux. Some kids like racing, many kids like Mickey, shove 'em together and capture market share.
25. Blaze – Talking monster trucks. This show teaches a lot about physics and general science. It is fine.
24. Lego Ninjago: Masters of Spinjitzu – I'll leave this one to Wikipedia. "Based on a line of popular toys, this limited series features four ninja warriors — Kai, Zane, Cole and Jay — battling dark Lord Garmadon and his skeleton army. The warriors are willing to go to the depths of the underworld to retrieve the fabled golden weapons of Ninjago."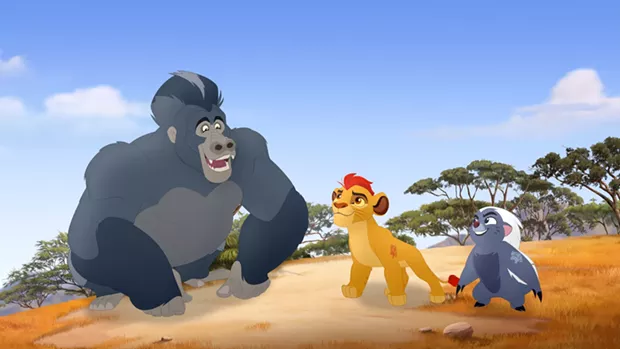 23. The Lion Guard – This show is based on Simba's son Kion and his ragtag crew of plains animals, who defend the Pride Lands. This is Disney milking every last drop out of the teat of The Lion King. It's fun and inoffensive. But every single plotline seems to revolve around dry season and how there is not enough water for all the animals. Kion should probably be working with AOC on that Green New Deal instead of yelling at crocodiles and provoking the gazelles.
22. Inspector Gadget – Just as good as the first one. I argued with my son for days about whether Doctor Claw has a head. He does.
21. Miraculous Tales of Ladybug and Cat Noir – Fancy animation set in Paris, but in the end it's just another one of those kids fighting crime shows.
20. Max and Ruby – Scoring a perfect 10 for lack of noise and screaming. But that's where it ends. Max and Ruby are rabbit brother and sister. Max is young and engages in many hijinks because of his youth. Ruby spends 90 percent of each episode correcting him. Max, learn how to do something. Ruby, mind your own business.