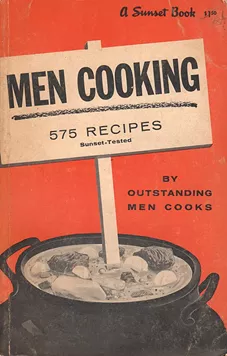 When the seasons turn to fresh food, it's time to dust off the cookbooks and bust out some new recipes. Or the old ones: a lifetime of buying used books means digging deep into the past for forgotten recipes, or just musings.
For years, men cooked professionally — indeed, the world of fine dining was almost exclusively male — and women cooked for the home. Any reversal of this was an outlier, and even today such attitudes persist. But the back half of the 20th century, with its great migration to the suburbs, codified a safe arena for male cooks — a literal safe space around the outdoor barbeque, where modern-day cavemen could toss raw meat onto some approximation of fire.
A publication that did much to promote the barbeque was Sunset Magazine, which heralded the dream post-war Western lifestyle of warm nights, brick-lined patios and men who were unafraid to make dinner. In that spirit, Sunset ran a regular column titled "Chefs of the West," in which male readers submitted recipes; these were later compiled in a handy 1951 tome titled simply Men Cooking.
It's a fascinating cultural document, and proof that today's admired male foodie can trace his roots back decades. As the introduction notes, "these are men who scour a city in search of an obscure herb [or] type of flour." The contributors are listed by name, city and occupation, and the notable number of science and tech types renders instructions such as "test the cooking brine for a pH of 5."
Befitting the West's cultural melting pot, recipes include plenty of then-exotic fare, such as Asian, South Pacific and Mexican, as well as fresh native ingredients, including avocado, citrus and abalone. And lest you dismiss this as a "BBQ guide," note that these 575 recipes run the gamut from sliced tomatoes and sopa de garbanzos to char siu pork and fruit cake.
But give men their manly due: The egg chapter lists huevos rancheros as a hangover cure; compares another egg dish to a "battle breakfast" served on an aircraft carrier; and practically invents fusion cuisine with the "Pedro Fu Wong Omelet," calling for Tabasco sauce, chili, soy sauce, bacon and bean sprouts.