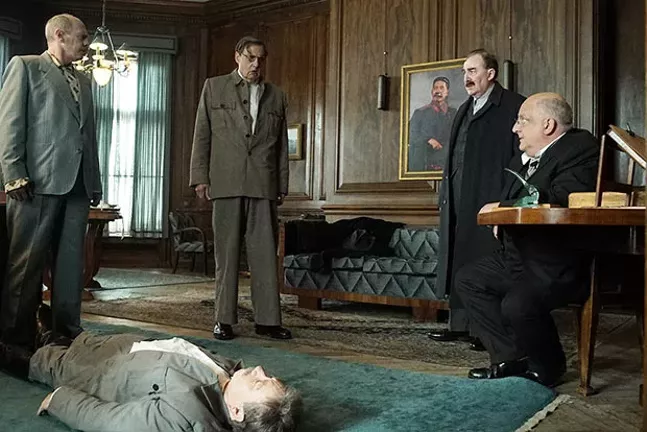 When it comes to deliciously and wickedly eviscerating politics, Armando Iannucci is a master. He's the profane and barbed pen behind In the Thick of It, In the Loop and Veep, and now he climbs back into the director's chair for this pitch-dark satire on the palace intrigue in the days after Soviet leader Josef Stalin died in 1953.
The film opens with an appetizer, a seemingly unrelated excursion to a Moscow symphony hall where a Bach concert is peacefully unfolding and being live broadcast over the radio. But in the audio booth, an engineer gets a call — Stalin would like a recording of the concert, pronto — and there unfolds a frantic comedy to fulfill this request.
After all, only a fool with no desire to live would fail to indulge Stalin's desires. And so it goes even at the top, where later that evening, we join an obsequious group of Stalin's men gathered at his dacha, who are gamely groveling and jousting to curry favor. Minister of agriculture Nikita Khrushchev (Steve Buscemi) is so committed to his sycophancy that when he returns home, he notes which of his jokes won laughs from the dear leader.
Then, opportunity — er, deep sorrow — manifests when Stalin dies, and the jockeying begins. (At the dacha, there is literal scrambling, as the men rush to embrace the near-dead Stalin lying on the floor and encounter the piss-soaked carpet around him.) By law, the dim Malenkov (Jeffrey Tambor) takes the reins, but it's Khrushchev and head of the secret police Beria (Simon Russell Beale) who struggle for dominance. Also in the mix: Molotov (Michael Palin), Mikoyan (Paul Whitehouse), the army head Zhukov (Jason Isaacs), and Stalin's children, Svetlana (Andrea Riseborough) and Vasily (Rupert Friend).
Iannucci deploys intertitles to inform us of the constitutional steps that are to be enacted, but what we get is a madcap dance for power, ambition underscored always by fear. And what better material to employ so many fine comic actors, masters all of the anxious flutter, the pained smirk and the deftly parried bon mot? You don't need to know a lot about mid-century Soviet politics to thoroughly enjoy this film — the power dynamics are obvious, and the assorted archetypes familiar. Still, basic knowledge about the brutalities of the Stalin regime will make some jokes zingier. Why, these top government officials can barely get a medical professional to check for a sign of life in Stalin's inert form: "All the best doctors are in the gulag or dead." Starts Fri., March 23. Manor