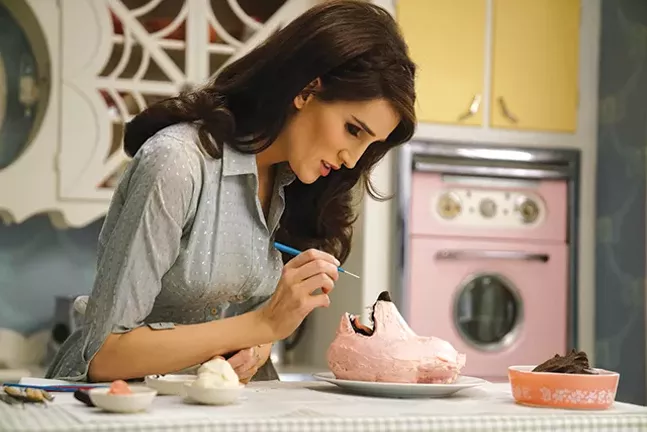 There are several ways to describe the new Netflix show, The Curious Creations of Christine McConnell: funny, sardonic, weird, macabre, vulgar, stylish, impressive, mouth-watering. But the best way to understand the cooking and crafting show is picturing an alternate universe where Sandra Lee, peppy queen of the semi-homemade, took a turn for an Addams Family-inspired goth, combined with the surreal homemaking show At Home with Amy Sedaris.
The episodes are structured like a traditional cooking show, in the sense that McConnell talks to the camera as she cooks. But it's also part sitcom, set in a fantastical, stylized world. In most episodes, McConnell bakes two creations: one elaborate, and one slightly more accessible to novice cooks. Ultimately, both are impossible to recreate at home.
The more elaborate creations include a meticulously decorated monster house, made of cake, a glossy Ouija board, made of cake, and an elaborate chicken pot pie, shaped like a chicken. Gesturing to a towering sugary sculpture, McConnell says calmly, "We're gonna pop this back in the fridge," as if she's just made a simple casserole.
In a way, McConnell is teaching the audience how to bake, but some of the creations clearly took days, if not weeks to complete. And while there might be some useful tips, the baking is mostly for ogling, not DIY instruction.
Cooking shows starring women usually have a maternal tone. Sandra Lee, Ina Garten, and Rachael Ray were always cooking meals for husbands, kids, families, friends. McConnell, too, is a caring homemaker of sorts.
At the beginning of the six-episode series, a giant furry creature named Edgar knocks on the door of McConnell's massive mansion, looking for shelter. She welcomes him with open arms, of course, because her home is a safe haven for all broken, half-dead semi-monsters. Her sidekicks are Rose, a horny, chocolate-loving raccoon wearing a pink bow with a fork for a hand, and Rankle, a mummified cat with a bad attitude.
The house is filled with stragglers, including a tarantula, a tentacled thing, and a ghost living in the mirror played by Dita Von Teese. McConnell whips up creations for her beloved creatures (which are made by the Jim Henson Company) but also for a grouchy neighbor, her grandma's corpse, a hunk she met in the graveyard.
No matter how weird and demented shit gets, McConnell maintains an eerily calm demeanor, almost Stepford-like. Her aesthetic is carefully manicured, with a wardrobe full of 1950s silhouettes, a perfect cascade of chocolate brown hair, and a face painted like a doll.
She's the pristine guardian angel of a home full of weirdos. With her, they are safe. The outsiders can't be so sure.