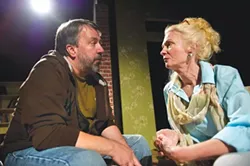 As with so much that's awful in my life, the blame can be traced to Anton Chekhov. Not only did he write all those ridiculous plays, but now when contemporary playwrights start to age they decide to write "Chekhovian." Christopher Durang did it with the pitiable Vanya and Sonia and Masha and Spike, and here's the equally lamentable The Country House, by Donald Margulies, making its local premiere at The REP. The show opened on Broadway in 2014, and eked out a month's run, which, I assure you, is miraculous.
We meet up with a family of theater people headed by Anna Patterson, a leading actress of the American stage. She and her clan have gathered to mourn the loss of Cathy Patterson, whose early death from cancer has brought to the surface unpleasant, buried emotions, which, over the course of two acts, will be talked about … endlessly. It's The Seagull and Uncle Vanya, and that trademarked Chekhovian blend of autumnal regret and what purports to be comedy. But what it really is is a bunch of rich white people moaning.
I don't want to focus too much on what an awful play this is; I'd rather talk about the lovely REP production. But you can't appreciate the cast and crew's good work unless you understand the bloated corpse they're asked to animate. I know that sounds harsh, but when this play wasn't dull it was trite; the fact that the characters ironically admit they sound like clichés doesn't make them less cliché. And the final, god-awful scene is substandard playwriting like I haven't experienced since I stopped judging amateur playwriting festivals.
But happier news. Director John Amplas has helped a remarkable cast navigate these treacherous waters: Maggie Carr as the brittle, brilliant granddaughter, and Christopher Josephs as her all-too-human father. David Cabot has the worst role — a childish, petulant brat — but finds ways to make us care. And Cary Anne Spear is luminous as Anna. Playing outsiders are a clear-eyed but bruised Marie Elena O'Brien and Paul Anthony Reynolds, as a man trapped between the present and the past.
They all just need to move to a better house.