If you had to pick a religion where any Pittsburgher -- rich or poor, black or white, gay or straight -- felt comfortable, that religion would be the Pittsburgh Steelers.
But a close second might be the Community of Reconciliation in Oakland. And by a happy coincidence, that's where I was the morning of Super Bowl Sunday.
As in churches all across the city, the Steelers found their way into the service. Despite being a Baltimore native who came to Pittsburgh by way of Cleveland, Rev. Denise Mason found a black-and-gold patterned shawl to wear, and closed out the service reading a Steelers version of the Lord's Prayer. (It concludes "A-Ben.")
But Super Bowl Sunday has special significance at COR. The church's roots were planted on the day of an NFL championship game 42 years ago, when members of a Hill District church voted to merge with two white congregations, forming the city's first racially integrated congregation.
Martin Luther King once famously observed that the most segregated time of the week in America was 11 a.m. on a Sunday morning. But it's not true here: Of the roughly four dozen people in the congregation on Super Bowl Sunday, about a third were black. Among the full membership, the ratio is about 50-50.
The Community of Reconciliation calls itself "radically inclusive," and it strives to practice what it preaches. The 40-year-old congregation has been witness to, and sometimes a leader of, some of the most wrenching changes in American religious life. It has sought to desegregate the sacraments, and it has led by example when it comes to the inclusion of women and sexual minorities in its religious life.
Accordingly, the music for the Super Bowl service drew from the Methodist hymnal as well as the black gospel tradition. Mason's sermon was a hybrid too. It started with references to C.S. Lewis, the British Christian apologist and author of the Chronicles of Narnia. But Mason also showed her roots in the black church of her Baltimore hometown, occasionally calling out, "Can I get an 'amen'?"
Even so, the COR numbers only about 120 active members. And if you're wary of religion to start with, you can't help wondering why that is. Why is it that the more accepting a church is -- the more it reaches out to people from all walks of life -- the fewer people actually show up?
But there was no questioning the sincerity of the people seated around me. The altar has not just one offering plate but several, each for a different cause. And when it was time for communion, the woman behind me -- who turns out to be Peg Yingling, a longtime church leader at COR and the very first Presbyterian female minister to be ordained in Pittsburgh -- urged me to go up. She'd never met me before, but she seemed confident I belonged there.
"You're one of us!" she says.

"Community of Reconciliation" doesn't sound like a church. It also doesn't look much like a church. It's located on the first floor of an office building, Oakland's Bellefield Towers, on the corner of Fifth and Bellefield avenues. The sanctuary, and the offices on a second-floor balcony overlooking the space, are mostly screened from outside view.
There is a church tower there, but it's merely a stump -- a unused remnant of an earlier church that once occupied the Towers site. The only other clue to the Community's presence is a mural along the curving glass wall of the Towers' ground floor -- a colorful depiction of the church's diverse membership.
But the Community occupies a space larger than you can see from the outside. In the mural's lower right-hand corner, for example, is a middle-aged black man holding hands with two white women. That's Tony Norman, the columnist for the Pittsburgh Post-Gazette.
Norman says he and his wife, who had moved to Pittsburgh in 1987, "stumbled onto the church accidentally." But, "One thing we saw that we hadn't seen anywhere else was racial diversity. My wife said, 'If we're going to go anywhere, we're going to go here, because this inclusiveness is what I want.'"
Norman is no longer an active member of the church, but if he hadn't joined, you might never have heard of him. One of the COR's leading lights was Clarke Thomas, a Post-Gazette editorial writer who passed away last month. As Norman recounts in a P-G remembrance of Thomas, he approached Thomas with a handful of columns he'd written. "[H]e agreed to walk them in if he thought they would hold up to the paper's editorial standards," Norman wrote. "That was a Sunday; the following Tuesday, the P-G editorial page offered to buy two of the pieces." Norman's career was born.
And Post-Gazette staffers aren't the only public figures to have passed through the Community's doors.
"I can't exaggerate how much it changed my life," says longtime peace activist Vince Eirene -- who for years has held protests at the Pentagon-funded Software Engineering Institute just across the street. Other Community members take part in similar protests, ranging from antiwar demonstrations on Fifth Avenue itself to protests at the School of the Americas, a security-training facility in Fort Benning, Ga., where, critics say, Latin American regimes are taught how to suppress their own people.
Janet Edwards, the Presbyterian minister who attracted national attention by marrying two women in 2005, has served COR in various capacities, though she currently identifies herself merely as an "aspiring alto" in its choir.
Even Mr. Rogers has a connection to the Community, according to This Far By Faith, a history of the church Thomas wrote for its 40th anniversary, last year. Rogers came to the COR to teach Sunday school in the late 1960s -- presumably because it offered one of the few integrated Sunday-school classes in the city. (One witness in the book recounts seeing the unflappable Rogers actually "lose his cool" when a child was banging too loudly on the piano.)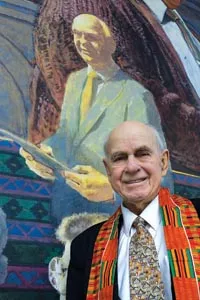 All of this sprung from the vision of Harold Tolliver, whose Grace Memorial Presbyterian Church was one of the city's leading black congregations. Amidst the civil-rights movement, Tolliver proposed moving his Hill District congregation to Oakland, where it would join two already-merged white Presbyterian churches. As Thomas quotes him saying later, "The crossing of races and cultures in the name of Christ had to be."
There was resistance, Thomas' history shows, from some inside the church who were wary of whites. The larger church community had doubts as well. Because of concerns "that a 'liberal' congregation might prompt a drain of valuable members from other churches," Thomas writes, "the new worshipping congregation would not designate itself as a 'church' -- one reason it called itself a 'community'" instead.
Tolliver and his supporters eventually broke away from Grace Memorial. But his experiment was soon folded into another attempt to bridge religious differences. Even as Tolliver pressed his cause, a handful of Protestant churches were forming the University and City Ministry, a multi-denominational congregation intended to serve the college community.
Thus emerged the Community of Reconciliation, in 1968. It's an experiment in merging two different races and five different Protestant congregations: the Presbyterians, the American Baptists, the United Methodists, the Disciples of Christ, and the United Church of Christ.
And that was just the beginning of the COR's attempt to bring people together.
Eirene, for example, was a teen-ager living in Upper St. Clair back in 1968. Though a Catholic, he hung out in a church coffeehouse at Westminster Presbyterian. Church leaders "got a hold of us kids and said, 'How about we have a youth group with kids from Upper St. Clair, and Grace Memorial in the Hill District?'" Initially, Eirene says, it was rocky: "People don't remember this, maybe, but black people and white people didn't always get along. Talk about a crucible: It was just arguing with each other all the time. But slowly and surely it all just melted away. I still have friends from those days."
Not surprisingly, the Community also attracted people who had been repelled by the religious dogma and sectarian infighting they found elsewhere.
When Sally Alexander joined the church. in 1970, "I was trying to clarify my belief. The people there weren't trying to shove their faith down my throat. It just offered a kind of openness."
Alexander had special reason for seeking that out: She was going blind, and doctors couldn't figure out why. "I was hearing a lot of things that didn't make sense: 'God's giving you this because you are strong,' or 'It's punishment for something you did.'" COR made her feel welcome: Alexander's regular seat in church is down in the front row, where the Braille hymnals are kept. More importantly, Alexander says, "I wanted to be in a place that was open to talking about faith. And when I joined, a lot of members were people who couldn't go anywhere else."
Weeks before his death, Thomas told me about his own encounter with the Community, which took place in 1971, shortly after he moved to Pittsburgh to work at the Post-Gazette. "You had people with varying incomes, varying marital status. Being in this multicultural, multi-racial situation was exciting. You always felt you were doing something important."
And in some ways, bridging centuries-old divisions between races was the easy part.

Over the years, COR has experimented with various innovations. Some -- like the sharing of "joys and concerns" among church members during the service -- are now widespread in other churches. Others -- like a service featuring jazz bands, balloons and congregants chanting "bread" over and over -- are perhaps best forgotten.
What has emerged at COR is a blending of religious traditions, from evangelical to uptight. Sunday services last upward of two hours -- long if you're a Catholic or mainline Protestant used to getting home in time for the NFL pregame, but on the short side in many black churches. And while some members come from more straight-laced traditions, others are more responsive. As Jean Thomas, Clarke's wife, puts it, "There are people who" -- and here she commences waving her arms around her head -- "when the spirit moves them." It took some getting used to, she acknowledges.
More contentiously, like many churches, COR has been wrestling with how to minister to gay and lesbian Christians.
In June 2005, Janet Edwards presided over a marriage ceremony for two women, Brenda Cole and Nancy McConn. Edwards is a Presbyterian, and while that faith does not recognize same-sex marriages, church authorities cleared her of wrongdoing.
In a way, Edwards' gesture was consistent with the church's 40-year legacy: a radical demand that the church put aside doctrines and practices that keep people from sharing Christian fellowship.
Even so, Edwards' very public gesture has caused some tension at COR, which bills itself as a "radically inclusive" congregation that welcomes gays and lesbians. "COR, and maybe [Rev. Mason] herself, would have a different way of going about it than what I did," Edwards acknowledges. And she says that, in general, the community "took a very long time to understand that a commitment to reconciliation includes GLBT people."
But one reason such reconciliation may be difficult is that COR has tried to bridge so many gaps already.
Part of the problem is COR's hybrid structure. Being a member of five different congregations "is a little like being married to five people," says Mason. Across the country, there are numerous Protestant "federated churches," hybrids in which the congregation is made up of different faiths. Still, it's all but impossible to find a church that belongs to more than two, let alone five.
In theory, if Presbyterians and Baptists, say, differ on a theological issue, the Community is allowed to choose the more tolerant position. But in practice, says Mason, it's not that easy. The American Baptists especially "have struggled with our open and affirming stance" on homosexuality. "There have been some in the American Baptist church who have been put off by some of the things we've been involved with." Mason says that while things are "still in the talking stages," it's possible to imagine a break with the Baptists down the road.
While COR's relationship with other congregations is perhaps less fraught, the Community's inclusive approach is still unusual in Pittsburgh. The Reconciling Ministries Network -- a group of Methodist advocates for LGBT participation in the faith -- lists COR as its only member church in Pittsburgh. The community is also a lone Pittsburgh outpost for a similar movement in the Disciples of Christ, and one of a handful of Presbyterian churches involved in such a movement. In general, COR members say, the attitude of the larger denominations toward COR is (as Edwards puts it), "We're glad you're doing this -- and we're glad we don't have to."
And although COR was born in the 1960s, it hasn't automatically embraced subsequent movements that have adopted the "civil rights" mantle. Earlier in its history, for example, feminists in the church were often frustrated in efforts to get the church to abandon gender-specific language referring to "man" and "God the Father." (At one point, This Far By Faith recounts, they considered surreptitiously gathering up hymnals and editing them by hand.) Other church members didn't feel the first phrase of the civil-rights movement was over yet, and feared dividing the church's energies.
Edwards says that at COR, the goal "is to make sure everybody is part of the conversation." That has kept the movement together, she says, but it also "slows everything down" -- and all that disputation can take a toll.
The community "was formed out of protest, so it sometimes has a problem recognizing leadership," says Mason. In its 40 years, the church has had nearly 20 pastors and co-pastors, several of whom have lasted only two or three years. (Nearly half of those pastors have been black; a handful have been women.)
Yet throughout such struggles, says the Post-Gazette's Tony Norman, he also felt intensely that the congregation was a family -- with all that comes with such bonds. "You really felt like people were working on their religious neuroses," Norman says. "Just like I was."

In fact, it's a symbol of COR's struggle that Norman himself eventually left the church. (He now attends the Hot Metal Bridge Faith Community, on the city's South Side.)
A Philadelphia native, Norman says he'd been brought up in a much more orthodox tradition than many other COR members, and that he could be more judgmental as well. "I was never an asshole about it; I never said, 'Oh, you're going to hell,'" he says. "But on a subtle level, I did believe I had my shit together, and there was no standing on airs at COR. It was, 'You believe in interesting things; have a hot dog.' And I loosened up. When you're a Calvinist sitting next to Janet Edwards, a certain stretching takes place."
Over time, though, Norman felt things got too loose. During the mid-1990s, under pastor Willis Ludlow, the church became so committed to political advocacy, Norman and others say, that worshipping God almost seemed like an afterthought.
"Sometimes you just want the liturgy," Norman says. "You go to church to feel that your prayers mean something. Maybe it's egocentric to think you can appeal to God, but church should remind you that you stand in the presence of the transcendent. At COR, the liturgy wasn't tethering me."
Norman recalls a Swahili-language service, which he couldn't follow, as being the last straw. "I felt like a Pharisee. Jesus would say, 'The more the merrier,' probably, but I ain't Jesus."
Such complaints aren't unusual at liberal churches. In his 1994 book The Soul of Politics, Jim Wallis argued that while hardline right-wingers had construed the Christian faith too narrowly, liberal Christians broadened it to the point of meaninglessness. "Liberal religion has lost its spiritual center," he wrote. "With liberal religion, social action in the world can become severed from its roots in faith, producing a language and practice that seem more bureaucratic and ideological than spiritual." Liberal churches, Wallis and others argue, have lost members because they lost track of the Gospel.
Similarly, COR's Mason says, the Community "was so focused on being a place for people who could not find a place in the Christian church, that it lost its Christian identity."
When Mason first arrived in 2000, she says, "The Bible was one of the lesser-read books." Readings were as likely to come from newspaper or magazine articles. Soon, Mason said, she began to challenge members with the question, "Why do we think conservative Christians have more right to the Scriptures than we do?"
Mason has restored many of the traditional practices to the service. It may not seem unusual for a pastor to use the Lord's Prayer in a Sunday service, but she recalls that after doing so, "an older member of the church came up to me with tears in her eyes and said, 'I never thought I'd see the day when I'd hear the Lord's Prayer in my church.' I felt like a real radical, just doing things like that."
COR, she says, is as susceptible to the danger of groupthink as any other congregation. Mason recalls once asking congregants, "'How many of you would want President Bush to pray with us?' There was a low groan. And I said, 'You shouldn't just want that -- you should be praying for it.' This isn't about our righteousness; it's about God's righteousness."
Such debates may be one of the fruits of the church's racial diversity. "Black preachers tend to emphasize the Bible a lot more," Clarke Thomas pointed out to me. On issues like hymn selection or homosexuality, the Community's black members may sometimes skew more conservative. But they've also helped tether the faith in its Christian tradition.
The community remains small, though it has grown slightly in recent years. (More impressively, it has retained its original racial balance: New membership has been 50-50 white and black. There's no quota system, and Mason says the church doesn't consciously seek a racial balance.) Norman himself still returns to COR on occasion, and he recalls that during the build-up to the invasion of Iraq, "I remember seeing everyone from COR at the head of [a protest] march. And I was so proud to have been a member of that church. I remember thinking, 'This is what COR is all about -- speaking truth to power.' Not many churches are willing to do that."
While COR leads by example on many issues, its small size makes the example easy to overlook.
Wanda Guthrie, who leads the progressive religious movement Roots of Promise, says COR's public profile is "not much larger than other liberal churches." When it comes to mobilizing members for public demonstrations or other activities, she says, "I wouldn't say that they do a better job than East Liberty Presbyterian or Sixth Presbyterian."
Still the Community isn't really about agitating for some greater cause: It is the greater cause. It's one thing to march for the cause of equality out in the streets; it's another to honor those values in your own home.
COR "makes allowances for all kinds of political thought and ways of being," Guthrie says. "That's not so of a whole lot of churches. We tend to congregate with like-minded people." COR's small size, perhaps, is a reflection of just how difficult it is to live by the precepts of the faith so many of us claim.
"What the Community does is provide a place for Christian worship that supports individuals going out and doing [social-justice] work," says Edwards. "At other churches, you might go to church in order to engage in Christian ministry. At COR, one gets fortified in church, and then goes out into the world."