For a dancer, a career-ending injury can be one of life's most traumatic events, altering one's perception of self and miring the future in uncertainty. That was the case for Point Park University dance-department chair Rubén Graciani, who in 2013 suffered career-ending injuries while creating a work for his Saratoga Springs, N.Y.-based RG Dance Projects. His experiences inspired Five, a new abstract contemporary-dance work that journeys from trauma to hopefulness.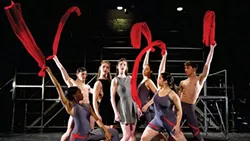 Five, choreographed by Graciani in collaboration with Point Park faculty member Kiesha Lalama, is set inside the mind of a dancer in the throes of a life-altering experience such as Graciani's. It's set to a mix of classical and contemporary music with live accompaniment by Pittsburgh's Bach Choir, and performed by the university's Conservatory Dance Company. Five's opening act introduced the main characters, with Christian Warner as the troubled Man and Alex Hathaway as his Conscience, an unflinching jailor who forced him to face his fears. Time and again, Warner struggled to flee from his anguish, symbolized onstage by a group of dancers controlled by Hathaway. Warner also found himself at times physically bound to his situation by a long red strap that prevented his escape. (Note: Four performances of Five remain; on Feb. 12, and at the 2 p.m. performance on Feb. 13, the roles of Woman and Conscience will be danced by Hailey Turek and Skylar Schultz.)
While Graciani and Lalama's choreography created some powerful moments, the first act was a bit one-note. Its best moments came with Warner in a frantic struggle with Hathaway, winding and unwinding himself in the red strap as the choir sang composer Carl Orff's ominous "O Fortuna" from Carmina Burana, and in a wonderfully musical fourth scene choreographed by Lalama and danced with verve by CDC's dancers.
Five's second act proved a bit more varied and interesting, with the introduction of a talented group of dancers representing the five senses. They awaken Warner's character to the possibilities of life and turn his Conscience from bully to comrade, instilling feelings of happiness and hopefulness for the future. Warner and Hathaway, along with Kendra Epik as the "sense of hearing" and Aviva Gomes as the "sense of sight," were standouts in this emotional if oversimplified story.