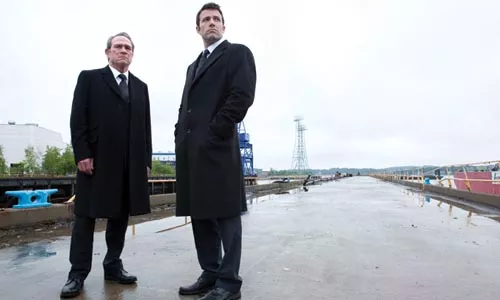 John Wells' drama The Company Men is a well-intentioned blunder: a tone-deaf tale set in these tough times that asks us to feel sorry for very wealthy people who lose their jobs and are forced to live like slightly less-wealthy people.
Tommy Lee Jones, Chris Cooper and Ben Affleck -- in descending order of executiveness -- all work at a Boston-based conglomerate and are laid off to better balance the books. Set adrift, each adopts a singular emotion: Cooper grows depressed; Affleck turns pissy; and Jones gets angry. These are not bad performances, so much as thinly written roles.
Not to diminish the pain anybody feels losing a job, but it's a trifle hard to get sniffly when characters have to give up a Porsche. Kevin Costner plays the film's "regular guy," a struggling contractor who gives his brother-in-law Affleck a job. Costner gets in a few digs at "suits," but this film pulls its punches on the devastating effects boardroom actions can have on hundreds of thousands -- not just these three.
What could have been a trenchant study about the ill health of the American Dream is too timid, and its domestic crises too rarefied. Lastly, the film winds up in a place of utter fantasy that anybody living in the real world will rightly groan at. Starts Fri., Feb. 11.