Even in a city increasingly accustomed to high-profile restaurant openings, The Commoner stands out. This is partly due to its location within the Kimpton Hotel Monaco in the former Reed Smith building Downtown; the first of a wave of boutique hotels to open in Pittsbugh, it is a potent symbol of both upscale style and economic rebirth. But the advance buzz on The Commoner is also partly attributable to its executive chef Dennis Marron, brought in from well-regarded restaurants in the Washington, D.C., area. In any case, it's the first time we can remember being unable to reserve a table for a Thursday.
When we finally did get in, the interior — an homage to industrial Pittsburgh — struck us as one of the city's most stunning, despite being well below street level. But big, high windows admit daylight and frame unusual views of the Downtown skyline, while leaving plenty of wall space for old maps of the city's riverfronts, blown up and printed onto antiqued mirrors. The Commoner manages to recall Pittsburgh's (suddenly glorified) industrial grit while somehow still appearing shiny and new — a neat trick.
The name refers to William Pitt, a.k.a. The Great Commoner, but also hints at the restaurant's concept, which is essentially updated tavern and comfort food. Hearty favorites like burgers, steak frites, seafood chowder and flatbread share the menu with slightly more adventurous items, like steak tartare and bone marrow, along with a healthy assortment of not-your-grandma's-vegetables, including (of course) brown-butter Brussels sprouts, but also charred cauliflower with sage-walnut pesto and a medley of roots and tubers.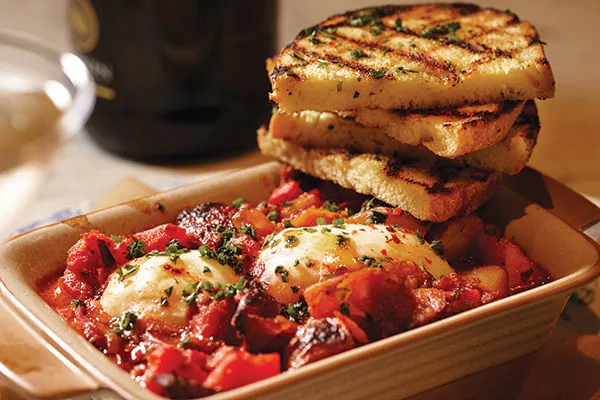 Emblematic of The Commoner's new approach to the old were scampi and chips. Put buttery garlic sauce out of mind and picture several large shrimp stacked on a vertical skewer alongside a comparable skewer of waffle fries, also impaled. The firm shrimp were briny and juicy, their light, crisp coating providing contrast and crunch — when it didn't slip off. The waffle fries, also light and crisp, benefited from a modern dusting of malt vinegar powder, which provided welcome tang without sogginess.
The Scotch deviled egg, served halved, was a more traditional success. The addition of a puff of deviled yolk atop the boiled one helped the egg stand up to the strong, salty savor of the sausage coating, which was just the right thickness.
The menu offers two burgers: the PA burger — a mix of ground beef and lamb, with white cheddar, watercress and smoked-yellow-tomato ketchup — and the intriguing onion-soup burger, an all-beef patty topped with onion soup, Gruyere and aioli on an onion bun. We ordered the former. It was very tender, and so finely ground that its texture was almost smooth. Jason found it overly salted, but Angelique wasn't bothered, and liked the almost-pungent sharpness of the substantial slab of melted cheddar. The ketchup bore about as much resemblance to Heinz as grape juice to Bordeaux; its astringent tang was a welcome counterpoint to the hearty meat. Overall, this was a thoughtfully constructed burger, if the patty itself was unexceptional.
Steak-and-ale pie with a suet (beef-fat shortening) crust, a pub classic from The Great Commoner's homeland, was charming enough with a little ceramic penguin as a steam chimney and a substantial cap that was a lovely golden brown. But beneath the crust were such big chunks of meat and root vegetables that the pie had to be almost completely dismantled in order to prepare bite-sized pieces. The beer-based gravy was thin and bland, and while the short rib was tender and the vegetables suitably cooked, the crust deserved better.
Then there was the strip steak, a favorite cut for its tender, fine-grained texture paired with big beef flavor. But even when we sliced The Commoner's strip thinly, bites were tough, even stringy, and the beef flavor was obscured by a smokiness in the crust that would enhance a richer, bolder cut like ribeye, but here seemed out of place. Fries on the side were fantastic, and the house steak sauce — adorably served from a cow pitcher — was tasty, distinct from the default A-1 style, yet offering the same complex blend of sweet, tangy and savory flavors. But the point of a good steak is never, ever, the sides.
Traditional cooking relies on painstaking recipes and foolproof technique to wrest satisfying meals out of challenging ingredients. But the modern American style relies on impeccable ingredients and chef-driven reinvention. This leaves but a thin margin for a mediocre steak or a stew that doesn't quite come together.