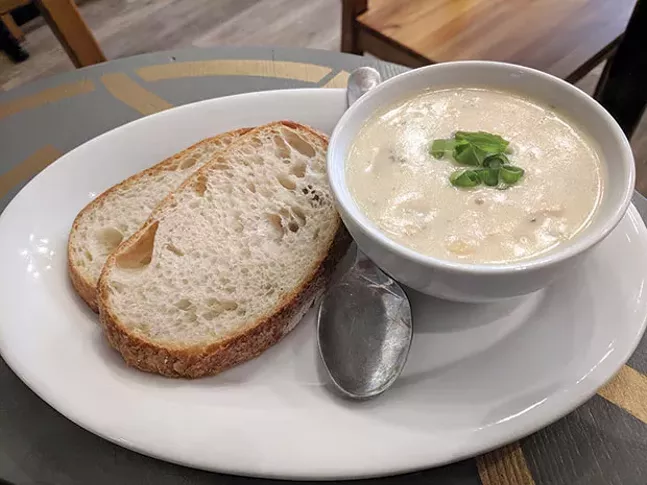 A few years ago, Erik Hendrickson and his wife Sue were living in Brooklyn Heights, N.Y., when they decided to quit their corporate jobs and open a cat café. Hendrickson says they fell in love with Pittsburgh immediately and knew it would the perfect place to launch their new endeavor.
Like other cat cafés, Colony Café lets people pet and cuddle with friendly felines, while enjoying a beverage or light meal. (The café is downstairs, and the cat loft is upstairs; patrons can also dine in the café and never mingle with the cats.)
But Hendrickson says he and his wife wanted it to be more than a gimmick.
"We wanted to create something a little more elevated," Hendrickson says. "A lot of the cat cafés are kind of cutesy. They're all about coffee and cats, and we didn't think that was going to be sustainable for the long run."
Colony Café serves food, coffee, wine, beer and cocktails. The food menu is split between sandwich melts, open-faced sandwiches, salads, dips and spreads; there are also cheese, fruit and meat boards, for sharing. Hendrickson's current favorite item is the avocado "pitza," composed of hummus, avocado, fresh greens, olive oil and lemon juice on pita bread.
"We thought about what would be friendly to eat upstairs with the cats," Hendrickson says. "And a lot of the recipes are family recipes. I wanted to make things close to my heart that I thought people would enjoy. And, of course, we had to have avocado because everyone loves avocado."
There's also a soup of the day. When City Paper visited, it was potato corn chowder, made from Hendrickson's mother's recipe.
As for the cats, they eat a mixture of Rachel Ray's Nutrish, Fancy Feast and Temptations cat treats.