Many American masters have contributed to this country's cultural identity, but only a rarefied few have built its essential foundation. The poetry of Walt Whitman, the essays of Ralph Waldo Emerson and the music of Louis Armstrong are all sui generis to the American ethos. In the visual arts, there's one artist who is perhaps the least known, but the most recognized of all these giants, the painter Edward Hopper.
Hopper's works, most famously "Nighthawks" (1942), have so infused the creative psyche of this country that to describe all of the artists, film directors, writers and designers he has influenced could fill an entire book. A show exploring him, CMOA Collects Edward Hopper, at the Carnegie Museum of Art, is an opportunity for discovery that no American adult, and especially, no American child, should miss.
Although "Nighthawks" is not part of this show, it does contain several of his masterworks, and several pieces never displayed in public before. Though he's often called the ultimate realist, it appears, as you walk through this exhibition, that Hopper is actually one of the ultimate abstract painters. What makes this seeming contradiction possible is his absolute concentration on the sublime, which he evokes by the passionate exclusion of the prosaic: He shows little, and dares to tell less, than almost any modern representational artist.
Among the 17 works on view — all from the Carnegie's collection — are many important paintings and watercolors. But it is the etchings that make this exhibit such a visceral experience. Some of them are among the most seminal in their medium. "Night Shadows" (1921) shows a solitary man surrounded by darkness, wading into the reflected light of a hidden streetlamp, virtually being swallowed by his own solitude in a mysterious urban landscape. The viewer is positioned above, as if standing on a filmmaker's crane, in a way that presages film noir cinematography by two decades.
Even more psychologically intense is "Evening Wind" (1921), which depicts a lone woman, kneeling naked on a bed, startled, perhaps, by the wind-blown curtains violating the room and almost clutching her. This woman is any woman — and every woman — of the modern American sensibility. We can see ourselves in any of Hopper's works, something we could never do in those of the past European masters. Like Whitman, Emerson and Armstrong, Hopper realized how fortunate we were not to have millennia of precursors as the European artists did: We became perhaps the last major culture able to invent its own national character.
It was these etchings that led directly to Hopper's originality and greatness as a painter. "After I took up etching my painting seemed to crystallize," he remarked. And it was at this point in his career that he began to gain some recognition. The Carnegie proudly points out that the Carnegie Institute exhibited him several years later, but fails to mention that in 1924, it rejected him flatly. Had it accepted him then, the Carnegie might have given him the imprimatur of national recognition he was desperately seeking, but would not find for many years. Apparently, Hopper held no umbrage as he submitted again, the Carnegie eventually accepted him, and he came to Pittsburgh to judge for its 1939 International Exhibition. (CMOA Collects also includes the first painting Hopper ever sold, 1911's "Sailing.")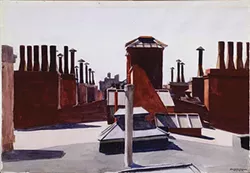 Among the paintings displayed is the iconic "Cape Cod Afternoon" (1936), a portrait of an old Cape house, unconventionally viewed from the rear, in varying degrees of shade, stark below a brilliant sky. As with the aforementioned Night Shadows, Hopper loved to heighten the isolation of his subjects by contrasting them against some distant illumination, imbuing the character of light with an innate sadness.
Perhaps nowhere does Hopper capture a purely American identity better than in works such as "Roofs of Washington Square" (1926), a watercolor depicting an array of rust-colored air vents and chimney stacks atop an apartment building that only his eye would find arresting. But as he portrays it, the view attains a striking emotional intensity.
Hopper was proud to wrest our aesthetic consciousness away from the school of French painting dominant at the turn of the 20th century, and to enable us to appreciate what he called "our native architecture with its hideous beauty."
As you step into Gallery One of the Carnegie and become surrounded by his work, you can easily see why Hopper is so intrinsic to the American ethos. His influence is everywhere, because what he discovered and captured with his art was something already there before us, but which nobody had quite seen before.