When the 2013 Carnegie International opens this week, the 117-year-old showcase will reassert its place among the world's most venerable exhibitions of contemporary art. But while the International's prestige in recent decades has fluctuated, one thing has not changed: No artist actually living in Pittsburgh has been part of it since 1967.
That drought ends Oct. 5, when the 35 exhibited artists from 19 countries will include Transformazium, an artists' collective based in Braddock. The group is relatively new to the local scene. But its inclusion is just one way the International's otherwise globe-trotting curators have steeped themselves in Pittsburgh's art community in a way the previous 55 Internationals didn't.
For instance, the International also includes artist Zoe Strauss' photographic portrait studio in Homestead — adding Pittsburgh faces to an international art conversation that includes works from the Middle East, Asia and Latin America. And for the past two of the three years they worked on the show, curators Daniel Baumann, Dan Byers and Tina Kukielski have run the Carnegie International Apartment. This Lawrenceville rowhouse hosted some 50 salon-style gatherings featuring talks by both local and visiting artists. Though the International has always been primarily about bringing the world to Pittsburgh, says Byers, "We wanted to do that and also bring Pittsburgh to the world."
Some critics question how much the International benefits the local art scene. But Transformazium's Ruthie Stringer says that in the first International since 2008, there's an exciting cross-pollination between the exhibit and the city itself. "When you place value on various people and various neighborhoods," she says, "then contemporary art can remain contemporary."
The women who comprise Transformazium — Stringer, Dana Bishop-Root and Leslie Stem — relocated from Brooklyn to Braddock in 2007, early in Mayor John Fetterman's widely publicized efforts to revitalize the hard-luck mill town. They acquired and are renovating an abandoned church. Their practice is less concerned with making beautiful objects than with doing projects that help empower the community. Transformazium's signature initiative is a print shop in the Braddock library that includes screen-printing training, an open studio for teenagers, and after-school programs. 
The Art Lending Collection, a collaboration with the library, inhabits the building's former children's room. It will include about 100 smaller, mostly two-dimensional framed artworks, including works donated by the International's other artists, like British sculptor Phyllida Barlow and American artist Wade Guyton. It'll be "a carbon copy of the 2013 International in Braddock," says Byers. Holders of any Allegheny County library card can check out an artwork just as they would a book. (The project will also be represented by an installation inside the Carnegie Museum itself.)
The idea is to integrate art and daily life. And if a borrowed work is damaged, the borrower will be liable for $100 and not, say, $10,000. "We think it's important to create a totally separate system for valuing art" outside the high-flying international market, says Bishop-Root. 
Like Transformazium's involvement, the International Apartment reflected a curatorial priority for the show, which the museum says cost $5.2 million to produce. "We wanted to make sure that we did a show that was rooted in Pittsburgh," says Byers, the museum's curator of modern and contemporary art — to have local input inform the International conversation. Baumann and Kukielski moved here from Switzerland and Brooklyn, respectively, for the job. The curators have frequently participated in local art shows and events at venues like Artists Image Resource and the Unblurred gallery crawl. 
Jasdeep Khaira, a co-founder of local artists'-book publisher Encyclopedia Destructica, presented at the Apartment twice and attended several other events. Attendees at the talks typically numbered in the dozens, with guests as prominent as famed performance artist Carolee Schneema. Khaira credits the International's curators for their local interest. "They really did engage with the city," she says.
Andrew Carnegie founded the International in 1896 to expose Pittsburgh to new art and, not incidentally, to grow his brand-new museum's collection. Among contemporary-art expos, only the Venice Biennale, founded in 1895, is older. Until the 1980s, the International remained among a handful of such shows.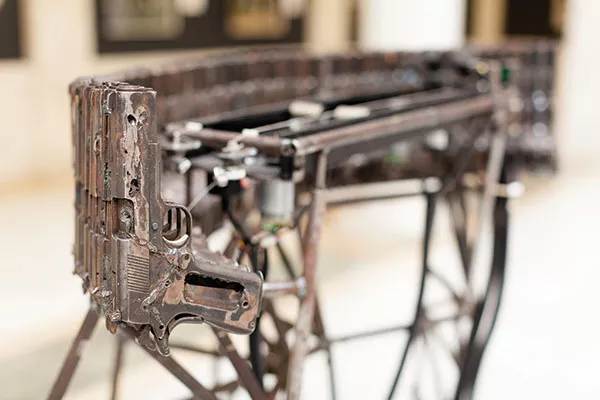 Important works from Internationals past remain in the museum's collection and in the community, like Alexander Calder's 1958 mobile "Pittsburgh," at Pittsburgh International Airport. Internationals boost museum attendance, says Carnegie spokesman Jonathan Gaugler, and visits by out-of-towners — including New York dealers and tours run by other museums — rise from 20 percent to 30 percent of total admissions. For instance, Michael Olijnyk, of the Mattress Factory, says International-related tours will visit his North Side museum "almost every weekend" through March: "It's a constant flow of people."
"It does add a lot to the local scene, because otherwise you would have to travel to three or four continents to see the same thing," says art dealer Sam Berkovitz, owner of Pittsburgh's Concept Art Gallery.
Most observers say the exhibit benefits local artists, too. "It establishes the criteria of quality," says Murray Horne, who runs Wood Street Galleries. "It's inspirational and aspirational for local artists."
Still, with the proliferation of other such festivals and commercial art fairs in cities from Sydney to Istanbul, some question the International's usefulness.
"I'm not sure it's as important an exhibition as it was previously," says curator Vicky Clark, a former longtime museum employee and author of a 1996 history of the International.
"I believe they should get rid of it," says Tom Sokolowski, former executive director of The Andy Warhol Museum. Sokolowski says that the Internet has made contemporary art more accessible to all, even as budgetary constraints and a lack of direct international flights discourage dealers and collectors from visiting Pittsburgh. And like Clark, he says that the Carnegie would serve the local art scene better with more frequent, if smaller, exhibits of contemporary work.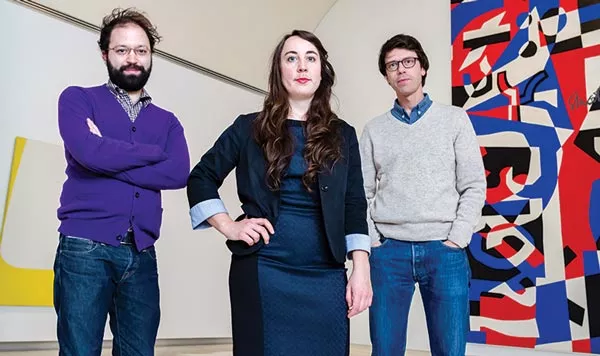 The Carnegie's Byers says it's not either/or: The museum, he says, has featured more contemporary work — including big solo shows like 2012's Ragnar Kjartansson: Song — and plans to continue doing so. 
But what about that long absence of local artists since 1967's International, which featured painter Samuel Rosenberg? Tim Kaulen, whose sculptures include the oversized children's toys on the lawn of the Pittsburgh Center for the Arts, admits that 10 years ago, he might have criticized the International for ignoring locals. But now he takes the exhibit for what it is.
"There's always a handful of pieces that just blow my socks off, and I don't have to go to New York to get that stimulation," says Kaulen. "Hopefully ... it raises the bar and challenges us to do great work."