After the midterm elections on Tuesday, the Democrats will take control of the U.S. House in 2019, winning 221 seats to seal a majority, with the possibility of adding
more seats
as results are finalized on the West Coast.
The Democrats also gained several governor's mansions, and flipped some state legislatures. Some are calling it a wave, while some are not going that far, considering the Republicans are likely to gain U.S. Senate seats after results are finalized.
But in Allegheny County, it's evident that wave never really crashed down at all.
There were several competitive Pennsylvania state House seats in Allegheny County that were in Republicans control prior to the election. All of them stayed that way.
State House Speaker
Mike Turzai
(R-Marshall) held off his challenger Emily Skopov (D-Marshall). Valerie Gaydos (R-Sewickley) won the election against Michele Knoll (D-Ohio Township).
Natalie Mihalek
defeated Sharon Guidi (D-Peters), and Lori Mizgorski (R- Shaler) took down Betsy Monroe (D-Fox Chapel).
Four seats were being vacated by incumbent Republicans, and Democrats were hoping to pick some of them off. But they failed. Most Democratic candidates outperformed former presidential candidate Hillary Clinton in these districts by a few percentage points, but some Republicans also out performed President Donald Trump.
The hope that well-known candidates who won easily, like Gov. Tom Wolf (D-York) and U.S. Sen. Bob Casey (D-Scranton), would help down-ballot state Democrats over the finish line never materialized. Even though Allegheny County didn't flip any seats from red to blue, Democrats did pick up 11 state House seats statewide. The state House will remain in Republican control, but by a smaller margin.
And while the state House was held by Republicans in Allegheny County, Democrats did see some gains in the area.
Lindsey Williams
(D-West View) won her state Senate contest against Jeremy Shaffer (R-Ross) by about 500 votes. This seat is currently held by state Sen. Randy Vulakovich (R-Shaler) and will swing to Democratic control in 2019. In total, Democrats will pick up five state Senate seats, breaking the Republicans super-majority. Democrats will hold 21 out of 50 state Senate seats in 2019.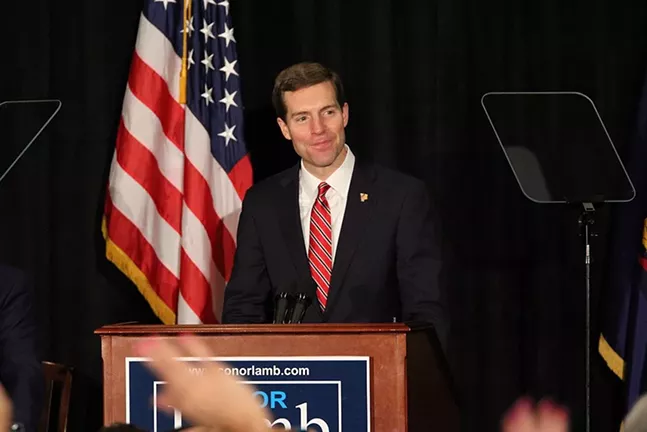 U.S. Rep.
Conor Lamb
(D-Mount Lebanon) also easily won the election for the newly drawn Pennsylvania U.S. House District 17. Lamb secured 56 percent of the vote to U.S. Rep. Keith Rothfus' (R-Sewickley) 44 percent. Lamb was one of four Democrats in Pennsylvania to flip U.S. House seats. The makeup will be nine Democrats and nine Republicans in 2019.
And political observers may want to stay tuned. With state Sen. Guy Reschenthaler (R-Jefferson Hills) winning the U.S. House race in District 14, the South Hills state Senate seat will be vacated, and triggering a special election. That seat, state Senate District 37, was won by Trump by a 51-45 percent margin.