For most Pittsburghers, Christmas is a time for visiting family and eating traditional, home-cooked dishes like spiral ham, roasted turkey, mashed potatoes, eggnog, and all the
delicious holiday treats
.
But there are still plenty of locals who either
don't celebrate the Christian holiday
, or just don't want to deal with washing all of those dishes, yet still want to enjoy some phenomenal Pittsburgh fare.
For those Pittsburghers, there are some superb restaurants open on Christmas Day. Most of them are ethnic places, serving dishes from all over Asia, including hand-pulled Chinese noodles, hearty kebabs and shawarma, spicy Szechwan specialties, and South Indian curries and dosas. Pittsburgh has
immigrants to thank
for Christmas Day restaurant fare, and whether or not you are celebrating the holiday, make sure to show them some gratitude. 'Tis the season.
Here are
City Paper's
picks for the best Pittsburgh restaurants open on Christmas.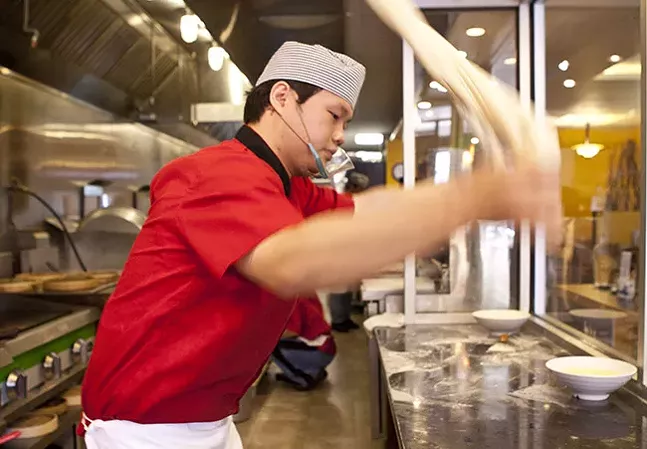 Everyday Noodles

5875 Forbes Ave., Squirrel Hill. everydaynoodles.net
---
A Squirrel Hill favorite, this Chinese restaurant is modern and you can watch the cooks hand pull and slap the noodles down on the counter. The noodles are obviously the specialty here (Dan Dan are a spicy delight), but one shouldn't leave without trying the soup dumplings, either pork or pork and crab. Noodle soups are also a good choice on a cold Christmas Day.
According to their Facebook page, Everyday Noodles is open regular hours on Christmas Eve and Christmas Day: 11:30 a.m.-2:30 p.m. and 4-9:30 p.m.
Salem's Market and Grill

2923 Penn Ave., Strip District. salemsmarketgrill.com
---
Most days, Salem's is crowded with immigrants, hospital workers, and police officers chowing down on Middle Eastern favorites. Christmas Day should be no different. Meals come with salad and Basmati rice (try the kafta kabab; the ground beef patty, blended with a powerful array of spices). For a big feast, the naan shawarma is a massive sandwich that combines the traditional Indian bread with succulent and tasty slices of spiced meat.
According to their website, Salem's restaurant is open from 12-6 p.m. on Christmas Day.
Sichuan Gourmet

1900 Murray Ave., Squirrel Hill and 328 Atwood St., Oakland. sichuan-gourmet.com
---
A regular
"Best Of Pittsburgh" winner
, this Chinese restaurant has its main location in Squirrel Hill and a smaller location with a pared-down menu in Oakland, but either should satisfy the hungriest Christmas Day appetite. The restaurants have an American menu and a traditional Chinese menu. Classic American-style dishes like General Tso's and Mu-shu Beef are good staples, but if you are feel adventurous, the tripe and beef tongue in chili oil appetizer shouldn't be missed. It is truly one of the best dishes in all of Pittsburgh. Try it at the Squirrel Hill location.
Both locations open normal hours on Christmas Day: 11 a.m.-10 p.m.
Udipi Cafe

4141 Old William Penn Highway, Monroeville. 412-373-5581
---
Probably Pittsburgh's best Indian restaurant (and there are a lot of good ones),
Udipi Cafe
is housed in an unassuming building off of Old William Penn Highway in Monroeville. Fans of American diners will enjoy the ambiance, as the restaurant is very casual, but prepare for big and flavorful portions of South Indian vegetarian goods. The Chana Masala chickpea curry is comforting. Udipi specializes in dosas, which are like large, thin rice-batter crepes stuffed with potatoes, chutneys, paneer cheese, and chilies.
Udipi Cafe
is open regular hours Christmas Day: 11:30 a.m.-9:30 p.m.