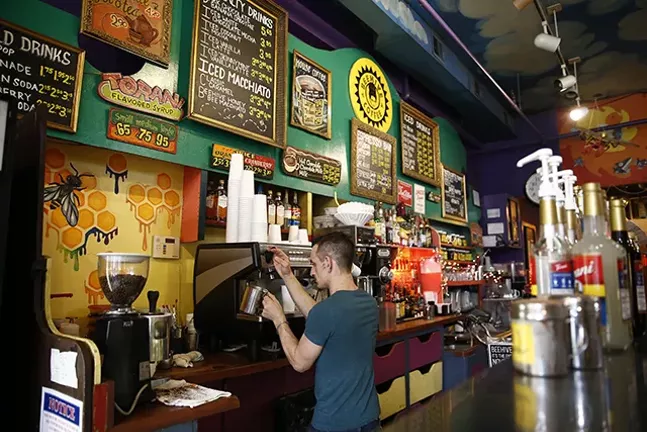 After 28 years in operation, the Beehive Coffeehouse and Dessertery is preparing to close for good, putting an end to a Pittsburgh institution that long served as a refuge for local artists and a hip hangout spot for the city's youth. But it's not leaving without a bang.
From Mon., Nov. 19 through Sun., Nov. 25, Beehive hosts a week of favorite activities, including chess and pinball tournaments, a weekend of retro dance nights and live performances, and, of course, coffee.
"These are all things we've done over the years squeezed into a week," Scott Kramer, Beehive co-owner, says.
Kramer and Steve Zumoff opened the Beehive in 1991 as one of the first coffeehouses in Pittsburgh. The business helped bring coffeehouse culture to the city years before it became the norm.
"[Customers] didn't know what a cappuccino was," Kramer recalls about their early days.
He says the business grew into a sort of community center for creative South Side denizens, many of them graduates of the Art Institute, who, at the time, seemed out of place in the then blue-collar family neighborhood.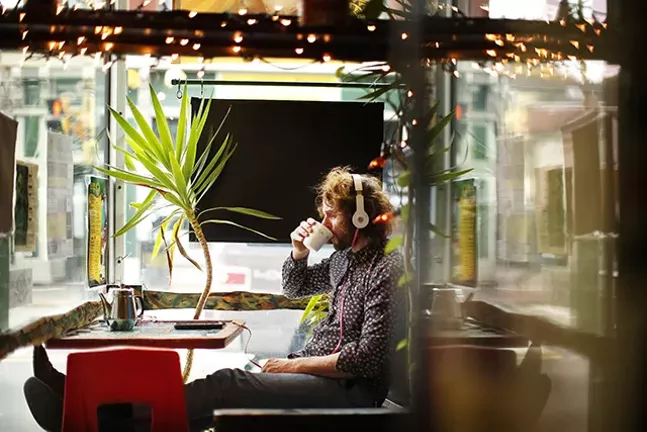 Kramer expects to see a lot of old faces at Beehive's last big hurrah, including former employees who were invited to serve as guest "coffee slingers" for one last shift. "We hired a lot of really creative people," says Kramer. "It really connected a lot of artsy people who went on to do more."
One of those people is Pittsburgh avant-garde jazz singer Phat Man Dee (real name Mandy Kivowitz-Delfaver). She started hanging out at the Beehive in 1992 during her high school days, then went on to work as a janitor at the South Side Beehive and its Oakland location before it shut down in 2002.
"Scott and Steve didn't just make a place for artists and weirdoes to go, they made a place where we could work," Kivowitz-Delfaver says. "They supported an entire community of 'others' who didn't really fit in with anyone else."
She reflects fondly on how Beehive helped her career as a place for her to perform and mingle with other artists. Kivowitz-Delfaver met her husband, musician Tommy Amoeba, there, and in 2002, the two were married on Carson Street during the annual South Side Spring Spectacular in a grand ceremony that included a giant pink elephant float.
Ashley Corts, co-owner of Black Forge Coffee House, gravitated to the Beehive after moving to Pittsburgh for college in 2008. She remembers not feeling very comfortable in a lot of places as an 18-year-old "awkward art school kid" before finding the South Side spot.
She credits the Beehive as an inspiration for Black Forge Coffee House, the Allentown business she opened with partner Nick Miller. Much like the Beehive, Black Forge welcomes a creative crowd with a regular lineup of all-ages shows.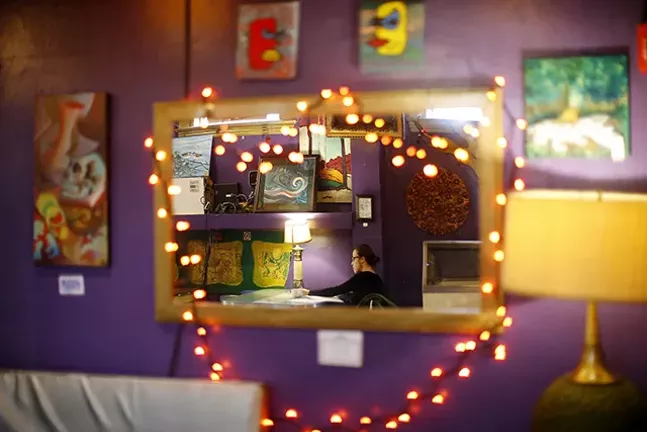 "I am really sad to see the Beehive close," Corts says. "It was my home for many years, and in reality, it has shaped me to be the person I am today. Without the Beehive, there is a possibility that Black Forge wouldn't exist."
It's easy to see the important role Beehive played in many people's lives. Last September, a Facebook post about its impending closure received hundreds of comments from users sharing their Beehive memories.
But despite its significance, the Beehive had trouble keeping up with the changing times and the South Side's transformation into a hub for bar crawlers and partiers. To help support the business, they opened an adjacent bar, the Western-themed Rowdy Buck, but had to close it after a fatal shooting happened there in 2017. The site reopened as Trixie's Game Room and later rebranded into its current form, the Super Happy Fun Time Bar & Arcade.
Though they became a longtime hangout for local teens and college students, Kramer says the proliferation of Pittsburgh coffee places gave young patrons more options, including in their own neighborhoods.
When the Beehive's building went up for sale, Kramer says they decided to call it quits. Though they have yet to set an official final date, he foresees closing in January.
Kivowitz-Delfaver says, "It was a beacon of weirdness, an artistic haven to so many. I credit it with my entire creative community, my love, and my career. And I am still a damn fine janitor."
Beehive Farewell Week
Mon., Nov. 19
7:30 p.m. Magic The Gathering Meets Beehive
Tue., Nov. 20
7:00 p.m. Beehive Pinball Tournament
Wed., Nov. 21
7:30 p.m. Chess Club with Kumar
Thu., Nov. 22
Closed for Thanksgiving
Fri., Nov. 23
7-10 p.m. Goths and Punks Reunion Night "Black Coffee and Angst" with DJ Arvin Clay and Kelly Day
10 p.m. '90s (Alternative) Dance Party
Sat., Nov. 24

12-4 p.m. Beehive Story Time and Spoken Word Open Mic Hosted by Spaz
5-9:30 p.m. ART Performances, Circus Acts, Curiosities, Live Bands, Acoustic Acts, Throwback Beehive food and drink menu, and more
LIVE ACTS

5 p.m. Bingo Quixote
5:30 p.m. The Hamer Sisters
6:00 p.m. George Andrews and Bucky Gouda
6:30 p.m. Slippy the Clown AKA David Apocalypse
7:30 p.m. Chelsea Jones
8:00 p.m. Catfish Row
8:30 p.m. Phat Man Dee
9:00 p.m. Microwaves
10 p.m. '90s Rave and Beehive After Hours Party with DJ Kelly Carter and guests
Sun., Nov. 25
5-8 p.m. Film Trip, remembering eight years of screening films
8:00 p.m. '80s music night with DJ EZ LOU