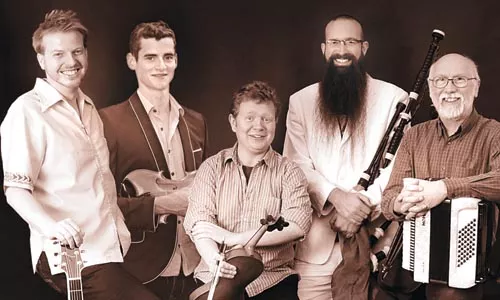 Combining traditional music with original songwriting, arrangements and modern instruments, The Battlefield Band helped originate and model a type of Celtic ensemble that's since garnered an international audience. One hesitates to call it "folk rock," yet it's a product of the rock era. The group's trademark balance of high-volume highland bagpipes alongside fiddle, voice and other, softer acoustic instruments -- a feat also managed by The Tannahill Weavers and several others -- requires modern stage amplification and studio techniques.
Formed in 1969, in Scotland, the band gained recognition early on for the songwriting of co-founder Alan Reid, whose music helped introduced electronic keyboards into Scottish folk. After four decades of touring and recording (with lineups that read like a Who's Who of Celtic musicians), Reid plans to leave the group at the end of this year. His performance in Pittsburgh this Sat., Nov. 13, as part of the Balmoral Classic, is one of his very last in The Battlefield Band.
The Balmoral Classic, now in its fourth year, is a Pittsburgh-based annual concert and competition, produced by the long-running Balmoral School of Piping & Drumming. Each year, the Classic includes a high-profile concert with the U.S. Junior Solo Bagpiping and Snare Drumming Championship, drawing North America's best under-18 bagpipers and drummers.
The Classic alternates between Scottish folk groups and more traditional bagpipes-and-drums bands, and between fresh young performers and seasoned masters of their craft, of which The Battlefield Band is a shining example.
The Balmoral Classic. Sat., Nov. 13. Bagpiping and drumming contest (9 a.m.-5 p.m. Nov. 13. Mellon Institute, Oakland). Battlefield Band concert (8 p.m.; McGonigle Theatre, 4750 Fifth Ave., Oakland; $20; $25 day of show; $15 students). 412-394-3353 or www.balmoralclassic.org