The story of Emmett Till is part of history, but the truths of the death of a 14-year-old Chicagoan at the hands of two Mississippian white supremacists in 1955 remain clouded. The New Horizon Theater picks a path through the fog with the musical, sometimes magical, ultimately heroic The Ballad of Emmett Till. Yes, we "know" how the story ends, but Bayeza's 2008 play builds a compelling drama rich with character, mystery and even humor.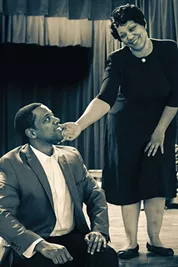 In the play's Pittsburgh premiere, both the cast and the space — the Falk School's auditorium — are small, the effect intimate. Director Lundeana M. Thomas uses live and recorded music, minimal props and a lot of imagination to recreate Till's worlds in the North and the South, and his hard-to-contain spirit. That, Bayeza insists, was never subdued even though his body was so brutally battered. Till became the martyr who sparked the modern civil-rights movement. (Rosa Parks famously refused to give up her bus seat barely two months after Till's killers were acquitted.)
The cast: Wow. Jonathan Berry bursts with life, energy and dreams as the ebullient Till: "Bo" or "Bobo" to friends and family," and a ghost that still haunts us today. Two women and two men portray some half-dozen characters each, including the whites and a few extra men. Camille Lowman dazzles as Ballad's various beauties, mainly Till's mother but also a comely young neighbor and fateful white shopkeeper, as well as a thug or two. Given the widest range to portray, Dominique Briggs succeeds as Bobo's grandmother and her sister, a potential girlfriend and a male cousin bully. Corey Lankford handles several young men, black and white, cousins and killer. Towering over all, Sam Lothard embodies Till's tragic Uncle Mose, who couldn't protect the young 'un but famously witnessed against the killers.
Although the play precedes the Black Lives Matter movement, New Horizon connects the obvious dots. The parallels between Till's fate and that of so many African-American young men are truly depressing. Apologists for the killers smear and misdescribe the dead youth, e.g., portraying Till as a sexual predator who assaulted, or at least insulted, a white woman, and claiming that the chubby, stuttering 5-foot-4-inch polio survivor was so easily mistaken for an adult.