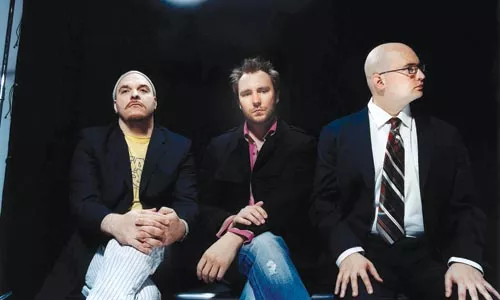 The Manchester Craftsmen's Guild received a well-deserved publicity boost last month when vocalist Nancy Wilson took home the Best Jazz Vocal Grammy for Turned to Blue. It was both her second album for the MCG Jazz label, and the second time the Wilson-MCG Jazz combination received such honors. As the Guild's reputation continues to grow, this weekend it presents likely its most adventurous musical program yet.
To throw a little hyperbole into the mix, the Bad Plus might be the most hotly debated jazz act out there, this side of Wynton Marsalis. The piano trio began making waves in 2003 with its Columbia Records debut, These Are the Vistas. Along with its unique originals, the group tackled tunes like Nirvana's "Smells Like Teen Spirit" and Blondie's "Heart of Glass."
The lines were drawn, and some considered the Bad Plus' song choices nothing more than novelties. But it's obvious that the Great American Songbook has been played to death; even great songs like "'Round Midnight" and "Stella by Starlight" lose their magic when trotted out endlessly by musicians whose parents weren't even born when the tunes debuted. After it dropped dear Wynton, Columbia's signing of the trio drew the ire of some purists as well.
The group's choice of material on that album and its followup (Give, which included Black Sabbath's "Iron Man") might forever haunt the band. But anyone with a set of ears will realize these guys are taking the institution of the piano trio down bold, new avenues.
2005's largely original Suspicious Activity? proves this innovation. Pianist Ethan Iverson plays gentle, almost classical lines one moment and wrestles jumpy riffs in odd meters the next. Bassist Reid Anderson and drummer Dave King sound like they'd be just as comfortable in a rock setting. (King, in fact, played with Minneapolis avant trio Happy Apple and recently made a warped post-rock album that includes ex-Hüsker Dü bassist Greg Norton.) Their approach gives the Bad Plus a refined sense of dynamics: They know when to pile it on heavy, keep things gentle, or simply swing.
At Manchester Craftsmen's Guild this weekend, The Bad Plus shares a bill with Joe Lovano, a tenor saxophonist who nearly stole the show at the 2004 Pitt Jazz Seminar Concert. His discography includes numerous hard-swinging sessions of his own, as well as collaborations with veteran pianist Hank Jones and a continuing association with iconoclastic drummer Paul Motian. Last year, Lovano released Streams of Expression, which includes a suite based on Miles Davis' Birth of the Cool recordings.
The Bad Plus with Joe Lovano. 8 p.m. Fri., March 16, and 8 p.m. Sat., March 17. Manchester Craftsmen's Guild, 1815 Metropolitan St., North Side. $37.50. 412-322-0800 or www.mcgjazz.com