For visual or performing artists wishing to be seen or heard in Pittsburgh, it's hard to top the Dollar Bank Three Rivers Arts Festival. The free fest, now in its 56th year, draws an estimated 400,000 during its 10 days in and around Point State Park. That's down from the estimated 600,000 attendees annually pre-2009, when the festival lasted 17 days. But it's still more bodies than you'll find anywhere else in a comparable timeframe — even if many of them come just for the free concerts, crafts market and deep-fried snacks.
This year, festival director Veronica Corpuz, of the Pittsburgh Cultural Trust, is taking advantage of those numbers to highlight less-exposed viewpoints via the festival's visual-arts, dance, film and literary components. (And don't forget that this year's festival run incorporates the Pittsburgh Technology Council's CREate Festival, three ticketed, tech-oriented days of art, workshops, performances and parties Downtown; www.create-festival.com.)
The 2015 arts festival's theme, "Unseen/Unheard," is perhaps most evident in its public-art offerings, curated by Nadine Wasserman (who's also a regular CP contributor). For instance, though the message might be oblique, at least two of the festival's four public artworks reference the Point's history as a place where indigenous people were killed off or forced out — silenced — by European newcomers.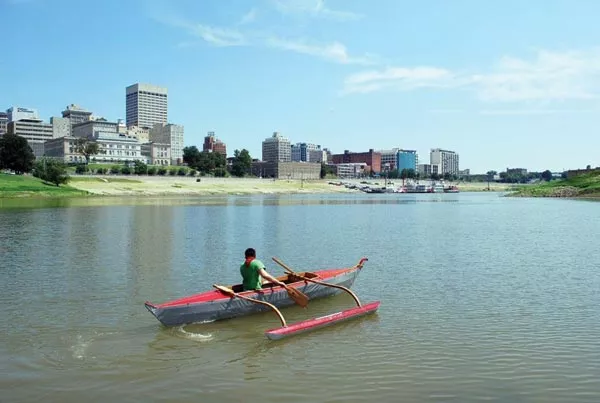 Troy, N.Y.-based Fernando Orellana says his installation "Confluence" memorializes the 60 million or more Native Americans estimated to have died in the wake of European exploration and colonization of the New World, most from diseases previously unknown here. The installation, in the reflecting pool beneath the park's Portal Bridge, consists of dozens of hospital-style beds (wood-framed, with sod mattresses and folded blankets), some adorned with sculpture of dogs. Reached by phone, Orellana says he was inspired by both the Point's infamous history of biological warfare — British soldiers handing smallpox-infected blankets to Native Americans — and his own ancestry: The El Salvadoran-born artist has both Mayan blood and, probably, that of conquistadors. "My ancestors killed my ancestors," he says.
Michael Arcega, based in San Franciso, takes a slightly more wry approach. His "Baby: Corps of Re-Discovery" is an installation spotlighting display of his 16-foot Pacific outrigger canoe, complete with sail, which he's sailed in eight U.S. cities to comment on the Lewis and Clark expedition (which began in Pittsburgh, in 1804). It's a take on colonialism, and de-colonization, by the Phillipines-born Arcega, whose inspirations include anthropology's tradition of essays on the "Nacirema" people — actually, satirical deconstructions of modern American culture. "I'm trying to find out and understand who these people are who have occupied the landscape and edged out the native population," he says by phone.
The two other public artworks are further takes on "Unseen/Unheard." At Rochester, N.Y.-based Michelle Illuminato's "Lost + Found Factory" (occupying the old Gateway Center visitors' center), artists will work to recreate beloved objects people have lost, and to return them to their owners. (The installation will also prompt Attack Theatre's "Lost + Found: Memories Through Movement," a June 7 dance performance incorporating interaction with festival patrons.) And New York-based Rudy Shepherd's "Black Rock Negativity Absorber" is a cryptic, 14-foot-tall monolith meant to give visitors a new way to approach social ills like terrorism and policy brutality. Shepherd, who exhibited an earlier version of "Black Rock" in New York City, says by phone that the New-Agey concept began as "sort of a joke" but is also "serious on some level." On June 6, he'll perform an "induction ceremony" with live music.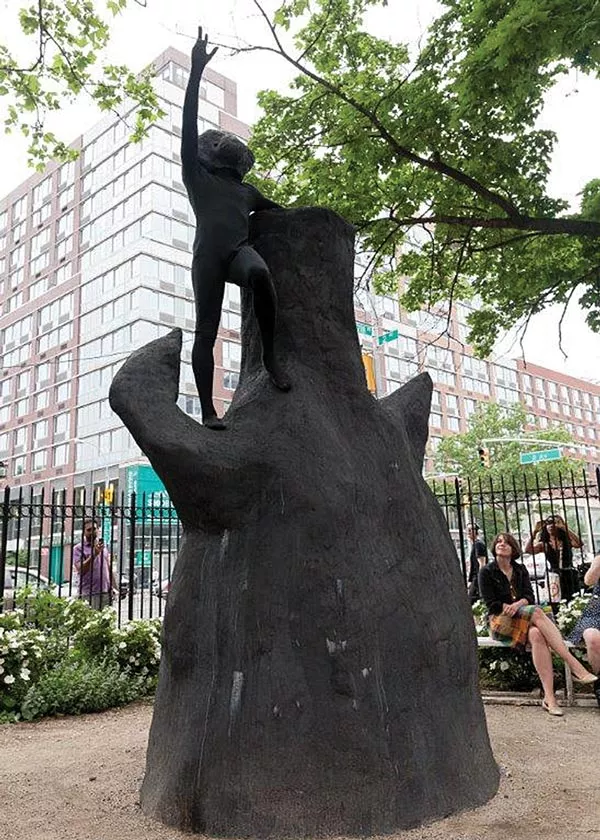 The festival's two major fine-art exhibitions also go "Unseen/Unheard." Applicants to both the Juried Visual Art Exhibition and the Pittsburgh Society of Artists group shows were told to respond to that theme. The JVAE, for the first time in two decades, accepted applications from artists outside the region. Juror Astria Suparak (formerly of Carnegie Mellon University's Miller Gallery) winnowed 500 entries from across the U.S. and as far away as Tehran down to 41 works by 31 artists, including many unfamiliar to Pittsburgh, for exhibition at the Trust Arts Education Center. The PSA show, Intr(au)spective, at 937 Liberty Gallery, features work by 30 member artists, juried by Freya Spira, of the Metropolitan Museum of Art.
Performance highlights also address the theme. On June 6, choreographer Alexandra Bodnarchuk premieres Dance! From the Inside Out, a collaborative dance/video project. And on June 14, there's a breakdance battle featuring two crews, Hidden Characters and The Get Down Gang. The spoken word gets its due, as well, with readings by local and visiting poets and a June 14 mainstage performance by Pittsburgh-based rapper and social-justice advocate Jasiri X.
And among much else, on June 9 there's a special performance by Signshine, a sign-language performance group of middle- and high school students from the Western Pennsylvania School for the Deaf.