Since launching her AMERICAN WOMAN project in July 2016, Sarah Huny Young has interviewed nearly 70 black women in major cities across the country. Each participant in the multimedia photography/documentary series was asked the same six questions, including what came to mind when they heard the term "American Woman."
"And 95 percent of them said 'a white woman, a blond woman, Jennifer Lawrence … gingham dress, housewife, Donna Reed,'" recalls Young. "Those are the things that come to mind even for black people, who have been in America for centuries."
Those answers, of course, were no surprise to Young. They underscored her reasons for starting the project in the first place. AMERICAN WOMAN — which received a grant from the Pittsburgh Foundation and the Heinz Endowment's Advancing Black Arts in Pittsburgh Program — is meant to challenge and subvert those ingrained assumptions. It's a project about visibility, but also, Young says, about black women presented as art, and about taking up much-deserved space in majority-white art spaces. "I wanted to start a dialogue, and I also wanted it to be very visual in that, well, what does America look like? Because all of these women are American."
Many of Young's stunning AMERICAN WOMAN portraits can be seen online — her subjects include, to name just a few, Pittsburgh-based activist and artist Joy KMT; We Are Never Meeting in Real Life author Samantha Irby; and Charlene Carruthers, who is the national director of the Black Youth Project 100. Intersectionality was an important aspect of this project for Young, and she has been intentional about including transgender women and non-binary people, as well as women from a range of age groups (including Young's own mother). In its final incarnation, the project will feature a full-length documentary and gallery show.
Now, however, the visibility of the project itself is being threatened. On Jan. 3, CNN anchor Brooke Baldwin launched the conceptually and aesthetically similar series American Woman With Brooke Baldwin. Citing the Women's March and the #MeToo movement as inspiration, Baldwin interviewed various celebrity women — including Betty White, Pat Benatar and Ashley Graham — about their experiences as women in America. Baldwin's project features a wide age range, but aside from director Ava DuVernay and actress/writer Issa Rae, most of the women in eight-part monthly series are white.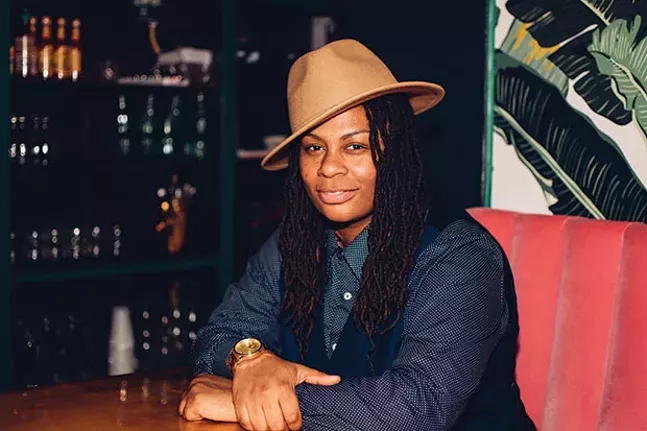 After being alerted to the CNN project by a friend, Young quote-tweeted Baldwin's announcement, saying "… my series, AMERICAN WOMAN, which features Black American women exclusively has been out for about 18 months now." That was retweeted more than 300 times, and dozens of Young's supporters sent Baldwin and CNN tweets of their own. If Baldwin didn't know about Young's AMERICAN WOMAN before, it's unlikely her Twitter mentions have allowed her to stay in the dark.
It's not that Young thinks that CNN straight-up stole her idea: "I'm trying to extend the benefit of the doubt," she says. "My official position is that I don't think there was malicious intent. … I don't believe that Brooke Baldwin sat down at her computer a year-and-a-half ago, saw my project and said, 'I'm going to steal this.'"
What Young, an occasional City Paper contributor, does believe is that CNN failed spectacularly to do its due diligence in making sure a project with the same name didn't already exist. A little Googling would have brought up the project, which was featured, among other places, in The Root, in March 2017. Young (and, by extension, her project) was also featured on that website's annual Root 100 alongside Beyoncé, Colin Kaepernick and Jessica Williams. Young says she did extensive research before launching the project in order to make sure nothing similar existed.
Young believes that Baldwin's motives with the CNN project are genuine — it makes sense, Young notes, to profile women at this moment in history. But, in addition to creating a potentially expensive marketing issue for Young, preventing CNN's project from overshadowing her work will cost a lot of extra time and money. It also works against Young's goal of placing black women in the spotlight.
"The differences aren't enough for [Baldwin] to think this wouldn't be a conflict," she says. "And there is no doubt in my mind that the brand confusion will be a huge problem for me, not for CNN, because they're CNN ... It buries my project completely. … It really disrupts not only my marketing efforts but further opportunities that I wanted to take."