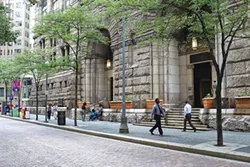 When Elliot Howsie took control of the Allegheny County Public Defender's office more than three years ago, it was a department that had long been mired in turmoil and controversy.
The office had been involved in a 1996 class-action lawsuit from the American Civil Liberties Union alleging that the office failed to provide constitutionally adequate representation. And a year before Howsie's appointment, the ACLU released a report further criticizing the office. Those critiques continued for about a year after Howsie was hired, according to community activists who spoke out at the time. 
Since then, however, the criticism has gone silent. Several of the issues that once plagued the public defender's office, which provides legal representation for indigent clients and juveniles, seem to have been resolved. And some former critics cite the progress Howsie has made and praise his work.
During the past three years, Howsie has made significant changes in the areas of attorney supervision and instruction. He's also worked to improve the level of communication between clients and attorneys.
 "The office is not perfect, but it's much better. We've come a long way," says Howsie. "I'm very proud of the work we've done."
Though much quieter than they used to be, those who are still critical of the office say poor funding and an inadequate representation structure have hampered some of Howsie's efforts. And they worry that some of the barriers originally identified by the ACLU persist to the detriment of those the office serves. 
"There are a lot of people who said it would never change without huge amounts of money and doubling the budget," says Howsie. "My position has always been we have to do a better job with what we've been given. We've been able to do a good job with our resources — we've been able to turn this office around."
In the 1996 class-action lawsuit, which resulted in a settlement, and a subsequent October 2011 ACLU report, A Job Left Undone: Allegheny County's Fork in the Road, management and training were cited as key deficiencies in the office. Howsie agreed, and he says he used the report to make improvements in these areas to strengthen his public defenders. 
There's a stronger hierarchy in the office now, Howsie says. New attorneys start out in preliminary hearings before moving up to trials, and cases are allocated based on an attorney's skill level. 
"We always have our most experienced attorneys working with our newest attorneys," says Howsie. "We also hand-pick the cases initially. Until an attorney gets up to speed, we give them cases where the charges are not as significant, because you don't want a person to walk in day one and have attempted murder or rape. In the past, attorneys would be thrown into trials."
New training for public defenders includes mandatory two-week training in preliminary hearings for newcomers before they ever see the inside of a courtroom. There's also a 12-week course for trial attorneys. And Howsie says there are signs of how this training has aided clients. One example is in the area of bond modification, which helps clients get released from jail before their trial.
"We've been able to get a lot of people out of jail who normally would've sat in jail for upwards of six months until they were ready to see a judge for an actual trial date," explains Howsie.
And there's more oversight, too. Prior to Howsie's tenure, the office had one director and three deputy directors; now there are 11 supervisors in total. This includes a deputy for each division: appeals, juvenile, trial and pre-trial.
"Now you have more supervision, more instruction, the ability to make sure all of attorneys have the appropriate resources to effectively serve all our clients," says Shanicka Kennedy, the office's chief deputy. "You don't have one attorney trying to supervise over 20 to 25 attorneys. You now have an additional level of supervision to make sure our clients are being effectively represented and our attorneys aren't being thrown to the wind."
The 2011 ACLU report also said that systematic violations were preventing clients from receiving adequate representation in the public defender's office. It criticized the level of communication between attorneys and clients. 
"It was much of the same problems we had been pressing the public defender on after our settlement in 1998," says Pennsylvania ACLU Legal Director Vic Walczak, who would only comment on prior investigations into the public defender's office because he says his organization hasn't focused on it for two years. "People were still meeting their lawyers for the first time at the preliminary hearing. The lawyer needs to do an assessment of the client's case in order to effectively negotiate that case or prepare for trial. That's a significant problem." 
Howsie says he has worked to address the communication issues identified in the ACLU report. The office has incorporated technology to better serve their clients, and attorneys now use video-conferencing to communicate with clients who are in jail. 
"That's not to take the place of a jail visit, but in a pinch, in some instances, we can schedule a video-conference for the same day," says Howsie. "It allows us to [build] a relationship with the clients much sooner."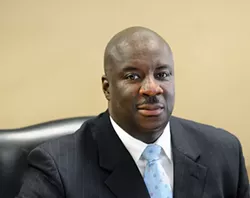 Howsie says clients are also waiting less time before being assigned an attorney during the time between preliminary hearings and pre-trial conferences. In the past, an attorney wasn't assigned for four to six months after preliminary hearings. 
"There was no one to respond to letters," Howsie says. "There was no one to respond to complaints and concerns, because there was no attorney assigned to the case because it was no one's case." 
But these improvements don't address all of the core complaints of the ACLU report. In Allegheny County, clients are represented by different attorneys at different points in their case. So they work with one lawyer for their preliminary hearing and another when their case goes to trial several months later. This organizational structure is called "horizontal representation." 
Other municipalities use "vertical representation" where one attorney works with a client throughout his or her case. Vertical representation is recommended by the National Legal Aid and Defender Association and the American Bar Association.
"If you have a system in which people have different lawyers for each proceeding versus a system where you have a lawyer sticking with a case for its life, the second is much more advantageous," says David Harris, a professor at the University of Pittsburgh School of Law. "To have a lawyer from the early proceedings to the end makes a big difference. And that says nothing of the lawyers in the Allegheny County Public Defender's office. Even if they do everything right, you sacrifice continuity and knowledge of the case if there's a new attorney."
Several attorneys, who work and interact with the office to varying degrees, spoke to City Paper on the condition of anonymity out of fear of jeopardizing those relationships. One attorney says the problem with the current system is that, "oftentimes critical information is lost moving from one stage to the next stage."
 They also say it's important for clients to meet their lawyers prior to preliminary hearings, but in Allegheny County, clients are met at the jail by a paralegal who performs an intake evaluation. However, Howsie says they can request to see an attorney. 
He also says his office, and larger public defender offices, don't have enough staff to do vertical representation. He says the structure also doesn't make sense for a large county with 130 municipalities.
"You have at least 100 different locations throughout this county in addition to city court," says Howsie. "It would be an enormous waste of resources — the mileage, the expense, it would never work. It's just not possible."
Some with knowledge of the office say this is a sign that the public defender's office is underfunded and under-staffed. But they admit it's a statewide problem, since Pennsylvania is the only state in the country that doesn't allocate funding for public defense.
In 2012, the budget for the office was $7,600,627.  In 2013, in Allegheny County Executive Rich Fitzgerald's first budget, and the first one with Howsie as public defender, the budget was $9,048,030. It increased to $9,233,117 in 2014 and to $9,450,426 this year.
But some say a funding shortage still exists. Such allegations can be found in a lawsuit filed last month by Victoria Vidt, an employee in the public defender's office who says she was passed over for a promotion in part because of age discrimination and critical remarks she made about the office. According to the lawsuit, Vidt sent Howsie a memo regarding how the lack "of Public Defender funding was endangering the constitutional rights of poor criminal defendants."
"During her interview for the promotion, Vidt was questioned by the Public Defender, Elliot Howsie, about why she had participated in sending a memorandum to him, dated April 9, 2014, addressing the shortage of attorneys in the Public Defender's Office Appellate Division and how such a shortage was endangering the constitutional rights of those the Public Defender's Office represented," the lawsuit says.
Neither Vidt, her attorney nor Allegheny County spokesperson Amie Downs would comment on the pending lawsuit.
For Sala Udin, a former Pittsburgh city councilor who also served in an informal group charged with evaluating issues in the office, the improvements have been heartening. He says the taskforce hasn't met in more than a year.
"The concerns were that the public defender's office wasn't getting the attention that was necessary," Udin says. "They didn't have enough attorneys, the clients were waiting too long, and the sum total is that poor people who rely on public defenders, who have a constitutional right to defense, weren't getting adequate representation. I understand that things have improved some, but a lot remains to be done."