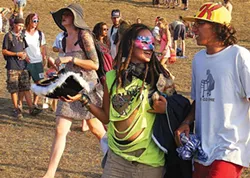 For thousands of flocking festival-goers, things are about to get All Good at the feet of the Appalachian Mountains.
Marking its return to wild, wonderful West Virginia, the All Good Music Festival — one of the mid-Atlantic region's most musically stacked and highly anticipated summertime festival events — is back July 9-11, celebrating its 18th incarnation at Berry Hill Farm, in Summit Point, W.Va.
All Good's returning to that region for the first time since 2011, following a brief hiatus last year; in 2012 and 2013, the festival was held at Ohio's Legend Valley. Its new home, according to organizers, is a green place, a serene place — the perfect space, they say, to catch a slew of musical masters (Primus, CAKE, moe., and Thievery Corporation are just the top of this year's sizable crop) doing their thing over three laid-back days and nights.
"We didn't want to bring [the festival] back unless we had an absolutely perfect spot," festival founder and chief organizer Tim Walther said in a recent interview, and Berry Hill Farm boasts what he and others call All Good's best venue yet.
"We're really excited to be back in West Virginia," Walther said. And, with lush, rolling foothills and a naturally formed concert bowl, Berry Hill Farm is "a fantastic site," he added.
All around, All Good unquestionably has a pretty fantastic lineup. Along with the aforementioned heavy-hitters topping the bill, there's a live-music cream-of-the-crop featuring the likes of STS9, Yonder Mountain String Band, John Butler Trio, Dark Star Orchestra, Keller Williams, Greensky Bluegrass … and the list goes on.
As always at All Good, fans can expect the bands — from critically acclaimed rock icons to up-and-coming groove collectives — to jam, and jam well, and be on top of their games.
"Playing the same [bill] with great bands makes you pay that much more attention to your own music," CAKE trumpeter/keyboardist/backing vocalist Vincent DiFiore says. "We are looking forward to the festival."
For many who are into such scenes, All Good — especially the string of years when it called West Virginia home — has always been where it's at, something sort of precious, something sort of magic.
Now, with its return to the Mountain State, "We're gonna bring what All Good brings," Walther said, "and set the stage for a really special festival experience."
It's the kind of place, the kind of space and the kind of time, Walther explained, "where you can be one with yourself, one with your friends, and with people you don't even know. We all come together."
See you there.