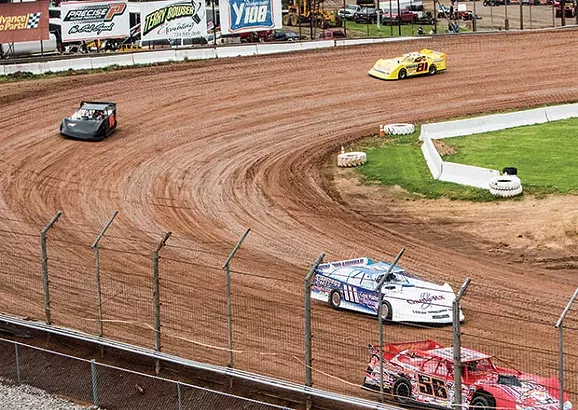 Since October 1967, the small community of Sarver has hummed with the sound of idling engines every Friday evening at the Lernerville Speedway. The venerable dirt track opened its 50th season on April 28, and the track hasn't lost its popularity with local race fans.
When City Paper visited the track, which is about 30 miles north of town, on May 5, fans filed in and stood at the fence surrounding the grandstand, peering down into the pit area, where drivers and their crews were busy hauling their cars off trailers. It's a big night for the fans and the drivers.
"This year our goal is to keep the car in one piece, try not to be in the garage so much," says stock driver Chase Lambert. "We want to make sure everything is ready to go each week. This year we set a big goal for rookie of the year, which is a long shot, but we're setting standards higher this year. We just want to be safe. We want to have fun."
At 15 years old, Lambert is competing in the stock division, keeping a family tradition alive on the track.
"We have another car, and Pop was saying, 'All right, you're getting older and starting to be able to drive something, so I'll throw you in one of these pure stocks.' We've been a part of pure stocks for a while now. My uncle used to race them. My cousin Jimmy still does, he races here on a weekly basis. My dad used to back in the early 2000s. We've kind of just been in and out of the racing business," Lambert says.
As race time draws near, crews and drivers continue preparations on their vehicles as a tanker truck filled with water circles the track, spraying it down, with SUVs in tow, tamping down the dirt. The track will see quite a bit of action on this night from a pool of talented drivers.
"When I started running late models, I came here, because it's a tough field," says driver and car owner Russ King. "It's still pretty tough. Car counts are down a little bit, but the cars that are here — there's usually six or seven badass dudes here that can win. It took me racing late models on and off here for a couple years to win, just because the local field is pretty tough."
Last year, King won driver-of-the-year honors and in 2009, he was rookie of the year. With friends and family, he runs Russ King Racing, building dirt-track cars full time.
In previous seasons, King frequently raced at Lernerville, but plans on mostly competing in special events due to the costs of running the cars, and upkeep. "It's a struggle to maintain all of our racecars and then build new racecars. This is all I do. I don't have a 'real job,'" King says.
On the track's loudspeakers, country music plays and is intermittently interrupted by announcements from the track steward. The grandstands begin to fill with fans dressed in shirts and sweatshirts bearing names and numbers of drivers.
"I've been coming here since I was born," says track official Kyle Stramaski. "The best drivers in the country come here to race every week in every division. And these are big divisions we're talking about."
The scent of burning methanol settles in as raceway and pit crews, using quads and golf carts, begin pushing vehicles to the track for a few test laps. They're push-started, and after a few laps at racing speed, drivers return to the pits and try to keep the cars warm for race time.
Lernerville has races every Friday, from mid-April until mid-October, and plays host to events with the national dirt-track racing tour, World of Outlaws, as well as current and former NASCAR drivers.
"For me, it's about the camaraderie," says Scott Dunbar, owner of Brand X Racecars. "We get together a couple times a week to work on the cars, and then take them out here to Lernerville."
Down in the pits, the hum of engines has become a roar. Each crew sets a portable heating unit next to its car's engine to keep the temperature near 200 degrees.
"I always liked the mechanical end of it — building the cars," Dunbar says. "We started out with one car, and one car was probably enough. Now we have a full crew."
The green flag falls at 7:30 p.m., and a lineup of sprint cars takes off, leaving a spray of dirt behind.
"I've loved dirt-track racing all my life," says fan Ed Betrovich. "I come out here to meet some friends and enjoy the races every now and then.
"I've been all over the place to see races, and, luckily, Lernerville is close."