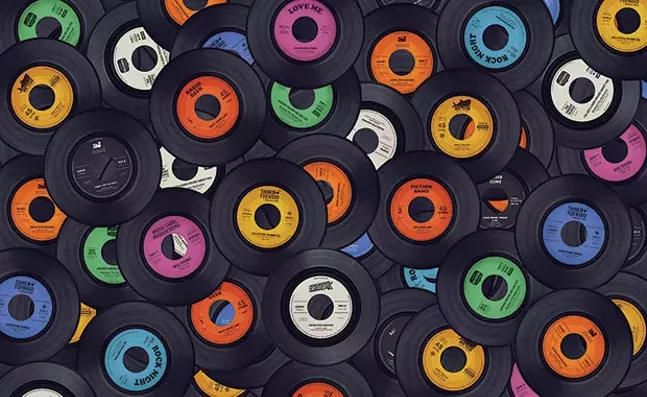 There is something magical about getting lost in a record store, flipping through records looking for that special one. At the Pittsburgh Record and CD Convention, about 35 different vendors bring crates of vinyl in which to lose yourself, in addition to CDs and memorabilia.
Tony Medwid, a vinyl enthusiast and record collector himself, has been helping to organize the Pittsburgh Record Convention since 1996. Since its inception, the event has taken place at least twice a year, except for a few years early on in which it was held three times. The convention brings record vendors from all around the state, as well as vendors from Ohio, Michigan and as far as Colorado. These sellers bring all sorts of music, from Doo Wop and R&B to psych, garage to surf rock, metal, punk, soul and jazz.
When City Paper chatted with Medwid on the phone, he was in the thick of preparation, promoting the 46th iteration of the event on May 26. And promotion of the show is much different now than it was in 1996 – even the way people buy records has changed since then, Medwid points out.
"When I first started doing this, there wasn't a whole lot of internet activity. People collected records through print publications, magazines like Goldmine that featured auctions and came out every two weeks."
Since then, Goldmine has gotten a lot thinner thanks to the proliferation of online vendors. But conventions like Medwid's at the Bridgeville VFD provide a place for vinyl enthusiasts to find rarities and dig through diverse collections.
"A couple years ago, someone paid $1200 for an early Elvis Record [at the convention], I believe it was Good Rocking Tonight. It was one of his first on Sun Records," says Medwid. "He bought it from a guy from NJ who was selling blues stuff, and some rare stuff."
But there's more than just expensive, rare records or stuff for niche collectors.
"There's plenty of common stuff too, dollar albums and records, CDs," says Medwid. "We always have lots of different vendors with different types of music for sale."
Medwid has been doing this for 22 years, but he's not even close to being sick of it.
"What makes it exciting is the music, the format. There's a lot of new stuff coming out, and re-releases of older material. You get to meet new people once or twice a year, get to know other enthusiasts. That's what keeps it exciting for me."