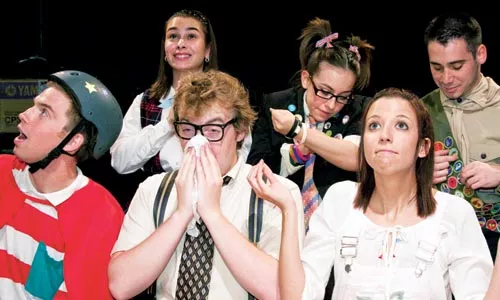 I'm not sure how Little Lake Theatre ended up with the rights to the first Pittsburgh production of recent Broadway hit The 25th Annual Putnam County Spelling Bee. (Although knowing how, um, determined Little Lake artistic director Sunny Disney Fitchett can be, I could guess.) But I am absolutely certain that no other local company could have staged a more extravagantly entertaining production than the Lake has.
Putnam County, a funny and highly stylized musical about a wacky small-town spelling bee, isn't a show that needs big sets, dazzling effects or mammoth spectacle (all the things a larger, more lavishly funded theater could supply). Those accoutrements, in fact, would only work against the slightly shaggy and gloriously loopy nature of the work.
What Putnam needs is nine performers led by a director with an iron-clad understanding of how comedy works: Say hello to Nick Bell, Samantha DeConciliis, Stephen Santa, Charles Grant Carey, Elizabeth Pegg, Laura Paterra, Julianne Avolio, Gregory Caridi and Rob James -- all under the flawless direction of Art DeConciliis.
Usually, local stage-musical productions feature a couple of strong performers in the leads and, in the smaller roles, folks with more enthusiasm than skill.
But though Putnam doesn't have lead parts (this is an ensemble piece), the Little Lake production doesn't feature a weak performer. Whether playing the comedy and quieter emotions in a book by Rachel Sheinkin and Jay Reiss, or singing and dancing their way through the songs of William Finn (with choreography by Carly Fuller), this powerhouse team turns in one of the funniest and freshest evenings of theater I've seen in a long time. Sheinkin and Reiss have created little jewels of crazy comedy opportunity and, under DeConciliis' direction, not one beat of the humor is lost.
An additional aspect of the show is that audience members are called up to perform as (unrehearsed) contestants in the bee. I give this company big credit for working them so smoothly into the production and finding so much extemporaneous humor in their presence.
I should warn you that advance word must have leaked: The entire opening weekend was sold out. The clawing for seats will get only more frenzied since, on the night I saw it, the audience rose to its feet immediately at the curtain call. Standing ovations have unfortunately become all too common in Pittsburgh theater ... but this time it hardly seemed adequate.
The 25th Annual Putnam County Spelling Bee continues through July 3. Little Lake Theatre, 500 Lakeside Drive South (off Route 19). Canonsburg. 724-745-6300 or www.littlelaketheatre.org