Beginning Fri., Feb. 10, Pittsburgh Filmmakers presents three programs of Oscar-nominated short films. The Live Action shorts are reviewed to the left, and the Animated shorts on the following page; those programs begin Fri., Feb. 10, at Regent Square. Also opening are the Oscar-nominated Documentary Shorts in a 154-minute program. These short documentaries often cover tough topics; 2016 was a year of serious issues, and this year is no exception. But despite the tragedy and sadness these films depict, the filmmakers do seek out the affirmation of humanity.
Three of five films highlight the plight of refugees, and serve as a useful reality check beyond the inflammatory news headlines. Daphne Matziaraki's harrowing "
4.1 Miles
" (USA/Greece, 26 min.) may be the toughest to sit through. The title refers to the distance across the Aegean Sea from Turkey to the Greek island of Lesbos; it is a stretch of water that hundreds of thousands of refugees now cross, often in flimsy boats. On one day, Matziaraki travels out with a Greek Coast Guard boat, as the overwhelmed crew struggle to pull hysterical women and children from the choppy waters; some don't make it, and Matziaraki puts viewers inches from these tragedies. Later, we stand with tourists in the picturesque harbor, as drenched bodies, alive and dead, are hastily piled up on the dock. The non-stop horror of it — even the rescued face uncertain fates — weighs heavily on the Coast Guard crew, yet they persevere.
The troubles in the besieged Syrian city of Aleppo are the focus of two other docs. "
The White Helmets
" (USA, 41 min.), directed by Orlando von Einsiedel and Joanna Natasegara, profiles the men who rush to bombed structures, hoping to rescue people from the rubble. They have matching jackets and white helmets, but little else in the way of search-and-rescue equipment. The film follows them to Turkey, for a month-long training session, but even this break is shattered by devastating news from home. Still, their reward is saving people, including a tiny baby whom they re-encounter as a toddler.
In "
Watani: My Homeland
" (U.K., 39 min.), from Marcel Mettelsiefen and Stephen Ellis, a family endures in battle-torn Aleppo. But after the father is kidnapped by ISIS, the mother and four children find life increasingly fraught. (Says one child: "There's no need to be scared of anything because there is nothing left of our lives.") But in 2015, they are lucky enough to make it to Turkey, and then to a refugee-relocation program in Germany. Life there is immeasurably better, but the sense of loss and dislocation still hangs heavy.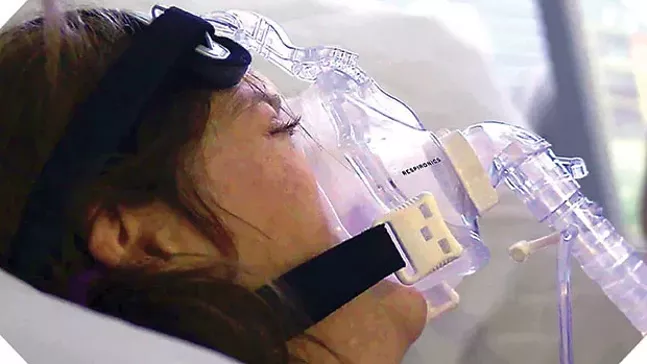 Dan Krauss' "
Extremis
" (USA, 24 min.) takes viewers to a public hospital where teams of doctors work with families to make the difficult decision whether to prolong patient care through life-supporting machines, or not. It's an academic decision, of course — unless it is your parent.
And finally, a film whose tale has roots in tragedy but which ends in a happy place — "
Joe's Violin
" (USA, 24 min.), from Kahane Cooperman and Raphaela Neihausen. Holocaust survivor Joe Feingold bought a violin after the war and brought it with him when he immigrated to the United States. Now 91, he donated the violin to a program that matches unused instruments with school students; his violin ends up with a girl in the South Bronx. Feingold is lucky enough to be present for handing off to a new generation, not just the violin, but a passion for music and the beauty it brings to life.