This year's Academy Award nominees for Best Short Live-Action Film comprise a 130-minute program, with material ranging from the comic to the political.
Sélim Azzazi's "
Ennemis Interieur
" (France, 28 min.) is a two-hander in which a man is applying for French citizenship. He was born in French Algeria, and has lived most of his life in France. But he is a "foreigner" and a Muslim, and thus his loyalty to France is suspect. "Show me that you belong here," says his police interrogator. In response, the man makes various moral and practical arguments to establish his bona fides. The film is set in France in the 1990s, but its setup and theme seem ripped from last month's headlines.
An immigrant from Ghana struggling to find work in Copenhagen in "
Silent Nights
" (Denmark, 30 min.) strikes up a romantic relationship with a lonely woman who works at a homeless shelter. Directors Aske Bang and Kim Magnusson combine melodrama with contemporary issues (immigration, racism, elder care) and a tribute to the general goodness of people.
The indefatigable human spirit fuels "
La Femme et le TGV
" (Switzerland, 30 min.), in which an elderly woman waves a flag every morning at the train that passes her cottage. It leads to a letter-writing relationship with the train's engineer, and awakens the woman's feisty spirit. Timo von Gunten and Giacun Caduff's short, set in a pretty Swiss village, offers plenty of whimsical charm.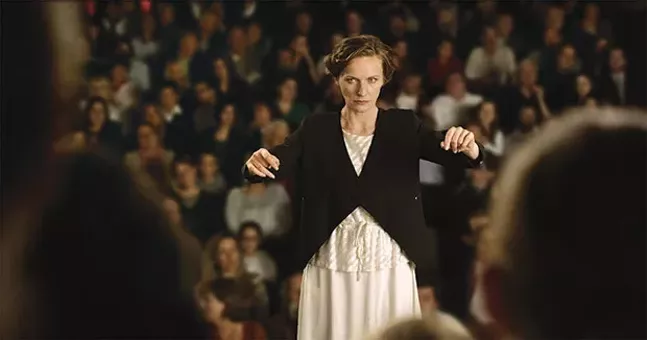 In Kristof Deák and Anna Udvardy's "
Sing
" (Hungary, 25 min.), it's up to the children of an award-winning school choir to sort out what to do about a corrupt system. The fraud comes to light when a new girl joins the choir. Based on a true story, it's a useful parable about speaking up and the power of organized protest.
Juanjo Giménez's "
Timecode
" (Spain, 15 min.) follows two parking-garage security guards, Luna and Diego. One works the night shift, the other the day shift. Luna reviews surveillance footage after a car taillight is broken, and from this mundane act, the two develop a unique way of beating the job's boredom and communicating with each other. A delightful story of human connection set in a very nice parking garage.