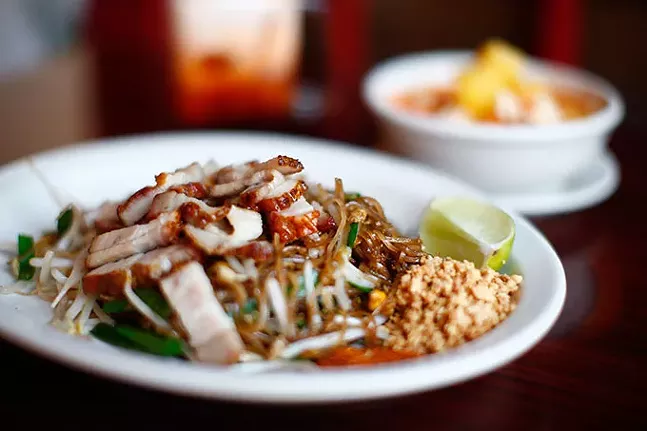 In 17 years of business, Thai Me Up has changed locations, tightened up service, and opened a grocery store in conjunction with their eatery. But one thing has remained the same: a light reference to bondage.
It's no coincidence the restaurant has tied down the South Side's love with their sassy slogan, "We will spice you up and you're bound to like it!" The food lives up to the claim.


This includes standard Thai dishes, curries covering every combination of color and meat, fried rice ranging from classic to sriracha, and plenty of noodles. But the most exciting part of Thai Me Up was the chef-recommended section. This list — tiny in comparison to the rest of the menu — features less obvious Thai dishes.


I relied on this section during a weeknight visit to the restaurant, choosing nam tok (grilled short ribs) and khao soi (noodle curry) to pair with fresh rolls, crab Rangoon, and pad Thai.


First to the table were the Thai Me Up rolls, rice wrappers filled with shredded lettuce, mint, vermicelli noodles, and tofu. Apart from the sauce, they were fairly basic, though I immediately took note of the skillfully prepared tofu. The sauce, however, was good enough to eat by the spoonful: heavy, sweet, and a little acidic. I refused to let the server take it off the table even after the rolls were gone. I wanted to dip everything in it.

The wontons on the crab Rangoon were thick — more similar to the outside of a samosa than the typical Rangoon — and appropriately flakey, fried just long enough to become a deep brown. The filling needed a little work, but the wrapper won me over.

My choice of sticking to the chef-recommended dishes was a great one. Khao soi, a traditional Northern Thai dish, was exceptional, despite being spiced with cumin more than I expected. It was topped by two pieces of incredibly tender chicken that fell off the bone with the lightest touch. Fermented herbs and crunchy noodles added delightful layers of tang and crunch. Even my day-old khao soi leftovers blew basic curry out of the water.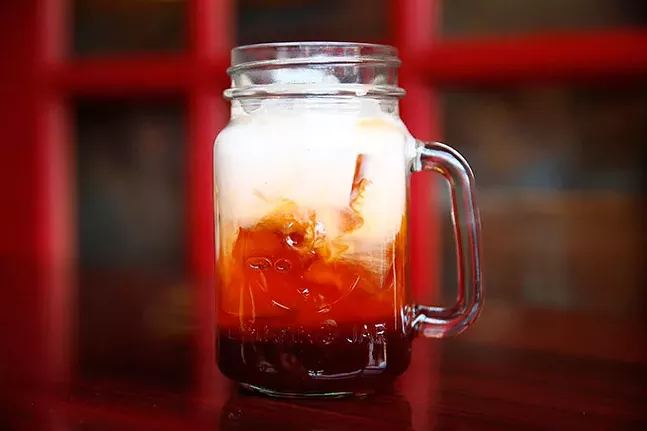 The nam tok was so good it rendered my dining partner speechless; they simply looked at me, wide-eyed and mouth agape. Thin pieces of short rib, expertly grilled, were paired with a simple — but stunning — mix of cilantro, shallot, and mint. It had everything: a kick of citrus, the slightly sweet and tangy shallots, and fresh cilantro.
It was no surprise that among the dozens of Thai restaurants in Pittsburgh, Thai Me Up is frequently mentioned as a favorite. They brought the standard fare with skill (Take their pad Thai for example. Not the most vibrant dish on the table, but flavor-wise, spot-on), but didn't limit themselves.



Favorite Features


1. Sticky Rice
All rice is better sticky. Order a dish that comes with the glutinous rice and a small, wicker container of sticky rice will be your new favorite side dish.
2. Cooking Classes
Most months, the restaurant hosts cooking classes on Sunday nights. Call to reserve your spot.
3. Grocery
Shop for all your Thai staples at Thai Me Up's grocery store, right next to the restaurant.