It wouldn't be a Pittsburgh wedding without a cookie table. But why keep the tradition exclusive to happy couples? In the spirit of the season,
Pittsburgh City Paper
is celebrating the holiday cookie table. We're reviewing bakery favorites, family recipes, and grocery store staples until the table is full.
---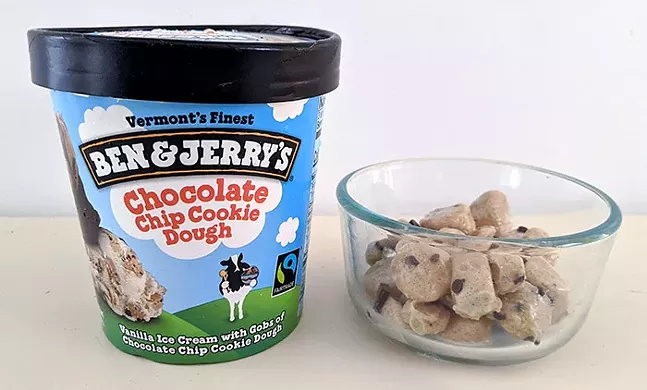 Looking for a truly unique cookie for this year's holiday table? Bake it from ice cream.
I'm not talking about throwing an entire pint of ice cream in the oven to see what happens (
Thrillist
has already tried this, and it looks disgusting). I'm talking about picking dough morsels out from pints of Ben & Jerry's, throwing them on a baking sheet, and making an actual cookie. (OK, full disclosure:
Thrillist
did this too, but it's too good of a concept not to try ourselves.) It requires no mixing and no measuring, just a lot of patience.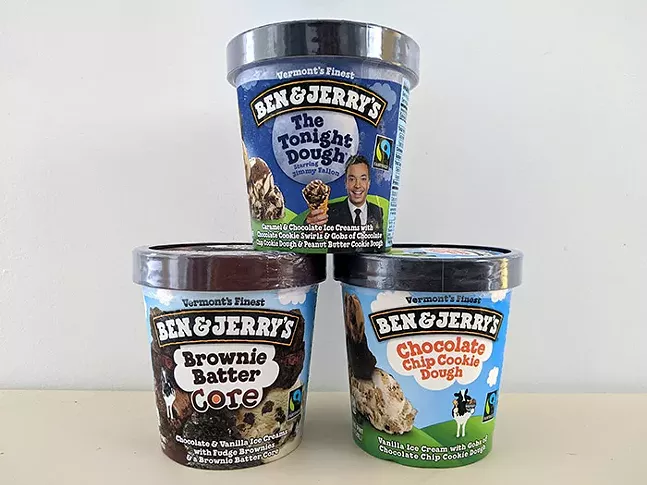 A trio of pints from Ben & Jerry's — Chocolate Chip Cookie Dough, The Tonight Dough, and Brownie Batter Core — were my choice for two reasons: the brand was on sale (I refuse to turn away a good three-for-ten pint sale) and dough diversity. If I was going to take the time to separate cookie dough from ice cream, I wanted a variety.
My goal was to extract the dough out of my pints cleanly, while preserving the ice cream (there was no way I was losing out on three pints). I started by scooping out the dough by hand, but that quickly failed, and I turned to the microwave.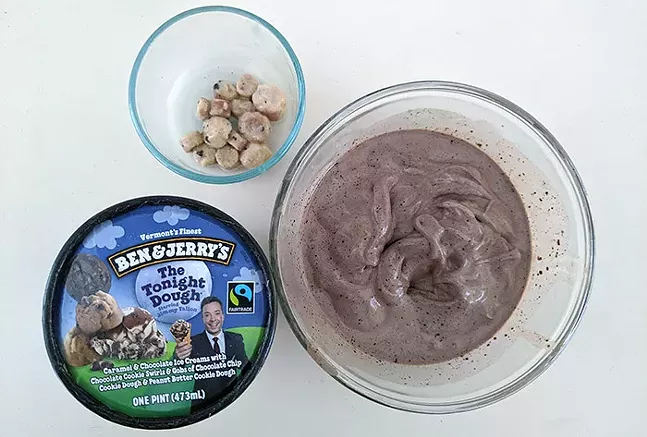 The microwave did great things for the speed of my process. In less than a minute, I was left with one bowl of liquid ice cream and another of soggy, raw cookie dough. I washed off the dough, smushed it into a ball (still soggy), and threw it in the oven — 350 degrees for about 10 minutes — and re-started the process on Jimmy Fallon's The Tonight Dough, a pint made of both chocolate chip and peanut butter cookie dough. After that pint was baking, I moved onto my last, and most problematic, pint.
The brownie batter core didn't freeze like cookie dough, and it was clear there was no chance my twice-successful melting method would work. I simply scooped it out the best I could. The result was a small bowl of brownie batter mixed with ice cream, too thin to bake on its own. I added a bit of flour, threw it in the oven, and crossed my fingers that it wouldn't catch on fire.
My results were varied. The brownie-cookie was a semi-success, and in the end, was my favorite. It was thin, but had the super chocolaty flavor of a brownie (perfect for an ice cream sandwich). The peanut butter and chocolate chip mix was puzzling. The peanut butter dough didn't cook; instead, it sat in lumps while the chocolate chip dough baked around it.
The straight-up cookie dough pint worked great, though the cookie was thin and incredibly chewy. But, it tasted enough like a cookie to be good (confirmed by my roommate, who approved with a simple, "I'd eat that.")
My final conclusion is yes, baking cookies from a pint of ice cream works. But that doesn't mean it's worth anybody's time. Go buy a cookie instead.